CHOOSE YOUR LENS - 7 OF OUR FAVORITE CANON RF LENSES
In-Stock and Ready for Their New Home in Your Camera Bag
We have so much to share with you. For now, we'll keep the discussion to seven of our absolute favorite Canon RF lenses (for mirrorless R-series cameras). To ensure we're keeping it real (which we always do), we decided to show you what well-known photography lovers and equipment reviewers are saying about them. Take a gander, and when ready to take the plunge, shop with confidence with us for unparalleled service, care and know-how. Welcome to the Looking Glass experience!
CANON RF WIDE ANGLE ZOOM LENSES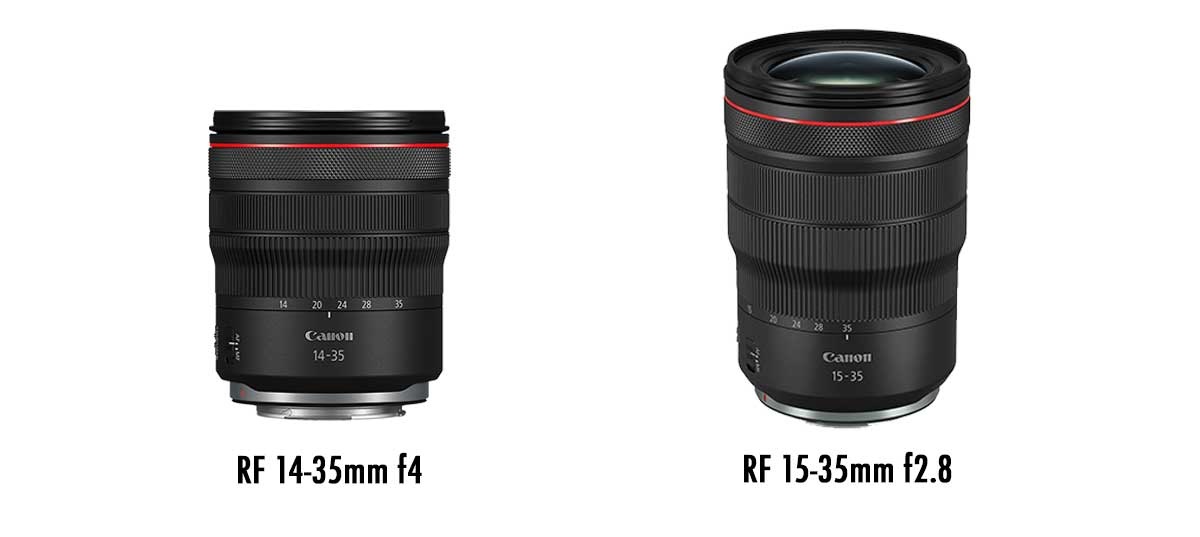 Canon RF 15-35mm f2.8 L - Buy it Now
The Canon RF 15-35mm F2.8 L IS USM is an ultra-wide zoom lens that's built to exceptional standards, and includes both optical stabilization and an f/2.8 aperture. That's a rare combination! 

"Canon wants to set high standards with its RF lenses, and the RF 15-35mm f/2.8L IS USM largely meets our expectations. It combines fast focusing, adequate sharpness across the frame and no visible distortion when looking at real world images. With its fast, constant f/2.8 aperture and 5-stop Image Stabilizer, it's one of the three key lenses any pro will look for in a professional camera system." - Digital Camera World
Canon RF 14-35mm f4 L IS USM - Buy it Now
The RF 14-35mm f/4L IS USM is a brand new ultra-wide-angle zoom lens from Canon. Its impressive range of 14mm all the way to 35mm with a constant f/4 aperture in an L-series full-frame lens is a big deal.  
"I can say for certain that the 14-35mm f/4L is making the images coming off the camera look really good. It's a sharp zoom lens that's well balanced for all situations going from 14mm all the way to 35mm with a constant f/4 aperture. I love its adorable stubbiness in the design and how lightweight it really is, ready to be carried anywhere." -Petapixel
CANON RF TELEPHOTO ZOOM LENSES 

Canon RF 70-200mm f4 L - Buy it Now
One of the most popular lenses in any range for full-frame cameras has to be the 70-200mm. The f/2.8 models are generally big and heavy; the f/4 versions are also big, although slimmer and not quite so heavy. Canon now blows all of that out of the water, with the new, very compact RF 70-200mm f/4L IS USM. 
"The RF 70-200mm f4L is very finely crafted and performs extremely well in the field, the wider apertures being especially crisp, which is great because such lenses are often used at wide apertures. That way higher shutter speeds can be employed and the ISO kept within reasonable bounds. Focusing is spot on, very fast and virtually silent. The lower weight and compact size mean less fatigue from carrying the lens all day. All these things add up to a really useful optic that produces some fine results. The lens is a pleasure to use." -ephotozine
"Despite not being Canon's top-of-the-line telephoto, I had a hard time spotting imperfections in the photos. Color is good, and you can still get some bokeh thanks to the near-two foot minimum focus distance." -The Phoblographer
Canon RF 100-400mm f5.6-8 - Buy it Now
With a narrow max aperture, this lens is not fast. However, the Canon RF 100-400mm F5.6-8 IS USM lens is exceptionally compact, light, and affordable. So much so that even some professionals may want to have this lens option available in their kit. 
The RF 100-400 is a comfortable to carry, affordable telephoto zoom lens destined to capture a huge number of family memories, landscape masterpieces, and exciting wildlife portraits. A 100-400mm lens is very often a great choice for photographing people. The wide end has great portrait photography capabilities, even indoors, as long as adequate ambient or flash light is available. The mid and long focal lengths, typically most easily used outdoors, will provide a more compressed appearance (due to the longer subject distance), and these focal lengths bring the potential for a strong background blur (long focal lengths magnify the background blur). Parents chasing kids can also find plenty of uses for this entire focal length range, including for their at-the-park and at-the-beach needs." -The Digital Picture
Initial impressions are that the Canon RF 100-400mm f/5.6-8 IS USM is a very capable performer, behaving somewhat similarly to the RF 24-240mm – insofar as it delivers excellent reach and seemingly excellent image quality. And, thanks to the high-ISO performance of the EOS R cameras, that f/8 aperture isn't the hindrance you might expect."  -Digital Camera World
CANON RF PRIME LENSES

Canon RF 50mm f1.8 - Buy it Now
In our view, every photographer should own an inexpensive and cheerful "nifty-fifty." They're A LOT of fun for travel and perfect for everyday photography.
"The Canon RF 50mm f1.8 STM is an affordable entry into the world of prime lenses, low-light photography and shallow depth-of-field effects. If you're looking for a compact, fun and flexible prime lens with great potential for blurring effects, you won't find a cheaper option in the native line-up." -CameraLabs
"Canon's affordable RF 50mm F1.8 STM mirrorless prime is a fine choice for photographers just starting out. It's a very appealing lens for beginners with a wide aperture for portraiture and low-light imaging, and the level of construction we expect from one of the biggest names in imaging." -PC Magazine
The Canon RF 85 mm F2 Macro IS STM is an affordable short telephoto lens. The 85mm focal length and big aperture brightness make the lens perfect for portraits, while a short 35cm working distance also allows close-up shots.
"Canon already has an RF mount 85mm prime, but given its eye-watering price, it's no surprise that a second RF 85mm f/2 lens has joined the ranks. Unlike its older sibling, it's small, lightweight and, more importantly, far more affordable. There's a lot to like about the RF 85mm f/2 Macro IS STM lens, including its top-notch image quality, making it a must-have for any Canon R-series camera user looking for a prime lens." -Techradar
"An amazing 85mm lens. It is small, light, and perfect for portraits. It is also a macro lens, making it very versatile, especially for a wedding photographer." -Fstoppers
Canon RF 100mm f2.8 L Macro - Buy it Now
"The Canon RF 100mm f/2.8L Macro IS USM takes everything that was great about the EF version and makes it even better. Magnification? Boosted to 1.4x. Stabilization? Upped to 8 stops (on the EOS R5 and R6). Bokeh? Even more beautiful, thanks to a control ring that shifts the lens elements. Focus and breathing? Faster and more controlled than ever. It's a superb standalone portrait lens as well, with pin-sharp rendering and a flattering focal length. If you want to shoot close-ups of small things and large things alike, you've just found your next purchase…. what we have in the Canon RF 100mm f/2.8L Macro IS USM is not only a fantastic macro lens, but one of the best Canon RF lenses around. Whether you shoot macro, portraits or video, this is definitely one you should be eyeing up."  -Digital Camera World