Our Most Popular Nikon Lenses
Welcome to Looking Glass. We're glad you're here. Below, we spotlight some of the most popular Nikon lenses we offer. We hope this inspires you to try some new "glass." New lenses can completely change your perspective and photography. And, hoping you want to stay in touch, join our community email newsletter.
TOP 5 NIKKOR Z LENSES - Back In-Stock & On Sale!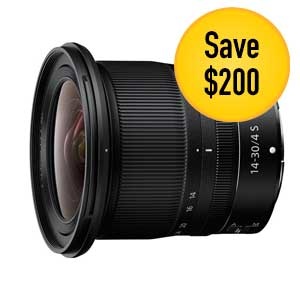 Nikkor Z 14-30mm f/4 S Lens
The Nikkor Z 14-30mm f/4 S covers an ideal range of focal lengths for landscape and travel photographers. It is very lightweight and small in size, especially for what the lens is. Some would argue that this lens achieves what was once seen as impossible for landscape photographers: You can go as wide as 14mm, capture images that are impressively sharp, yet it still accepts standard 82mm filters and travels easily with a truly tiny, portable size.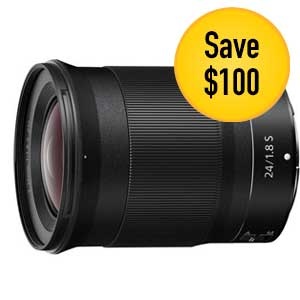 Nikkor Z 24mm f/1.8 Lens
The Nikkor Z 24mm f1.8 S is a very good wide angle prime lens. Resolution and contrast are outstanding. As some reviewers have found, the lens is extremely sharp, maintains a high level of contrast at all apertures, and its coatings do a great job in practically eliminating ghosting and flare. It focuses super fast and reliably, is weathersealed thoroughly and the Bokeh is quite smooth for a 24mm f1.8 lens. All-in-all, the lens compares well and even better when matched up against more expensive, similar lenses, making this a tremendous value.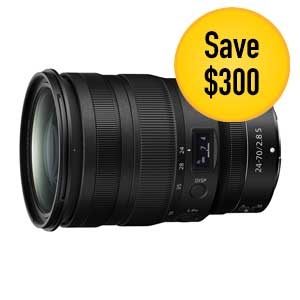 Nikkor Z 24-70mm f/2.8 Lens
The Nikkor Z 24-70mm f/2.8 S is a terrific, general-purpose, everyday zoom. It delivers exceptional sharpness with very little distortion through its zoom range. The lens produces very good image quality, even when paired with the demanding 46MP Nikon Z 7 camera sensor. For a 24-70 f2.8, the lens is comparatively small and light. It even provides very respectable close-up performance with its 1:4.5 macro magnification. The lens provides quick, quiet and accurate autofocus provides the photographer with a multi-function ring for aperture or exposure compensation plus a dedicated focus-ring.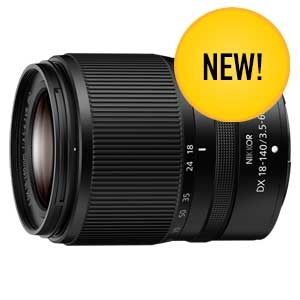 Nikkor Z 18-140mm f/3.5-6.3 Lens
This lens is a great choice for great image quality and versatility.  With just this one lens, wide angle, standard, and telephoto focal lengths are truly at your fingertips. This makes the 18-140 lens an ideal travel companion, and can be used in most any photographic scenario. Go from detailed wide angle landscapes to lively street scenes to telephoto close-ups with beautifully blurred backgrounds, even macro-style shots, all with this single lightweight lens.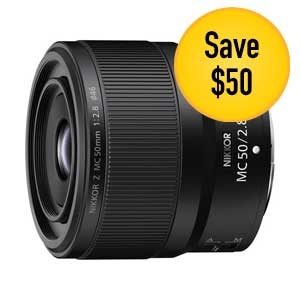 Nikkor Z MC 50mm f/2.8 Lens
This lens may be designated as a macro lens (and a fine on at that), but it can be applied beautifully to a range of photography situations.  We think it's a versatile all-around lens, and with it's 50mm focal length would accelerate as a great walk-around lens. Think street, portrait and even some landscape photography. Having a lens that can be used in multiple situations like the Z MC 50mm is a big win in our book! 
DISCOVER MORE NIKON Z - Our #1 Best-Selling Camera System
The Nikon Z mirrorless camera system delivers the best of Nikon's cutting edge technology.  And right now, we have inventory that's hard to find and all the Instant Savings that are currently available. For our Nikon Z Camera spotlight, click here. For our Nikon Z lens spotlight, keep on reading.
PEOPLE ARE TALKING




Rick Taylor

Posted on saturday 11 december 2021 20:28

Any update on the Nikon 105mm Z series lens' availability? I've been on your waiting list for over a month now, and would really like to get my hands on one.