Login
Log in if you have an account
Dont have an account? Register
Fujifilm X100V - The Most Capable Fixed Lens Compact Camera Ever?
14 Feb 2020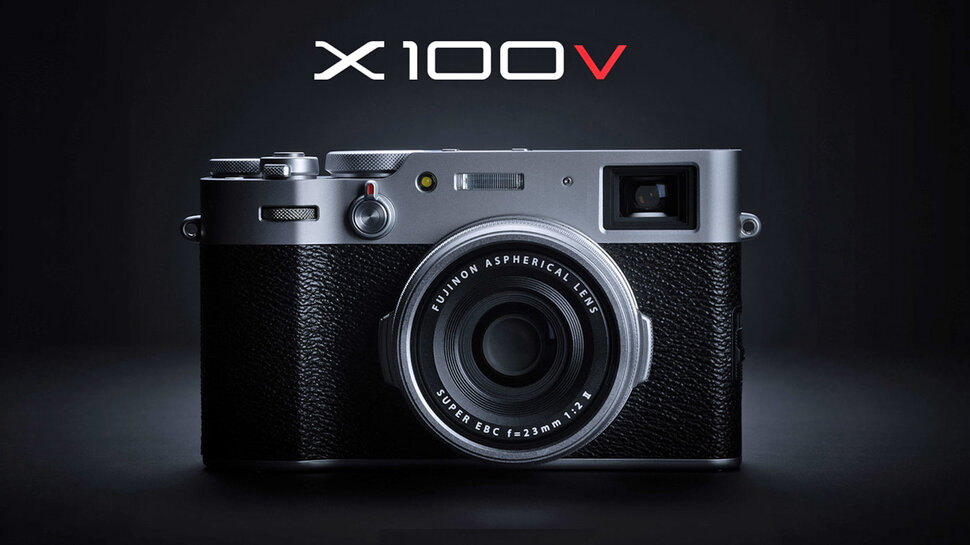 THE FUJIFILM X100V IS TRULY SOMETHING SPECIAL

Silver Color In Stock - BUY IT NOW
Black Color In Stock - BUY IT NOW
Price: $1,399

There's something very unique and timeless about Fujifilm's X100 series. And the X100V continues this legacy. The camera maintains its killer retro design. The huge APS-C sensor and redesigned 23mm lens deliver super sharp images with superb color. Combine these features with its hybrid viewfinder and manual dials, and you get a photography experience that is unmatched. Yes. This very well could be the most capable compact, fixed lens camera ever. All this matters big time for street shooters and travelers alike. Read on for more… 
New, Redesigned Fixed Lens

The iconic 23mm f/2.0 lens has been redesigned for "higher resolution, lower distortion and improved close focus performance," without sacrificing the internal ND filter (now 4 stops) or compatibility with the wide angle and telephoto conversion lenses available for older X100 models. Plus, the leaf shutter is much quieter when in its mechanical shutter mode.

For those new to Fujifilm, the 23mm lens is a 35mm full frame equivalent, making it just right for everyday and street shooting. Not too wide an angle so as to distort, yet still taking in the whole scene into your frame.


New Tilting LCD - and it's a Touchscreen!

This was likely the most highly anticipated feature for current Fujifilm X100 shooters. Shooting from various angles/perspectives can be quite important for street shooters, and this new tilting screen makes that way, way easier. It tilts up a full 90 degrees, tilting down is a bit more limited in its articulation. Plus, it folds flush with the back of the body, maintaining the sleek design the X100 series is known for.

And it's a touchscreen! The touchscreen allows you to choose your AF point and slide it to where your eye is - AND, it allows for Fujifilm's 'Movie Silent Control' option, which passes off exposure settings to the screen, Meaning: you can keep your physical dials set to your still shooting preferences, while maintaining distinct and separate settings/controls for video that can be controlled silently!

New Weather Sealing

The X100 series cameras are commonly thought of as THE compact street camera. Quite simply, it's the camera you want to take with you wherever you go. And this often means wanting to shoot in numerous weather conditions. Now you have that option with the X100V. It does require purchasing and attaching the AR-X100 adapter ring and the PRF-49 protection filter, but we bet this is a welcome add-on for most of you, delivering a more worry free experience.

New, Highly Improved Video

Based on what we know, the X100V has the most complete video feature set you'll find on any camera of this type. Shoot 4k at 30fps, or 1080p at 120fps for super slo-mo! You can also shoot in F-LOG should you want to color grade later. On that note, how about shooting using Fujifilm's incredibly popular Film Simulations? Yep! And this really sets this camera apart from other cameras - you get to choose from various looks and grains to give a particular film look without having to color grade later in post processing.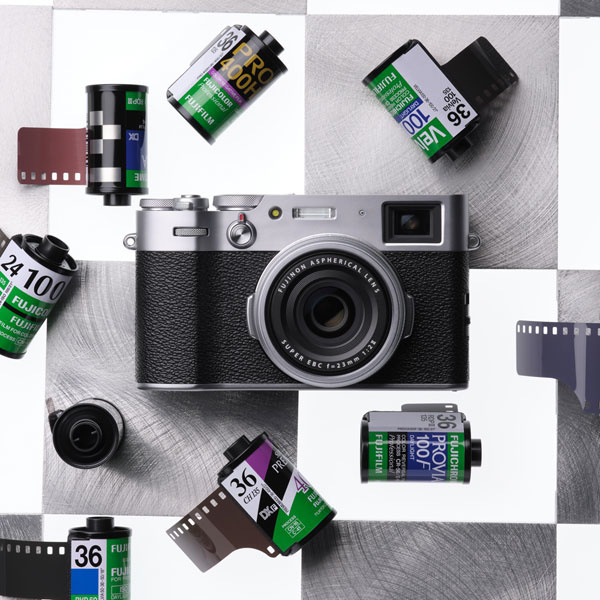 The one challenge with shooting video with the X100V is that there is no stabilization of any kind, so shooting video on a tripod (or take advantage of gimbal shooting with the camera's light weight) would be recommended.
New, Improved Viewfinder

With the X100V, you'll discover a "vastly improved" hybrid viewfinder that allows you to choose between a 0.52x magnification Optical Viewfinder (OVF) with parallax-correcting frame lines, a 3.69 million dot OLED Electronic Viewfinder (EVF) with live preview, or an Electronic Rangefinder (ERF) function that displays a small EVF at the bottom right corner of the OVF. With the resolution improvement in the EVF, you'll find everything brighter and much more crisp than in previous X100 cameras.

The Newest Fujifilm Sensor & Processor Inside

Inside the X100V you will find the latest (4th) generation 26.1MP (up from 24MP in the X100F) X-Trans BSI CMOS sensor and X-Processor. This also delivers much improved Autofocus capability with available focus points increased to 425 (up from 325 in the X100F). Plus, with the new touchscreen, you can choose your focus point with a touch of the screen!

New Camera Body Modifications

The circular function selector has been removed from the back. These functions are now found easily and quickly via the new touchscreen. And as you would expect from Fujifilm, this can be customized to suit your personal preferences and needs. In addition, the control ring on the lens can be customized for numerous functions such as White Balance or Film Simulations. On the body you will also find a well-placed switch that allows for quickly changing between the Electronic Viewfinder and the classic Optical Viewfinder, depending on your situation and shooting needs in the moment.