Login
Log in if you have an account
Dont have an account? Register
Nikon Z 7 in the Real World - This is the Fun and Picture Taking Power You're Looking For
19 Aug 2020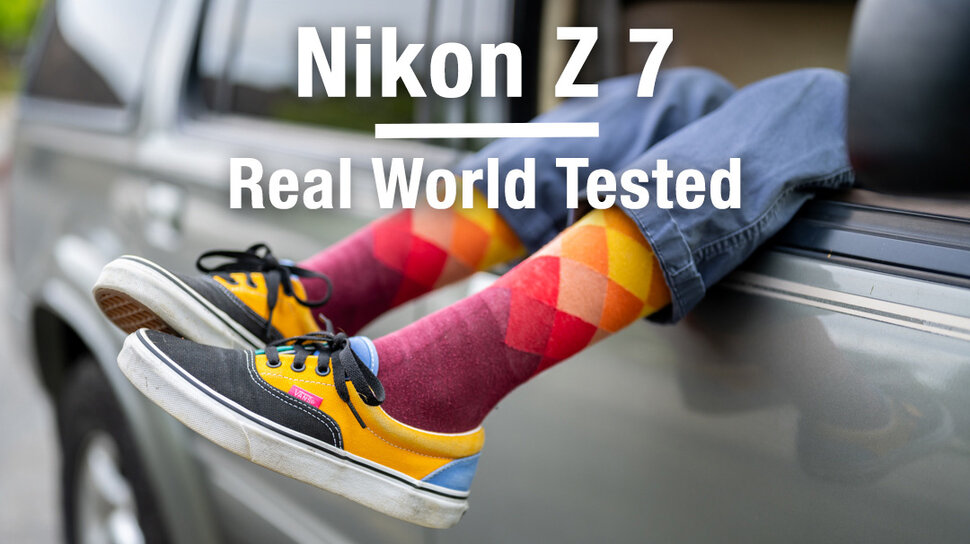 Hey there! Jon from Looking Glass Photo here. So… Nikon Z. Heard of it? I'm guessing you have. The Z mirrorless system from Nikon has received much acclaim and has shown that Nikon is committed to bringing you the latest, most cutting edge technology.
I recently had a chance to shoot with the Nikon Z 7, and will be sharing a pictorial of that adventure soon. In the meantime for a more in-depth look of the Z 7, our very own Christian tells us about his time with the camera and what had him super stoked. Below, he provides us a summary of his Nikon Z experience - in words, video and still imagery.

Take it away Christian…

Hey Looking Glass fam, Christian here. I am quite excited to share my experience of the Nikon Z 7 full frame mirrorless camera with you. It did not disappoint. If anything, the camera energized me, reminding me of how fun photography can (and should) be. Here's where my "story" begins:

Rewind: Looking Glass had just (kinda) begun to reopen and I had been working with Jon to get some Nikon Z gear from Nikon. We figured during shelter in place, what better time the try out something new. Great idea, right? RIGHT! When the Z package arrived to Looking Glass, I swung by the shop (with my mask on of course) not entirely sure what I was going to find. When I arrived, I felt the excitement increase… trying new gear and seeing what I can do with it, and how it feels to shoot, is like being a kid in a candy store for me. I bet many of you that are reading this know exactly what I mean. NEW TOY!

Anyway… there it was. A vintage nylon blue Nikon bag sat on a table, daring me to look inside. The bag gave me a sense of nostalgia - which is super funny given what I was about to pull out of it - the newest and best tech that Nikon provides. I opened the bag, and carefully began removing one item after another. And what did I find? Pretty much everything a seasoned Nikon shooter would want, to truly experience the Nikon Z difference: The Nikon Z 7 body, an adapter for my legacy F mount glass, an XQD card and reader, charger, battery, AND native Z mount 50mm f1.8, 85mm f1.8, and the 24-70mm f4 lenses. DANG! Nice kit. Now let me get outta here so I can play!

With shelter in place in effect, my ability to travel about and shoot was lessened. But that did not matter. At all. It didn't matter where I found myself - whether outside in my yard or down to the local schoolyard with my kids - this camera was FUN. And that's a big part of photography, right? HAVE FUN. In addition, the compact nature of this camera was winning! I was telling myself, "This is rad because this system is so portable and powerful." This is very apparent when considering one of my go-to cameras I had left at home, which is quite a bit bigger yet offers less capability.
VIDEO - FEATURE REVIEW & THOUGHTS
I have been using mirrorless tech for quite awhile now, and therefore have a good "feel" for the general quality of Electronic View Finders (EVF) and rear LCD screens. Both of these have a great importance when considering a mirrorless camera, as you rely on the camera entirely to see and frame your photo (sans the optical viewfinder found in a DSLR). I tend to nitpick these seemingly basic features of mirrorless cameras, and so when I say the Z 7 truly excels in this area, I mean it. It was nice and easy to see info through the viewfinder and that top deck readout was fire for this as well.

How about the focusing system? Since I shoot with a Nikon DSRL already, I appreciated how familiar the focus system and menus are. This makes the transition from a Nikon DSLR to a mirrorless camera much easier - getting me out shooting creatively, as opposed to sitting and learning an entirely new menu. Not only that, the Z 7's focusing system is terrific. Button layout was good as well. If I have any gripes, it would be the shallower depth of the camera body. It left me having to adjust to the orientation of the rear wheel for manual shutter adjustment and it was just a smidge weird for me. Also, a fully articulating screen is one of my faves on a dual purpose camera (video and stills) and unfortunately, that is missing here.
VIDEO - FOCUS TESTING
How about the Z mount, and legacy F mount lenses? Let's talk about that for a sec. I had a handful of Z native mount lenses PLUS Nikon's FTZ adaptor that allowed me to also shoot with my fave F mount lenses. The adaptor is clutch. It was very cool to be able to shoot with my current lenses - without compromise. I know this is important for many of us who have invested in Nikkor lenses for our Nikon DSLR cameras. When thinking of the native Z mount glass, I have to say it has amazing build quality, smooth movements, are compact, and just felt high quality. The images were great and reflected that quality while still feeling very Nikon in nature. I bet you know what I mean. 

I felt very free, yet at home with the Nikon Z set-up. When I test a camera and/or lenses, I look to the available/naturally occurring light. It's so important to me and my style. And for my test of the Nikon Z 7, I feel like the quick body of work I came up with definitely reflects how this set-up got me inspired. I touched on some studio stuff using light design, interior design and vignettes, portraits and lifestyle, and some landscape nature stuff as well, always looking to exploit sweet light. For testing video capability, I tried both a tripod and shotgun mic situation, as well as a handheld run and gun. Overall for me, what I really took away from my time with this set-up was that it really inspired me as a Nikon shooter to be using an entirely new Nikon technology. And since Nikon continues to produce new Z tech AND F-mount glass, we will continue to have an amazing set of tools to choose from and add-on. Gratitude for sure.
CHRISTIAN'S IMAGES, CAPTURED WITH Z 7
To learn more about Christian and see more of his photography, check out his bio on the Looking Glass web site.