Login
Log in if you have an account
Dont have an account? Register
Your Full Frame Mirrorless Journey Starts Here - Nikon Z 5 - This August
17 Jul 2020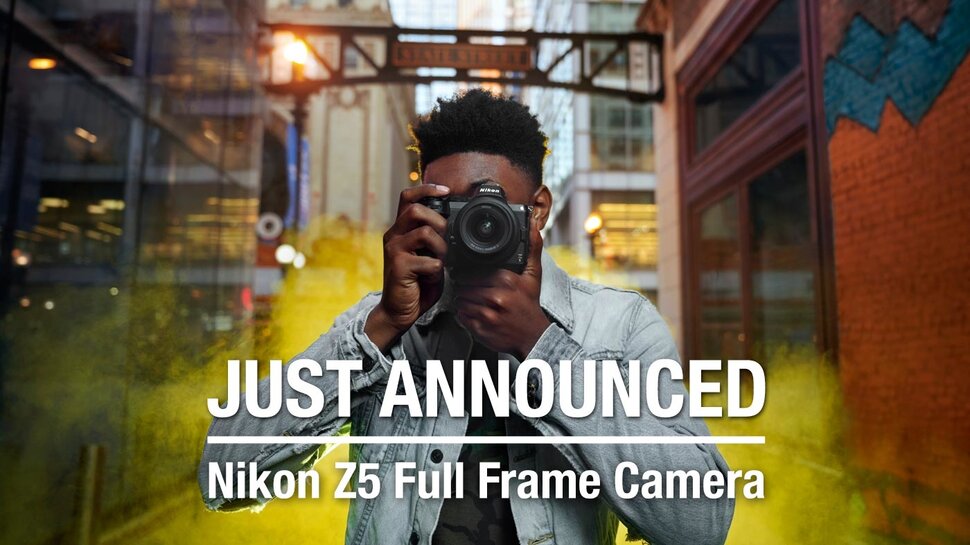 Inside the Z 5: New 24.3MP sensor, In Body Image Stabilization and dual SD cards. This and so much more, starting at only $1,399 for the camera body (see kits below). We are now accepting preorders: 510-548-6888. 
QUICK TAKE:

The new Nikon Z 5 in many ways is a more affordable Z 6. You may lose a few features in the Z 5, but as a still imaging tool, the Z 5 is a pretty incredible camera at this price point. We've been impressed by Nikon's Z-series cameras. A few of us here at Looking Glass have had the chance to get out and shoot with them, and there are numerous things we agree on as to what makes these cameras great. And there's one thing we had in common that we feel is most important: FUN! The Z-series brings the fun back to our photography adventures, regardless of where we are. And when we're having fun, life feels good. That's a pretty darn good quality and impact for a camera to have in our lives. In addition, Z-series cameras and lenses deliver brilliant ergonomics, as well as incredible image and movie making features and quality. With the introduction of the new Z 5, we may be looking at what will become one of the most popular cameras we've seen in a long time.

So what's the same? To highlight just a few critically important features, the Z 5 offers the same 273-point hybrid AF system (which can perform animal Autofocus), five-axis in-body image stabilization (IBIS), ISO range of 100-51,200, 3.69 million dot electronic viewfinder, 3.2-inch touchscreen and the Expeed 6 Processor as found in the Z 6. It also delivers weather-sealing and can be used as a webcam. With all of this goodness built-in, we bet this camera will tempt many DSLR shooters and smartphone enthusiasts to the world of mirrorless technology and quality.

What are some of the key differences? While the Megapixel count is pretty much the same, the sensor itself is different and brand new in the Z 5. We'll need to wait until we can try the camera out to give you an opinion, but on paper, the new sensor should perform remarkably. The major difference is that the Z 5's sensor isn't backside illuminated (want to know what that means? talk to our team members, they're like books of knowledge when it comes to this stuff!). In addition, the top "plate" of the camera has been made more simple. The LCD status screen has been removed, replaced by a mode dial which should be very handy for photography enthusiasts and beginners alike.

So, a Z 5, Z 6 or Z 7? That's the BIG question, isn't it? If this is something you are trying to figure out, we recommend speaking with one of our team members. They will walk you through key differences between each model, listen to you about how you want to use the camera, as well as gain an understanding of the photos/videos you hope to capture. From there, once armed with all the advice and answers you're seeking, you'll know you're making a smart decision. :-) In the meantime, please find some useful information about the Z 5 below.

THE DETAILS:

The full picture.
Harness the entire view of expansive full frame lenses, and capture over 50% more image area than crop-sensor cameras. Z 5's 24.3 MP full frame CMOS sensor produces intensively detailed images, lifelike 4K UHD video, ultra shallow depth-of-field and particularly clean low-light shots.

Super powered.
Z 5 is powered by Nikon's fast, comprehensive EXPEED 6 image processing system. It's the secret behind the camera's sensational photo and video quality, autofocus performance, low-light capabilities, distortion control, image clarity, color reproduction and more.

The stability you crave.
Sharpness starts with stability, and Z 5 has one of the best in-camera image stabilization systems available. NIKKOR Z lenses activate 5-axis VR image stabilization—up to five stops* of stabilization in up to five directions: yaw, pitch, roll, X and Y. Compatible F-Mount NIKKOR lenses**—even those without built-in VR—activate 3-axis VR image stabilization. Great for stills, even better for video.

In the blink of an iris.
Freeze time with shutter speeds as fast as 1/8000 of a second—fast enough to capture moments invisible to the naked eye. When shooting with wide aperture settings for shallow depth-of-field and blurred backgrounds, that speed can also be used to control your shot's brightness.

Right. In any light.
Creativity doesn't wait for perfect lighting, so neither does Z 5. Its ISO sensitivity goes all the way up to ISO 51,200 (expandable to ISO 102,400) with superb sharpness, detail and clarity. Keep shooting into the night, and bring a new mood to your style with the drama of low light.

Fully automatic. Totally manual.
Sometimes you need to just point and shoot. Other times you want to fine tune every little detail. Z 5 is up for either challenge, going from fully automatic to totally manual with the turn of a dial.

Go quiet.
In can't miss moments—like weddings, speeches or performances—turn on Silent Mode and capture photo after photo without drawing any attention. This is also great for photographing pets and wildlife.

The eyes say it all.
Great portraits put focus on the eyes. Z 5's powerful Eye-Detection Autofocus quickly finds your subject's eyes—humans, cats and dogs alike—and puts them in sharp focus. It even follows them as they move behind objects in the frame.

Focus anywhere.
Z 5's sensor is practically covered in focus points—273 of them, to be precise. That means wherever your subject is within the frame, there's almost certainly a focus point locked on them.

You see it. You get it.
See your shot clearly through Z 5's outstanding electronic viewfinder. It activates when you put your eye to it, offering a high-resolution glare-free view of how your shot will actually look—exposure, ISO, white balance and Picture Controls are all visible in realtime.

Tweak. Shoot. Create.
Add another element of uniqueness and artistry to your photos and videos with 20 Creative Picture Controls, all visible in real time while you shoot, either through the viewfinder or on the tilting touchscreen display.

Multiply your vision.
Combine multiple photos into one radical creation. This can be done in real time by composing and combining consecutive shots, or it can be done later by previewing and combining shots you already took.

Your entry to video.
Z 5 records beautiful videos. Shoot 4K Ultra HD footage using all the advantages of mirrorless technology and the Z system's high-performance optics.
231 point phase-detect autofocus
4K UHD/30p
1080/60p
Optical VR image stabilization and electronic Vibration Reduction
Creative Picture Controls
Focus Peaking
Capture stills while recording
CHOOSE YOUR KIT: