Login
Log in if you have an account
Dont have an account? Register
Capturing Creepy Moods for Halloween
22 Oct 2019
BEHIND THE SHOT: SPOOKY PUMPKIN PATCH
By Frank T. Smith, Olympus Visionary

Who doesn't love a pumpkin patch? The season is brief and the dramatic tones created by nature are perfect for setting up the "great pumpkin shoot."
THE PLANNING

Since Halloween displays are only up for a limited amount of time, it's important to plan ahead. Strategically plan your locations or even do a site visit to scope out the best time to avoid overcrowding. Plan out your shots knowing that you will also need to be fully adaptable when you are actually shooting. This may require extra tools like step ladders or potentially even lighting to capture the shots. On my site visit, I'll typically utilize many of the in-camera filters to plan out my shoot. The time of day is also a critical factor (as is the weather) to capture the best imagery.

OM-D E-M1 | M.Zuiko Digital 12-40mm F2.8 PRO
1/160s | f4.5 | ISO 200

THE SHOT

Once I am on location my goal is to set up the shot, take a few test images and determine the best lighting; location and camera settings. I typically will have my tripod and if needed, I will use a step ladder (which means handheld shots). You need to have strong foreground for the image, and you can look to create "moods" through shadows and post processing.

OM-D E-M1 | M.Zuiko Digital 12-40mm F2.8 PRO
1/400s | f6.3 | ISO 200

COMPOSITION

Composition is always foremost. For my pumpkin shoot, I typically get low to the ground. Before deciding on my positioning, however, I move around and check out the potential image from various angles. It's important to also make sure there are no random objects in the image that would otherwise detract from my goal. I always look for a primary subject which can be either in the foreground, mid-ground or background to focus on for the shot. 


OM-D E-M1 Mark II | M.Zuiko Digital 12-40mm F2.8 PRO
1/60s | f16 | ISO 250

SETTINGS

A few of the in-camera filters such as dramatic tone; selective color and focus stacking work great for capturing the "dramatic" or "spooky" elements of Halloween.

Example: Selective Color

I also like to use High Dynamic Range (HDR) shots when there are extreme contrasts. HDR requires you to take a series of shots at different exposures. You can either allow the camera to process the images or you can process them in post processing.

For this photo, I combined shots with the following exposure values: -4,-2,0,+2,+4 


AFTER THE SHOT

I will typically post process these types of image to create the final mood. I work with the RAW files from my shoot and will look at both the RAW shot as well as the in-camera JPEGs. I'll also bring the RAW files into Photoshop to bring out the light and the dramatic tones of the photo in order to achieve the desired effect.


MORE SECRETS FOR CREEPY CAPTURES
Find a strong foreground for the image, then look to create "moods" through shadows and post processing. Check out these examples below.

THE VISITOR
While creating this series of images, I first noticed the shadow on the floor. Taking note of the door opening, I decided to add an interesting element in the doorway – the vacuum. I then decided to look for a model to be in the doorway, and to focus on the shadows. Light is very important and any opportunities for shadows can really add to the photo.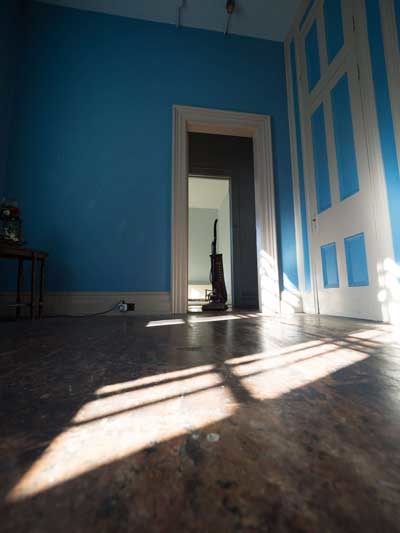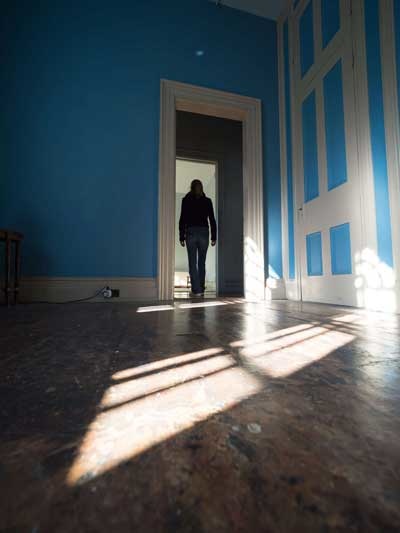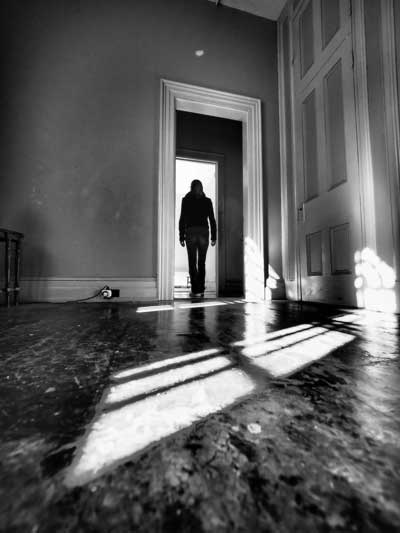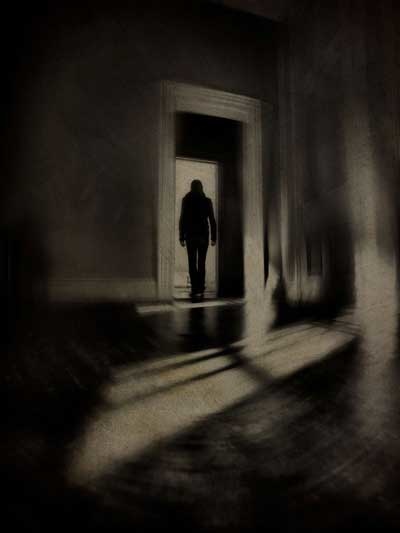 OM-D E-M1 Mark II | M.Zuiko Digital 7-14mm F2.8 PRO
1/80s | f3.2 | ISO 200

To create the mood in this final image, I used the in-camera dramatic black & white setting and the monochromatic setting in post processing. Finally, I created a swirling vignette to eliminate any distractions and to enhance the creepy effect.

GHOST MASK
I found this eerie subject in good light with a dark background. In post processing I slightly de-saturated the image and added an exaggerated amount of contrast. The resulting dark shadows enhanced the creepiness of the mood. (2 images with mask).

OM-D E-M1 Mark II | M.Zuiko Digital 7-14mm F2.8 PRO
1/60s | f2.8 | ISO 640 | -0.3 Exposure


EERIE GRAVE
In order to create more power and add drama to this image, I positioned my camera very low to the ground and used a very wide angle. I also activated the in-camera black and white dramatic tone filter.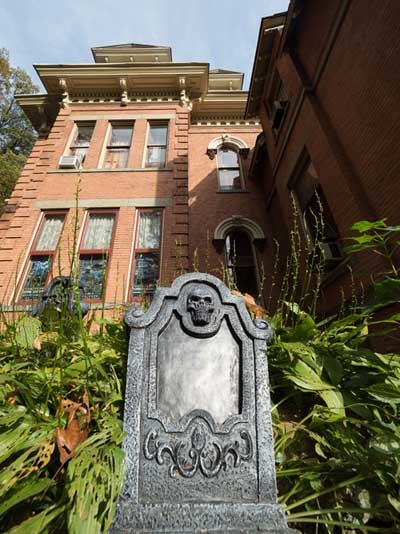 OM-D E-M1 Mark II | M.Zuiko Digital 7-14mm F2.8 PRO
1/250s | f5.6 | ISO 200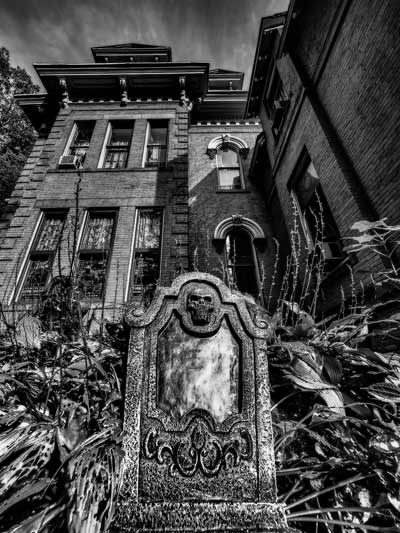 ABOUT FRANK SMITH
Web: franksmithphotos.com

Twitter: @Frank_T_Smith

Instagram: @Franktaylorsmith

Frank Smith is a self-taught photographer whose love for the craft goes back to a very early age. Decades later, Frank's passion for photography has yet to fade as his skills continue to evolve. A native Northeasterner, Frank often focuses his lens on regional and local scenery including the Pocono Mountains and the historical sites of Bethlehem, Pennsylvania. His raw travel and philanthropic photojournalism covers global themes, shedding light on cultural issues such as regional corruption in areas including South Sudan and Haiti.