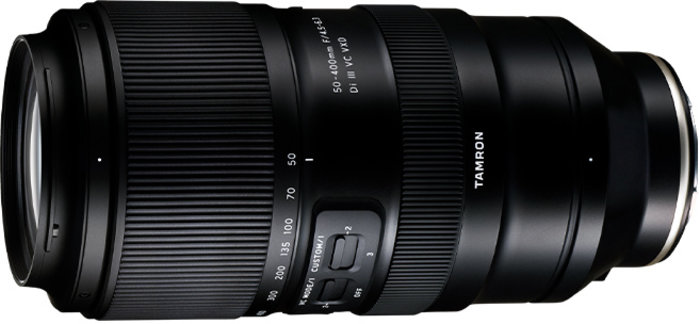 Zoom from 50mm 'standard' focal length all the way out to 400mm ultra-telephoto!
Click to Preorder Now | $1,299 | 1st Deliveries Expected Late September 
TAMRON presents some photos/images that illustrate both the practical and creative features of this 50mm starting, wide-range, ultra-telephoto zoom lens that embodies breakthrough innovation from TAMRON.
Camera: Sony α1 Focal length: 264mm Exposure: F6.3 1/4000sec ISO 640
POINT 1: The impossible dream of a 50-400mm ultra-telephoto zoom lens has arrived – exclusively TAMRON, it lets you cover sports scenes from a new angle
Until now, the 70-200mm and 100-400mm zooms have been the go-to lenses for shooting sporting events. But in those situations where you can't change your position to get a wider view, or you need to get more in the picture, you must either switch lenses or simply give up.

That was yesterday. Today, by starting at 50mm, this new 50-400mm F4.5-6.3 shatters those limitations. It's the ONLY ultra-telephoto zoom that is 50mm at the wide end among lenses for full-frame mirrorless cameras. This lets you shoot everything from wide shots to zoomed-in photos with a single lens, no lens-swapping needed. So now with one telephoto zoom, you can capture close-up action shots of a single athlete, a group of players on the field competing against one another, or the action as it moves closer to the sidelines.
Camera: Sony α1 Focal length: 50mm Exposure: F8 1/2000sec ISO 1000
Camera: Sony α1 Focal length: 50mm Exposure: F5 1/3200sec ISO 800
Camera: Sony α1 Focal length: 167mm Exposure: F6.3 1/3200sec ISO 640
Camera: Sony α1 Focal length: 400mm Exposure: F6.3 1/3200sec ISO 640
POINT 2: Outstanding image quality throughout the entire zoom range
From the 50mm starting point through the 400mm ultra-telephoto end, high image quality is delivered across the entire 50-400mm range through the precisely engineered arrangement of special lens elements.
■ MTF chart
Camera: Sony α1 Focal length: 400mm Exposure: F6.3 1/2500sec ISO 1000
POINT 3: High speed, high precision linear motor focus mechanism – VXD
The 50-400mm F4.5-6.3 utilizes the renowned VXD (Voice-coil eXtreme-torque Drive) linear motor focus mechanism that combines class-leading speed with precision. The VXD, which is highly trusted for the latest ultra-telephoto and telephoto zoom lenses — the 150-500mm F5-6.7 and 35-150mm F2-2.8 — provides smooth and accurate focusing not only for sports scenes but for all types of shooting.
Camera: Sony α1 Focal length: 72mm Exposure: F5 1/4000sec ISO 640
TAMRON's proprietary VC (Vibration Compensation) mechanism effectively controls camera shake that typically becomes problematic when shooting at telephoto focal lengths. Even when handheld shooting under low-light conditions, such as dimly lit interiors or night landscapes, the degradation of picture quality is reduced.
VC/ON
VC/OFF
Simulated viewfinder image.
POINT 4: Enhanced operation plus customization options
Zoom from the widest angle out to 400mm with a short 75° rotation of the zoom ring to ensure that you never miss any of the action. And for true customization, the integrated Connector Port connects to a computer, thereby allowing you to use the dedicated TAMRON Lens Utility software to customize various functions and update the firmware when necessary. Beginning with this model, a new Focus Limiter control feature is available. TAMRON concentrated on ease of operation so that you can enjoy comfortable shooting in both AF and MF modes.
POINT 5: Lightweight, compact design with a filter size of 67mm
Despite covering up to 400mm, the 50-400mm F4.5-6.3 is incredibly compact with a length of just 183.4mm (7.2 in) and a light weight of 1,155g (40.7 oz). It's about the same weight and size as a conventional 100-400mm class zoom. The weight is 1,250g (44.1 oz) when combined with a tripod mount* (sold separately). Additionally, the 50-400mm F4.5-6.3 features the 67mm filter size that's common to many of the TAMRON lenses for mirrorless cameras, so you can share various filters like costly PL and ND filters instead of investing in separate filters for each lens.

* Model A035TM that is compatible with Arca Swiss is available
POINT 6: Half-macro photography with a 1:2 magnification ratio at 50mm
You never expected this much versatility from an ultra-telephoto zoom lens! Move in close and enjoy half-macro shooting with a Minimum Object Distance of just 0.25m (9.8 in) and a maximum magnification ratio of 1:2 at the 50mm zoom setting.
Camera: Sony α1 Focal length: 70mm Exposure: F5 1/160sec ISO 100
Click to Preorder Now | $1,299 | 1st Deliveries Expected Late September 
Be the first to comment...