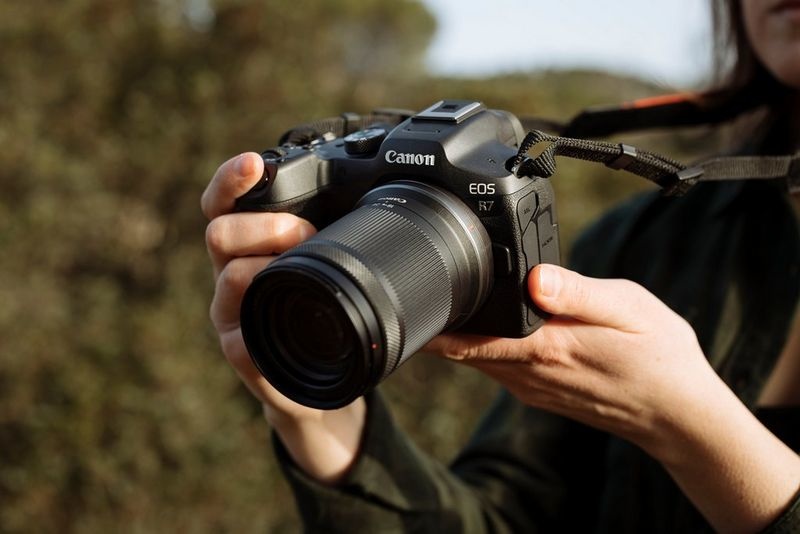 Canon R7 Top 10 Features
The EOS R7 is here and there is so much to be excited about. The EOS R7 and EOS R10 are the very first APS-C sensor additions to our EOS R Mirrorless range, bringing all the features and innovation you love into a compact and accessible body. Come along with us as we look at all of the tech that's packed into this new camera.
1. 30 frames per second continuous shooting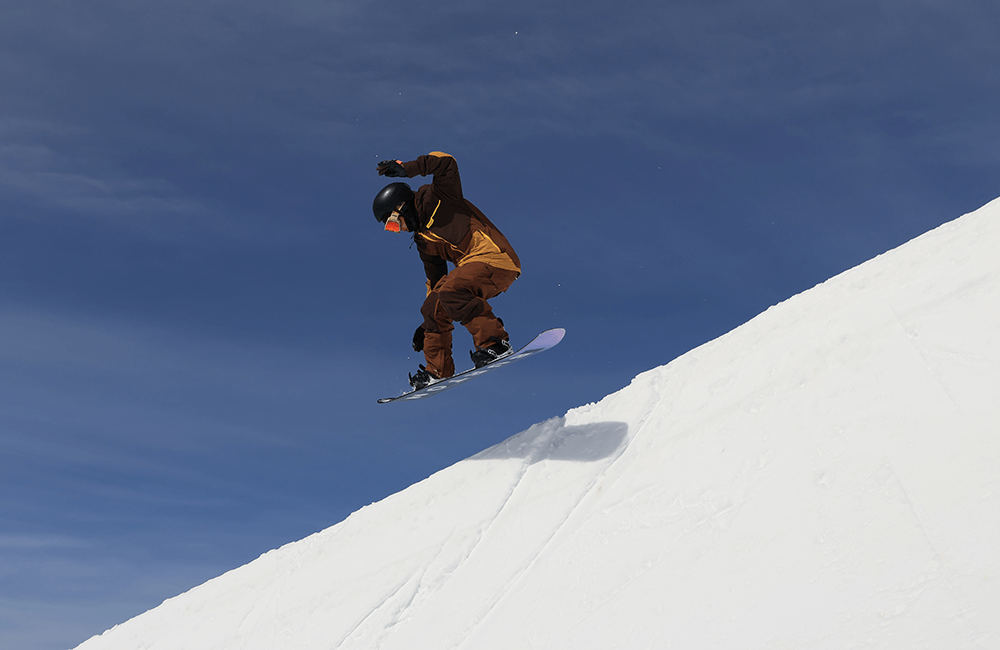 Freeze the action with up to 30 frames per second continuous shooting with an electronic shutter on the EOS R7. This is the same continuous shooting speed as the EOS R3 – a well-known and loved professional sports camera also in our mirrorless range. This feature is perfect for those who love to capture the action – be it humans, animals or vehicles.
2. High performance subject tracking
There has been so much innovation in the subject tracking space, which has been pushed forward by the technology arriving in mirrorless cameras. Now this feature is finally available in our enthusiast range! Advanced subject tracking gives you the freedom to focus on composition, as the EOS R7 automatically detects and tracks subjects for you as they move through the frame. Eye detect AF, for example, can help you to capture those crisp and beautifully detailed portrait images.
3. In Body Image Stabilizer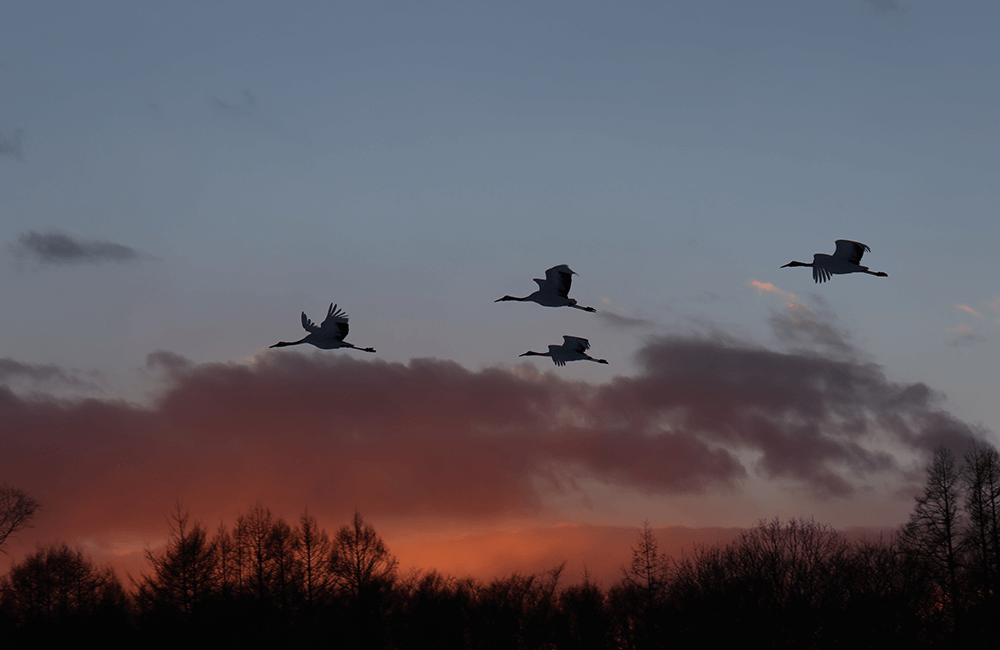 The EOS R7 is our very first APS-C sensor mirrorless camera with In-Body Image Stabilizer (IBIS). When coupled with an RF series lens that also has lens-based Image Stabilizer (IS) like the RF 24-105mm f/4L IS USM lens, you can get up to an incredible 8 stops of Co-ordinated Control IS. Having IBIS at your fingertips is perfect for shooting hand-held in low light situations, so you can ensure those dusk or dawn shots still capture all of the detail you're after.
4. Dual memory card slots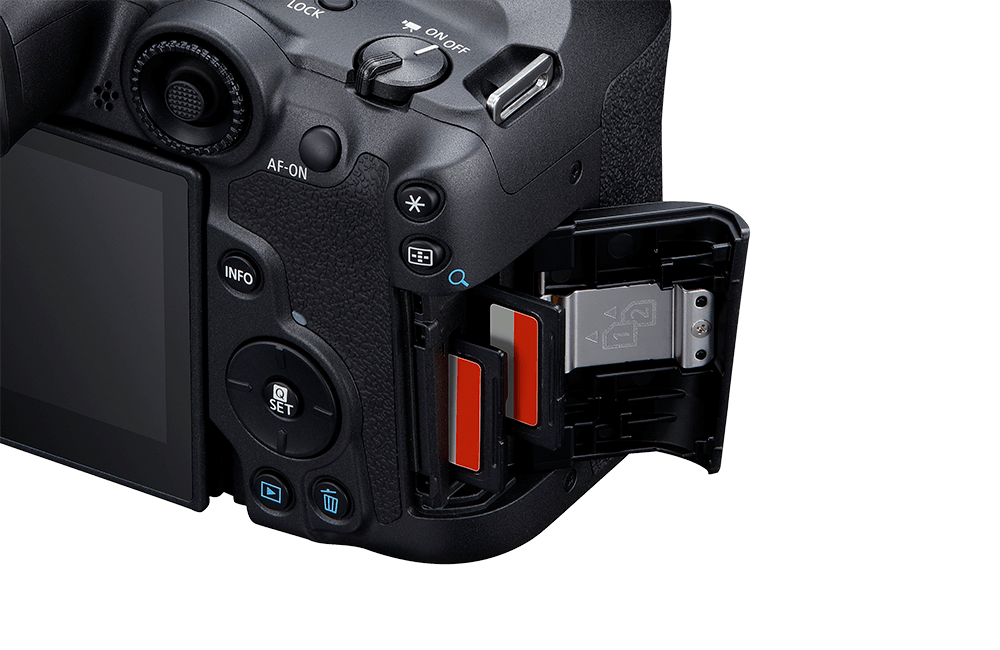 With two SD memory card slots, the Canon EOS R7 gives you that peace of mind by allowing you to instantly back-up your content. Or, if you're a photographer on the go, shoot for longer without needing to switch out cards with double the storage space. This feature is also ideal for those who like to shoot different file types to different cards – so you can keep your RAW images on one card, and JPEGs on the other.
5. 4K 60p movie recording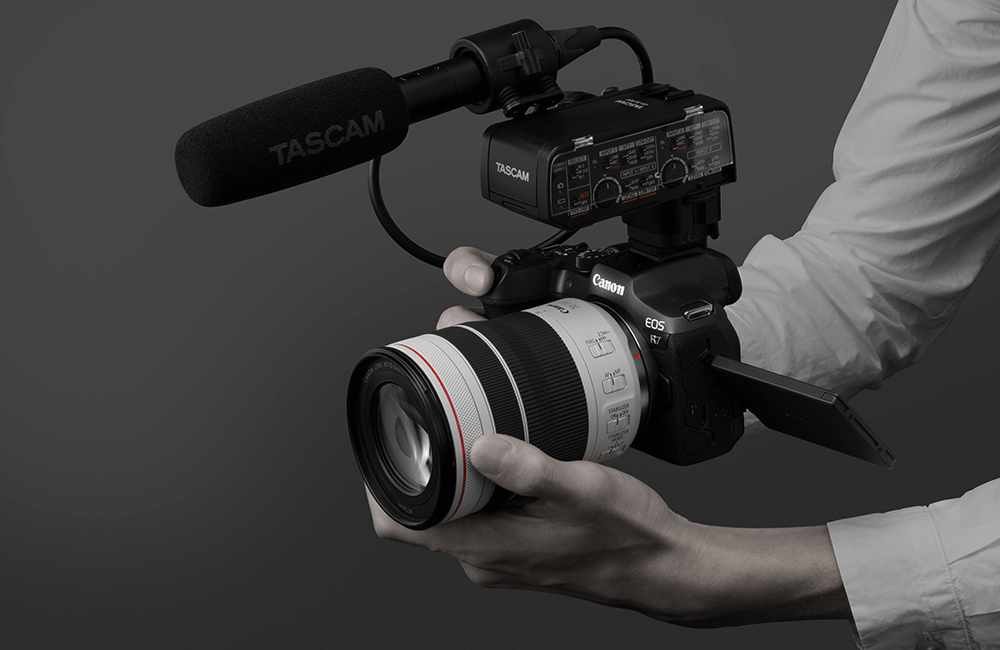 In the age of video, it's more important than ever to be able to capture beautiful footage and the EOS R7 is here to help you do exactly that. Create content worth sharing with 4K 60p movie recording with no crop. If you like to get creative and shoot video in slow motion, it also has the capability to record in Full HD 120p for frame-by-frame action. For outstanding sharpness, you can also choose 4K 30p mode which is oversampled from 7K footage.
6. 32.5 MP Megapixels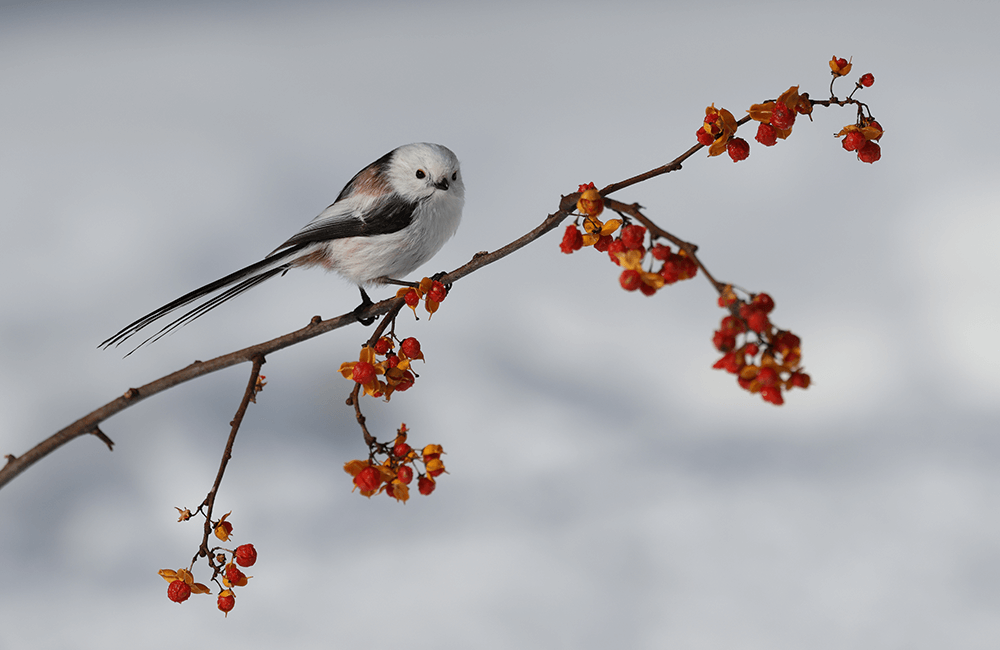 Boasting an impressive 32.5 megapixels, the EOS R7 takes stunning imagery and video. This is the same MP as the EOS 90D, so if you're making the switch from DSLR to mirrorless, you'll still be capturing footage featuring the beautiful detail and colour that you know and love.
7. Vari-Angle LCD Screen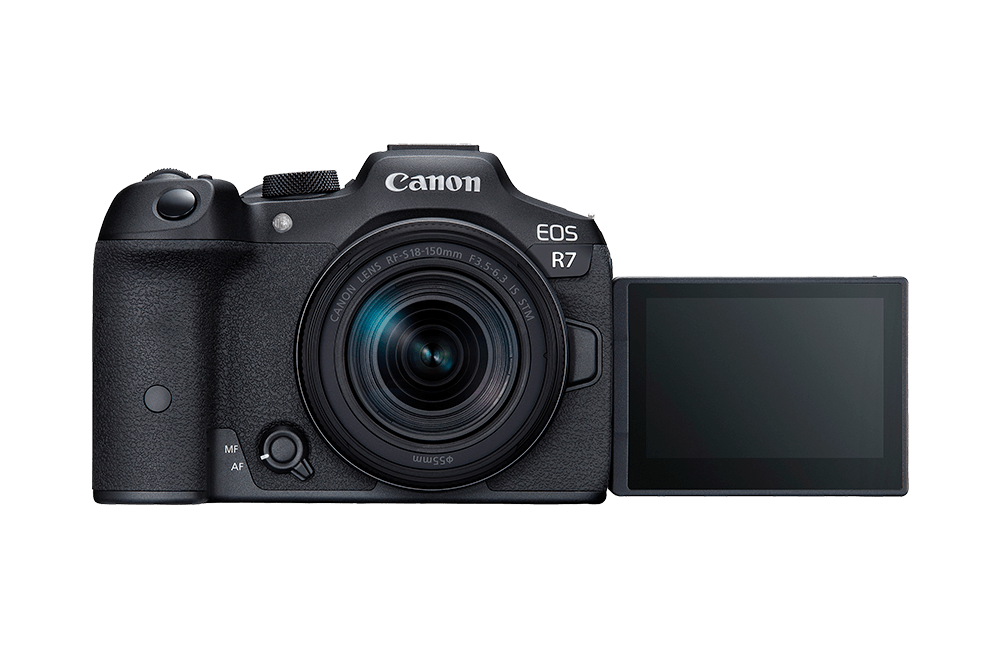 The EOS R7 includes a vari-angle LCD touch screen, helping to make shooting from new angles and one-touch capture even easier. This 3" screen has a whopping 1.62 million dots of resolution and is the same LCD screen featured on the EOS R6.
8. Battery Life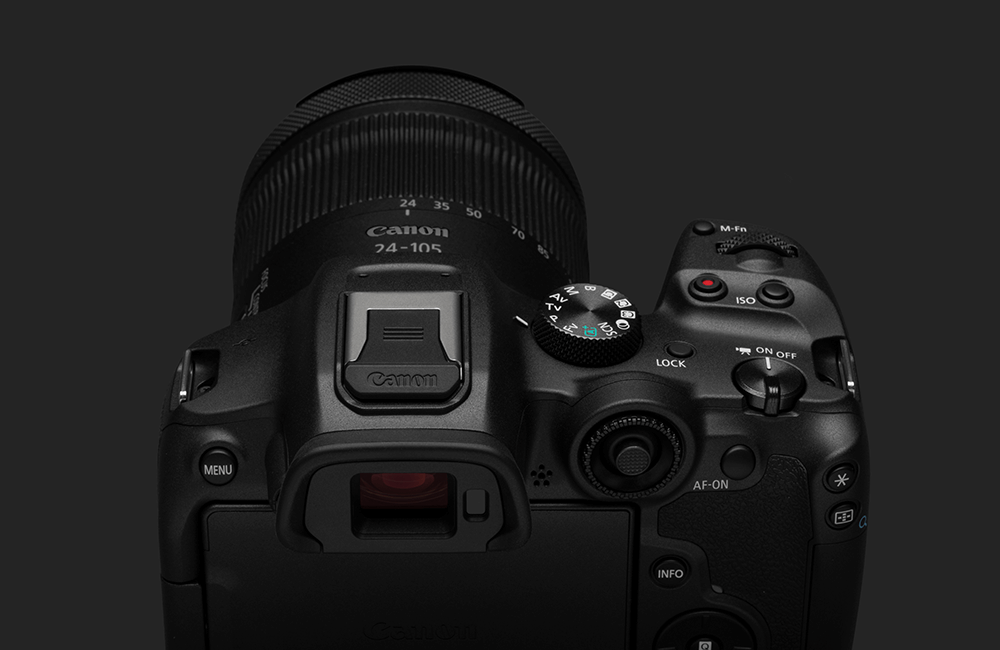 For those who already have a camera at home, you'll be glad to hear that the EOS R7 uses the LP-E6NH battery – the same battery series as the EOS R5, EOS R6, EOS R, EOS 5D Mark IV, EOS 6D Mark II and EOS 90D. With a battery life of 660 shots*, this camera will keep you shooting for longer.
*Based on CIPA guidelines, conforming to Canon testing standards.
9. New RF-S Lenses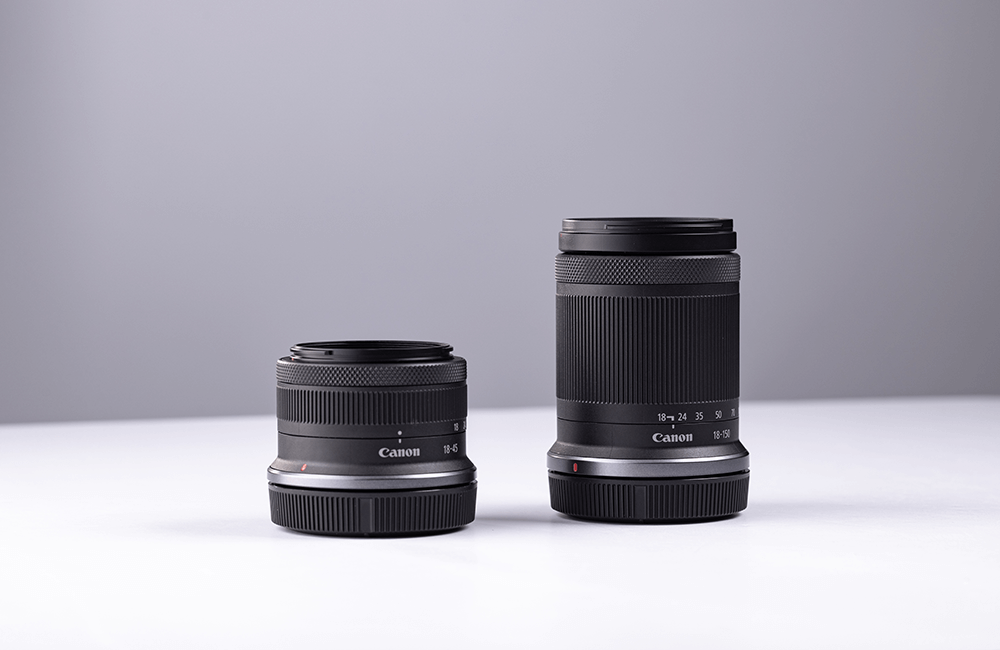 Along with the announcement of the EOS R7, comes two new exciting additions to the EOS R range. Our first RF-S lenses have arrived, helping to make the most out of the new technology in this camera and help your kit be more travel-friendly. In fact, the EOS R7 coupled with the new RF-S 18-150mm f/3.5-6.3 IS STM lens is 24% lighter than the EOS 90D coupled with the equivalent EF-S lens.
10. Creative modes

The EOS R7 is the perfect camera for those needing to reignite their creative spark, and some of the new features will help you to do just that. Panoramic shot mode, for example, lets you capture a series of images which get stitched together in camera. This is ideal for long landscapes, horizons or even to be used vertically to capture a tower or tall building.
This new camera may be compact, but it absolutely packs a punch. If you've been waiting for an excuse to get back out there and test the boundaries of your creativity the EOS R7 is it.