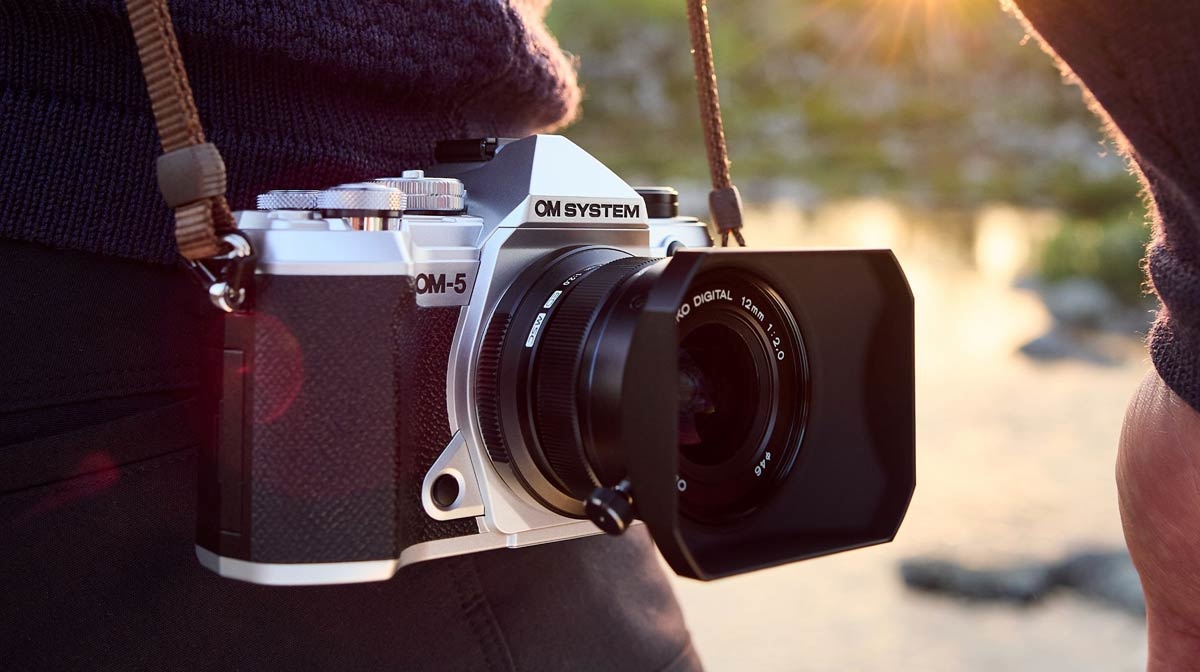 Introducing the New OM-5 Camera from OM Systems
Starts at $1,199 | 1st Deliveries End of November | Preorder Now
Compare to the E-M5 Mark III >>
LIKE YOUR FAVORITE PAIR OF BOOTS.
The OM-5 is not here to be flashy, steal the show, be in the way of your experience or even try to be the sole reason for your adventure. It is rather like your favourite pair of boots that lead you onto trails unknown; that bag that always has what you need or that friend that helps you see the world in a beautifully different way.
Invisible

So compact you barely notice it. A streamlined classic design that disappears in your bag but feels just right to hold.

Durable

Noticebly tough. The OM-5 will tackle anything your adventure can throw at it. There's no bad weather for storytelling.

Discover

See nature in a new way through computational photography—an ever-expanding photographic journey of discovery.

Stories

When even pictures cannot do a story justice, turn it into a spectacular movie worthy of the journey you made.
LESS HEFT = MORE FUN.
The OM-5 is designed to stay with you but not get in the way of your experience. It is so compact that you can chuck it in your favourite bag or let it dangle unnoticeably on your shoulder until inspiration strikes. It will be ready for your story but won't be a tiresome load.
EMBRACE SURPRISES WITH WEATHER SEALING.
The best stories happen through mishaps. It's time to embrace those moments: the OM-5 features class-leading IP53 dustproof, splashproof, and freezeproof design so you can keep telling that story, like your favourite pair of boots that just keep on going.
NEVER GET SHAKEN UP AGAIN WITH 5-AXIS IS.
The OM-5 can stabilize the shakiest of situations with up to 6.5 steps of compensation (or 7.5 with compatible Sync-IS lenses). That makes longer handheld exposures and blur-free telephoto pictures a walk in the park.
FORGET FILTERS— GET IN THE CREATIVE FLOW WITH LIVEND.
Make the most of moving subjects by changing how you see motion with LiveND. With up to four steps of effect (ND16), you can transform what seems like a seemingly mundane moment into a magical one — even with the widest of lenses.
BIG ON DEMAND. HANDHELD HI-RES.
Some scenes have so much to say that to do a moment justice, you need to go big. With the OM-5, you can go big on pictures without having to go big on the size of your gear
Handheld Hi-Res lets you capture amazing 50MP files without lugging around a heavier camera and tripod.
GET THAT DUST OFF YOUR SENSOR WITH SUPERSONIC WAVE FILTER.
Worry-free lens changes on your adventures. The OM-5 features a Supersonic Wave Filter (SSWF), which vibrates over 30,000 times per second to instantly remove dust from the surface of the image sensor.
NEVER MISS THE MOMENT. 121 POINT PDAF AUTOFOCUS.
Focus on the moment, not the focus. The OM-5 features a 121-point All Cross-type On-chip Phase Detection AF sensor to enable dependable focusing in all situations and for all your scenes. Capture the majesty of wildlife with ease and use large aperture lenses with confidence, knowing the story you captured will be in clear focus.
FOCUS ON WHO'S IMPORTANT. IMPROVED FACE/EYE AF.
Taking pictures of the people you care about should be all smiles and no fuss. Improved face and eye autofocus make capturing both single and groups of people effortless. With a touch of the screen or a flick of a button, you get to decide whose story you want to tell.
DON'T JUST DREAM THE NIGHT AWAY. CAPTURE IT WITH STARRY SKY AF.
No more guesswork or complicated manual focusing when capturing the night sky. Starry Sky AF makes astrophotography accessible through a dedicated night sky auto-focusing mode. Combine it with other computational photography features like Live Composite and a galaxy of possibilities is just a click away!
TELL THE WHOLE STORY.
Sometimes to tell a particular story, even pictures do not suffice. Let your adventures turn into beautiful movies on the OM-5 without letting filmmaking take away from your experience in nature. Class-leading image stabilisation makes it possible to pull-off camera moves usually reserved for gimbals and sliders. High video quality, compact size and filmmaker-friendly features such as 120fps FHD, limitless recording time, revised red frame recording indicator and snappy autofocus make filmmaking on the OM-5 an experience in itself.
VERTICAL VIDEO.
Capture your stories the way you intend to share them. Not only does vertical video mode make editing and sharing for social platforms much easier but it also gives you a whole new way to tell stories. From vertical waterfalls and hiking trails to canoes and portrait videos, you can now pick the proper orientation for the story while retaining all the quality and capabilities of a dedicated storytelling system.
OM-LOG400 VIDEO PICTURE PROFILE.
Capture the entire tonality of a scene with a filmmaking-specific picture profile. Designed to maximize dynamic range yet make it easy to color grade in post, OM-Log400 strikes a perfect balance to let you stay more outdoors and less in the edit suite.
WEB CAMERA ON THE GO.
When not out on adventures, the OM-5 doubles as a premium webcam solution by simply plugging it into your computer via USB — Without a need for extra programs or drivers. Transform your campsite into a web meeting office with a wow factor.
LENSES ARE THE SOUL OF THE CAMERA.
And if that is true, then the OM-5 has a lot of soul. Lightweight compact zooms like the M.Zuiko 12-45mm F4.0 PRO and 40-150mm F4 PRO cover most photographic needs and packaged with the OM-5, this setup weighs in at just 1050g taking close to no space in your bag. If you wish to venture beyond these, an extensive offering of fast primes and specialist lenses lets you expand your camera system as your interests and skills evolve.
YOUR SMARTPHONE IS THE PERFECT ACCESSORY WITH OI.SHARE.
The OM-5 connects easily to your phone through the OI.Share app. This enables swift image transfers so you can quickly share your best stories, remote operation for tricky camera angles, and syncing up GPS location information from your smartphone to your photos.
LS-P5 ECOSYSTEM.
Capture nature's sounds in Hi-Res detail with the LS-P5 PCM recorder, and add Bluetooth wireless (or wired) audio monitoring to your already impressive filmmaking setup. An outstanding 21 levels of microphone zoom allow you to get close to the action or capture all the surrounding soundscapes while keeping your setup nice and compact.
LEARN MORE ABOUT THE LS-P5
USB CHARGING.
Gone are the days of lugging around multiple separate chargers and batteries for all your devices. While not in use, the OM-5 can conveniently charge via USB from your computer, power bank, or USB AC adapter making power management a walk in the park…or woods.
EXTERNAL GRIP.
The design of the OM-5 makes handling the camera feel natural and secure but sometimes you may need a little extra to hold - wearing gloves perhaps. This accessory, designed for the OM-5 brings added grip to the camera along with an additional shutter release and control dial for maximal control.