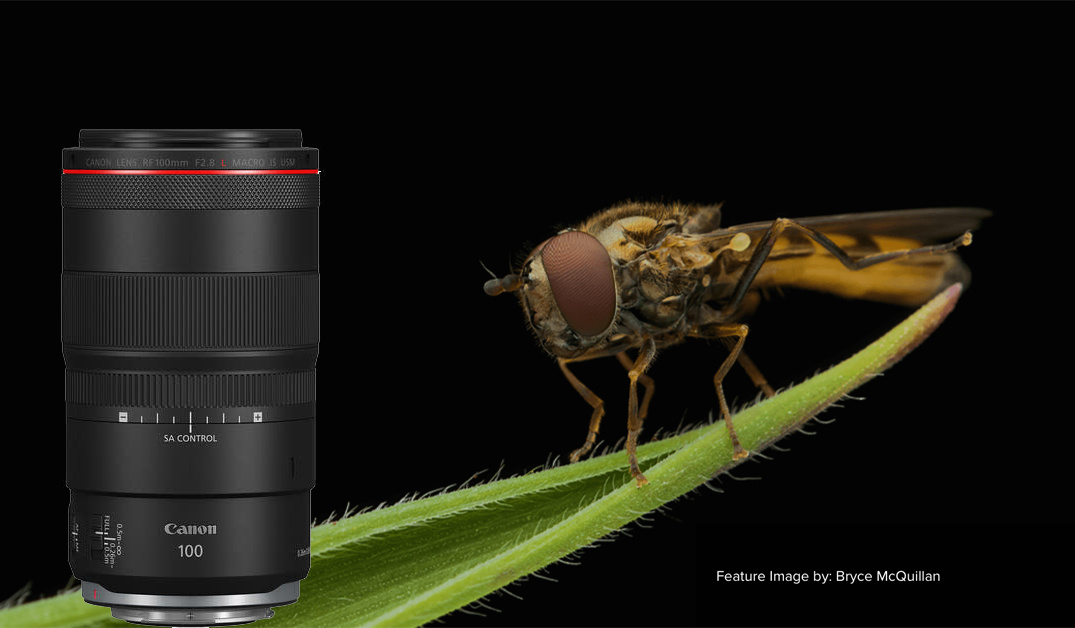 Macro Photography with the Canon RF 100mm F2.8L Macro
Macro photographer Bryce McQuillan puts the RF 100mm Macro to the test. 
Canon RF 100mm F2.8L Macro | $1,399 | Buy It Now
When it comes to macro photography and capturing images of the macro world, it is easy to think of amazing tropical locations, such as the Amazon rainforest, that offer stunning colourful frogs, butterflies, and the likes. In fact, often our backyard can literally offer a true adventure when it comes to macro photography. One of the key advantages of macro photography in your backyard is that there are subjects everywhere. After all, macro photography is all about magnifying everyday subject to a much larger scale, allowing you to see detail and colours that you would normally only be able to see under a microscope. Macro photography can really open your eyes up to the macro world that is all around us in our everyday lives. For instance, this photograph shows a tiny aphid in the middle of a pink flower. The sense of scale that this flower gives to this small aphid really puts into perspective just how big our world is.
Aphid in centre of flower – Aperture F7.1, shutter 1/50, ISO 1250.
Taking images in your own backyard or local reserve can have many benefits to your photography. It allows you the time to really learn the environment and the subjects that can be found in these areas. These locations are so close to the comfort of your home and are often accessible all year round, any time of day or night. This allows for a lot of opportunities to capture and create some amazing macro images. Often images of common everyday subjects that you would not normally take the time to think of otherwise, like this common buttercup from my lawn. It just comes down to your curiosity and creativity, looking at the everyday subjects for shapes, patterns, colours, and texture.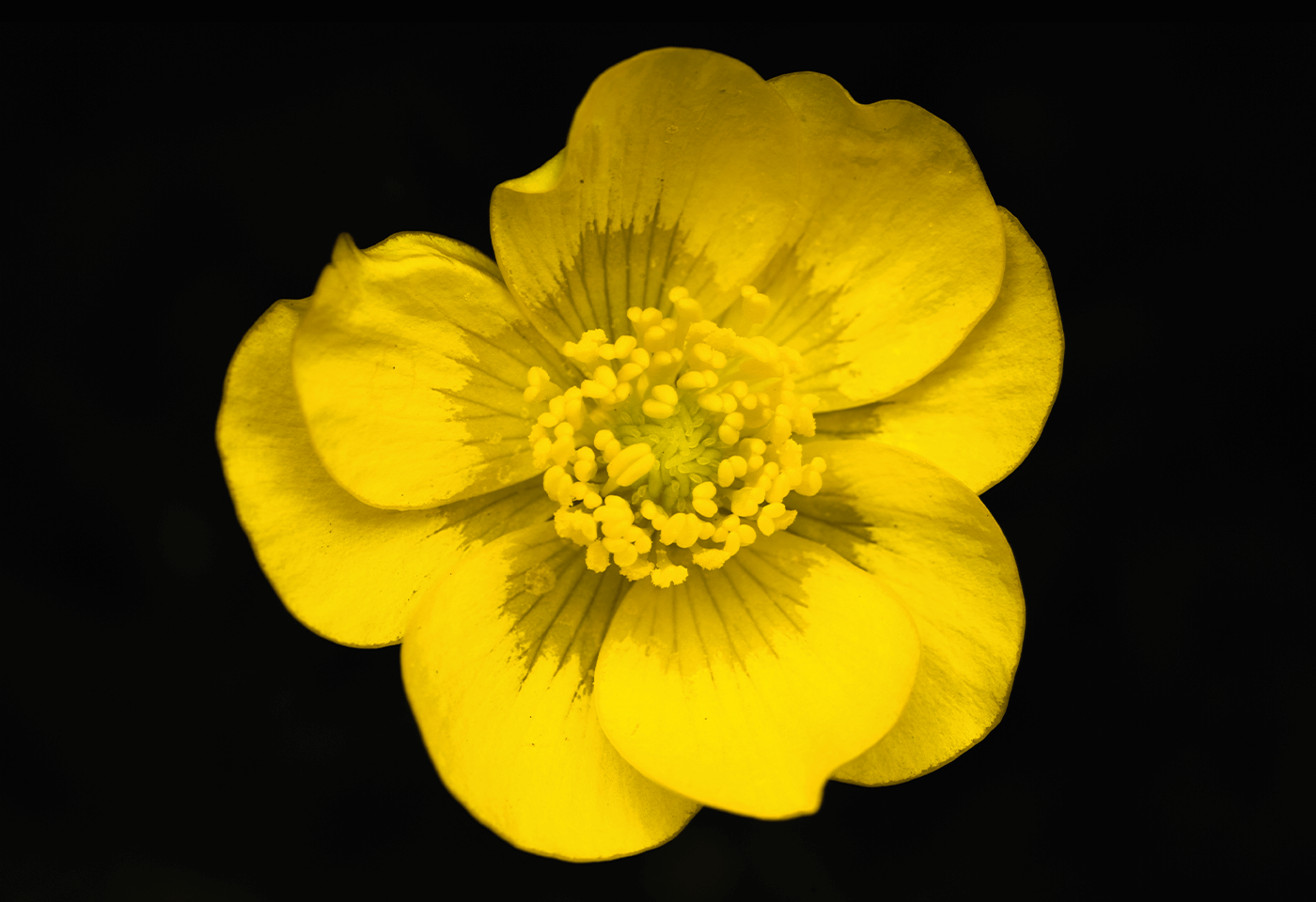 Common buttercup – Aperture F11, shutter 1/200 ISO 200, MT-26EX-RT Twin Lite, ETTL -2.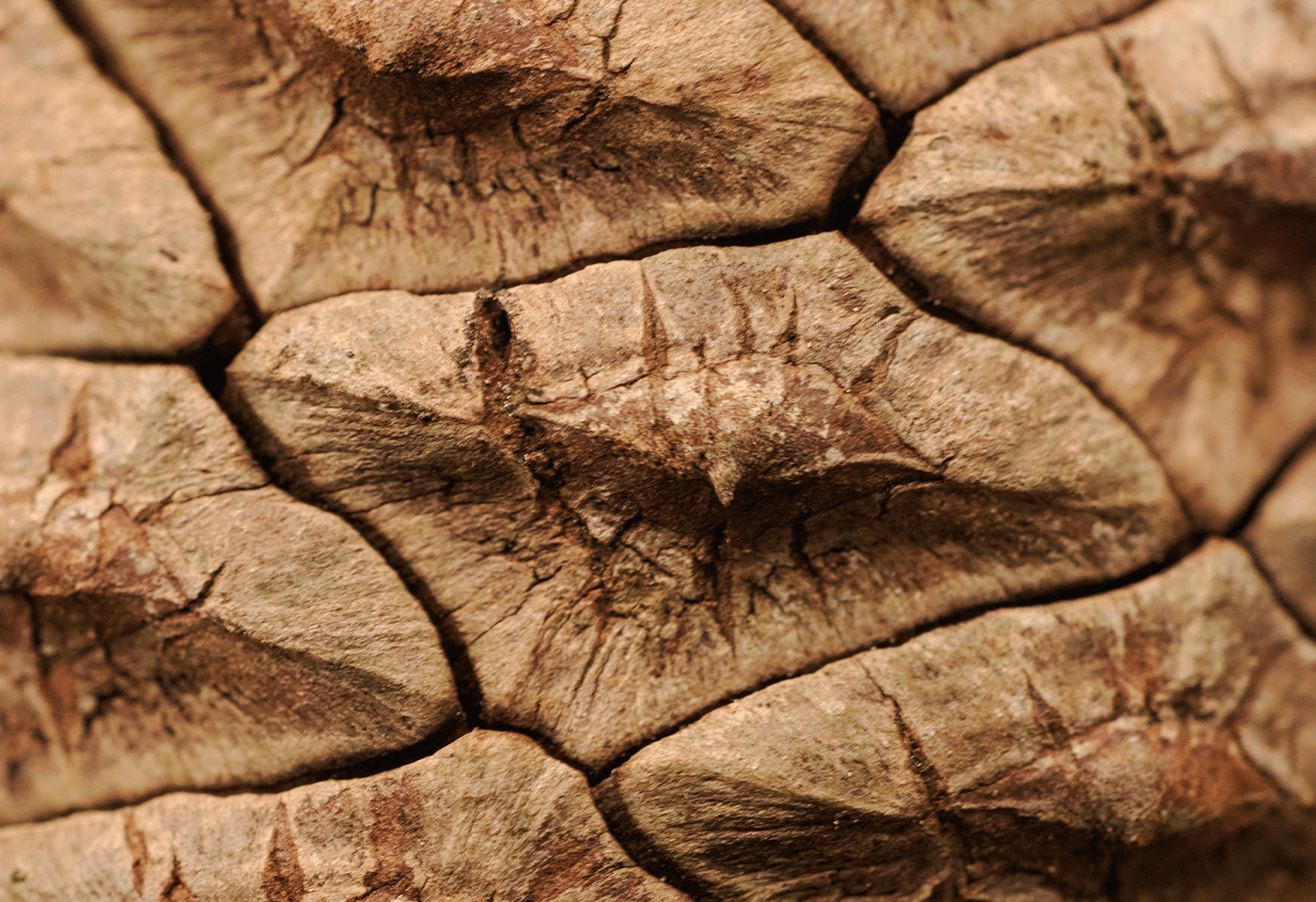 Close up of a pinecone – Aperture F7.1, shutter 1/60, ISO 2000.
Here is a close up of a pinecone. The seeds are still tightly packed in on the pinecone. When photographed with the macro lens, this image leads to a feel and look of a large mountain range, giving the image a sense of a grand scale.
Normally my main focus with macro photography is micro invertebrates (such as insects, spiders, bugs, etc) with a strong focus on native species. I do however also enjoy photographing plants as well, when I get the chance (what is not often, as I am mostly out at night photographing as this is when most of the invertebrate subjects I am interested in are most active; the two images below are taken with an external speedlite (Canon MT26EX-RT Twin Lite and a homemade diffuser).
Upon receiving my Canon RF 100mm f/2.8L Macro IS USM lens, we went into lockdown here in New Zealand, which meant I had a lot of time around the house and garden, giving me a chance to focus my attention on non-insect subjects. So I decided to focus just on capturing images with just the macro lens and camera, no tripod and no flashes, as I thought this would give me a good chance to understand the lens and the image stabilization feature of the lens. Prior to this macro lens all of my other macro lenses I own do not have image stabilization – so you could say image stabilized macro lens was all new to me.
Canon says their new RF 100mm f/2.8L Macro IS USM lens offers an impressive 5 stops stabilization in the lens when using this lens with a Canon EOS R or RP. If used with a Canon EOS R6, EOS R5 or the new Canon EOS R3 it offers an impressive 8 stops of stabilization. So, I wanted to really test what this allowed me to achieve in low light conditions and using the lens handheld with a much slower shutter speed than the focal length of the lens.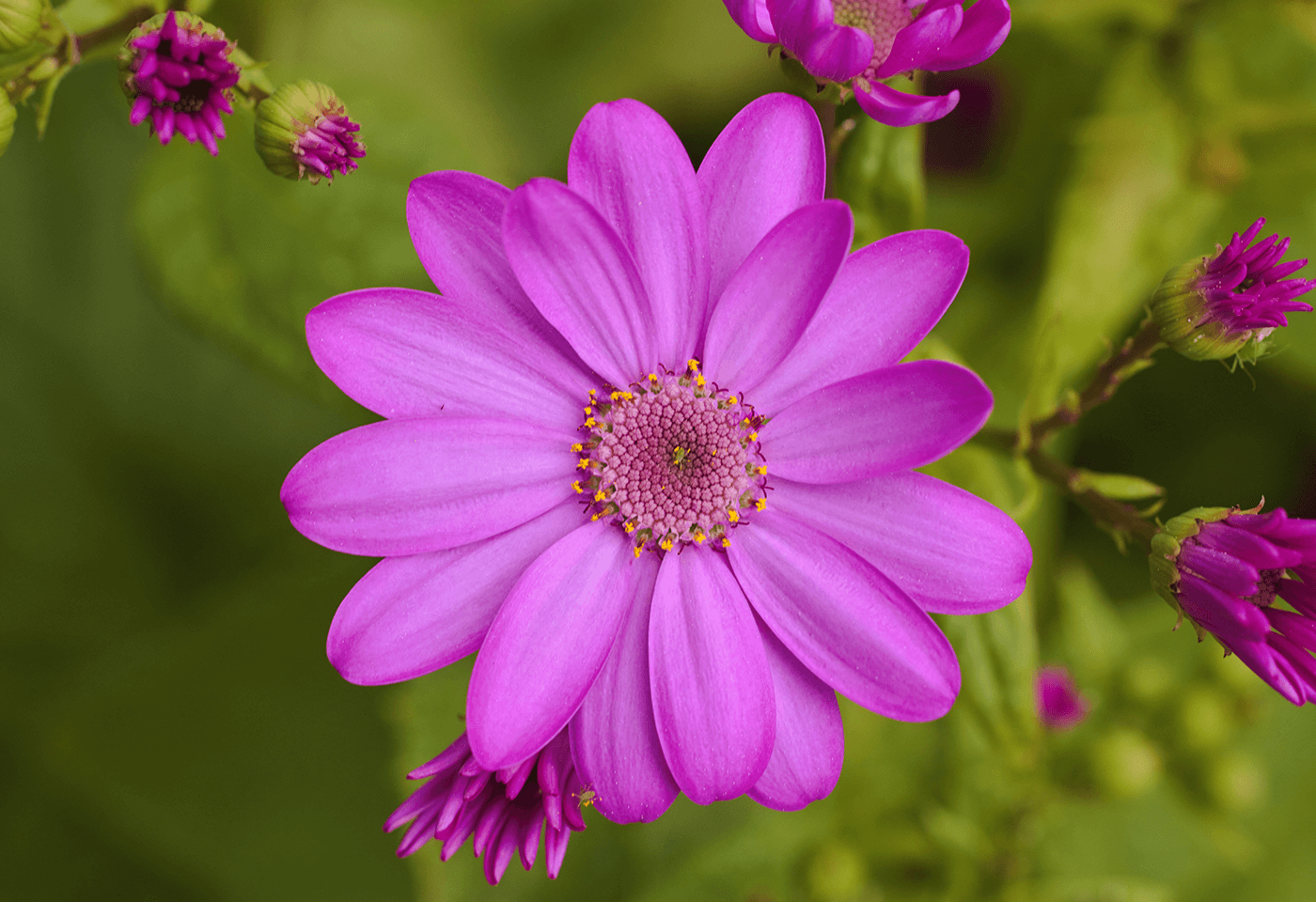 Pink flowers – Aperture F7.1, shutter 1/50, ISO 1250.
I found I could easily handhold this lens on a Canon EOS R, at 1/50 of a shutter speed (photo above). I found this very impressive, and it excites me in terms of what advantages this will offer me in the near future.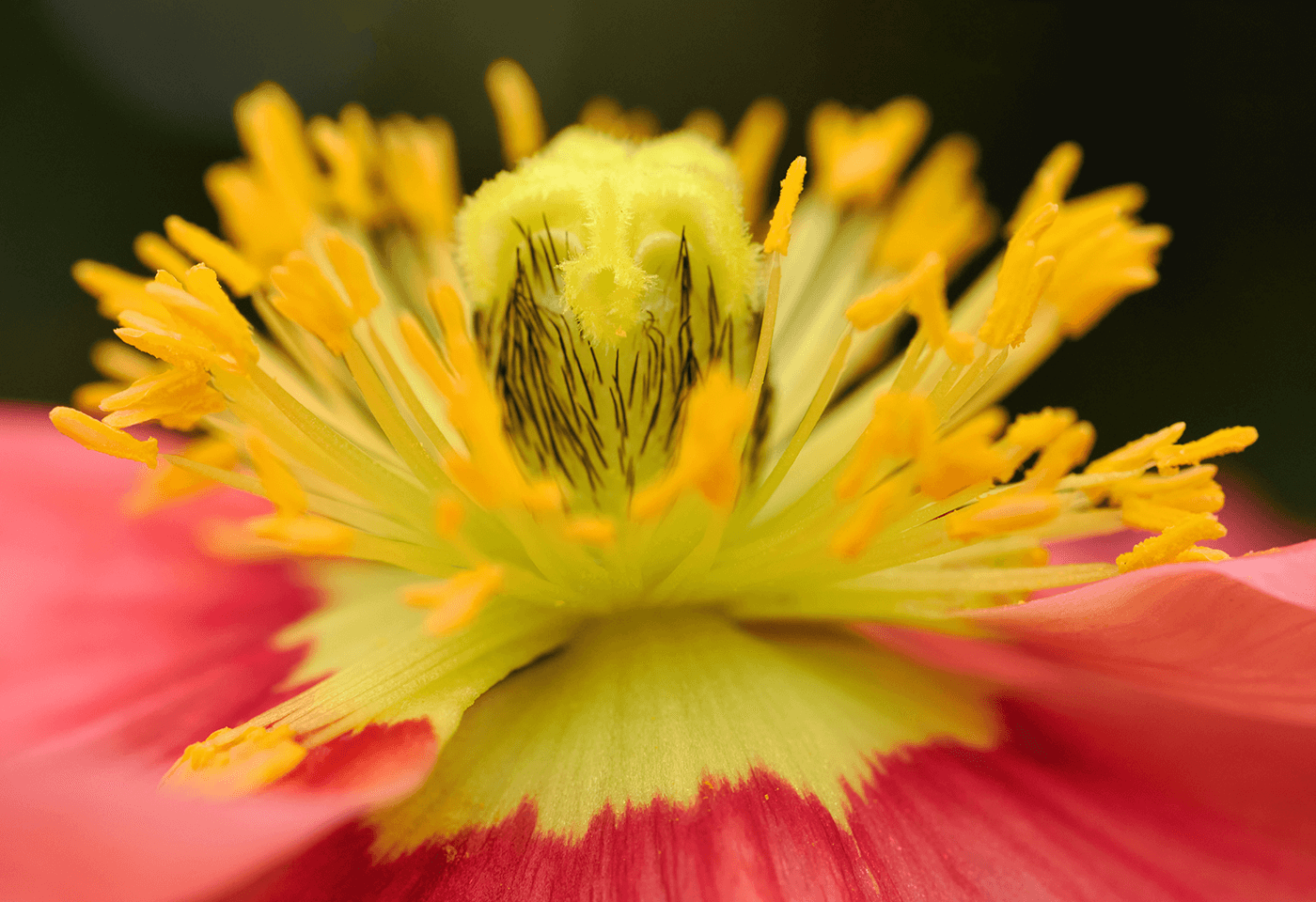 Poppy flower - Aperture F7.1, shutter 1/200, ISO 2000.
The Canon RF 100mm f/2.8L Macro IS USM, is the first true 1:1 and beyond macro lens for the new RF mirrorless system. It is also the world's first 1.4x magnification macro lens with autofocus. The 1:1 life size magnification refers to the subject being life size on a full frame sensor. 1.4x magnification will make the subject 40% larger.
This lens also has a new close working distance of 26cm, this is from the sensor to the subject. From the end of the lens to the subject its roughly 8cm at maximum magnification (1.4x). Making this lens the longest working distance in any lens offering 1.4x life size.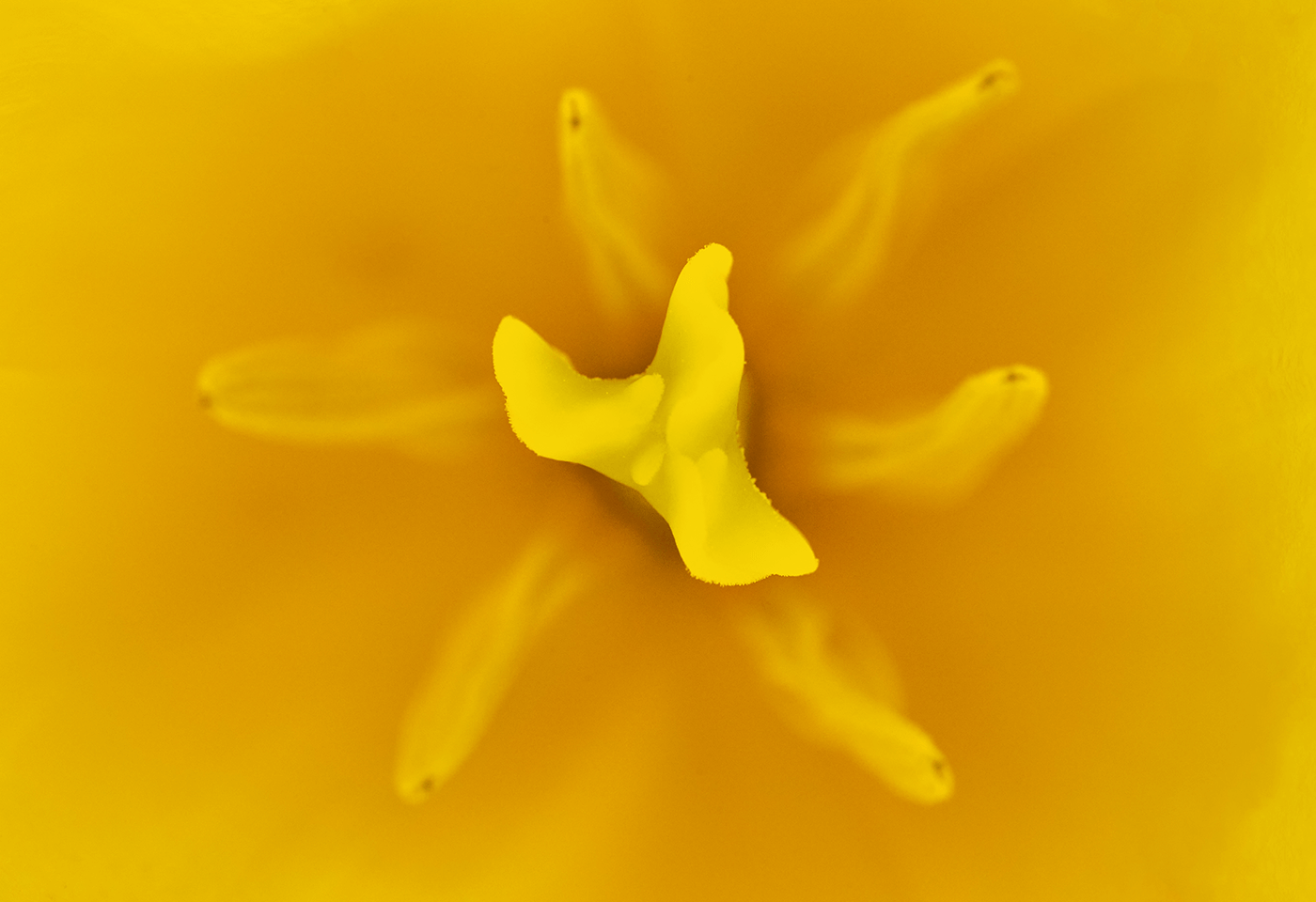 Centre of a tulip flower, at 1.4x life size – Aperture F7.1, shutter 1/500, ISO 1000.
Having a working distance of 26cm from the sensor allows you to get close to your subject while causing minimal disturbance to the subject. This is extremely important for wildlife and macro photographers who are photographing live subjects (example of beetle in photograph below).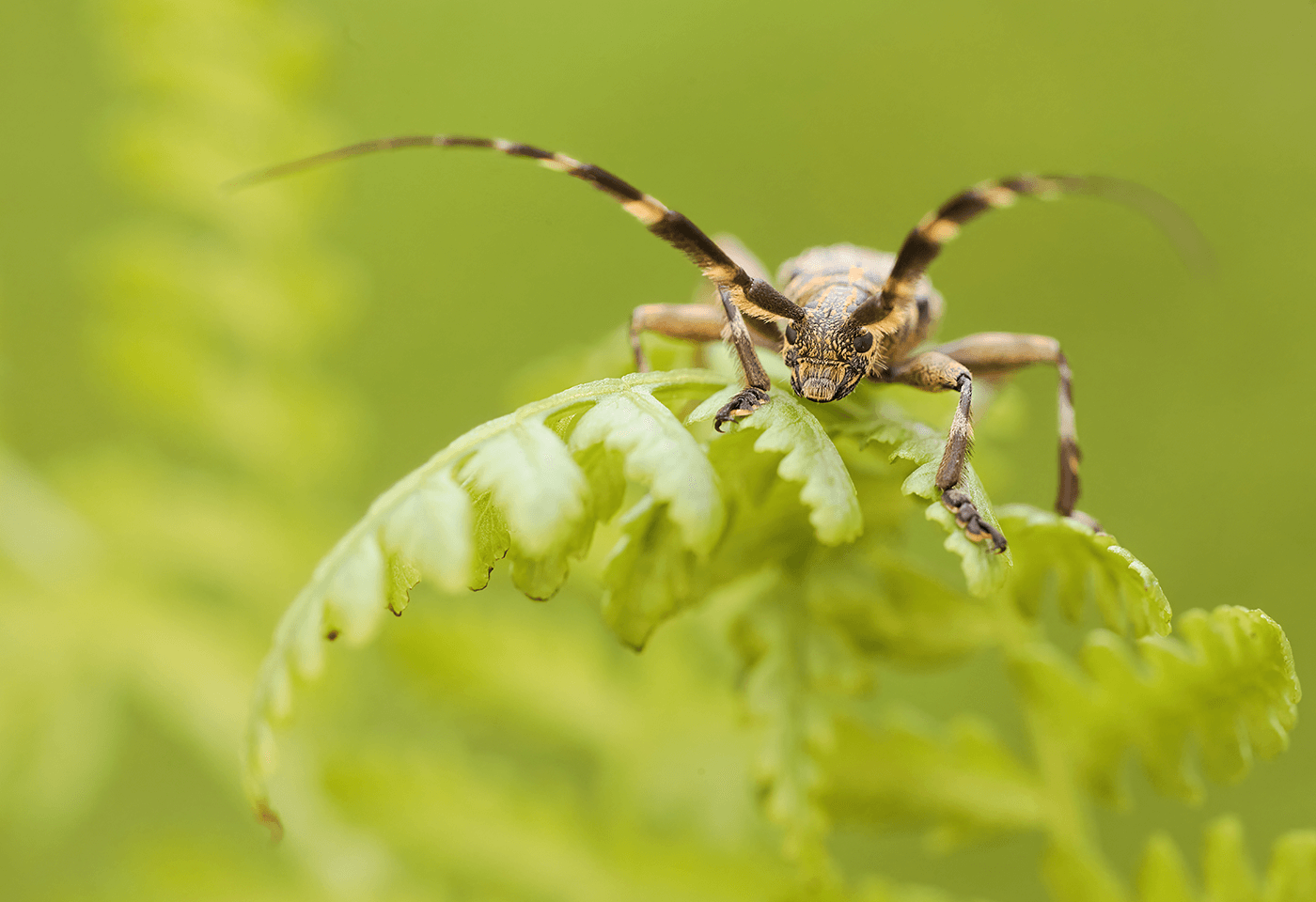 Squeaking longhorn beetle (Hexatricha pulverulenta) - Aperture F7.1, shutter 1/160, ISO 1250.
One of the other new features with the new RF lenses is the ability to customise the lens focusing and control rings.
The control ring at the end of this lens, allows you to set a certain desired function to the control ring, such as aperture, shutter speed, or ISO. I have found this feature to be very useful for macro photography. I like to set the control ring to aperture, which then allows me to very quickly change the aperture as I move closer or further away from the subject while photographing.
The focusing ring – the new RF lenses allow you to change the sensitivity of the lens when focusing. This is especially useful for doing manual controlled focusing with a tripod, or even more so when focus-stacking. This new macro lens has a very smooth throw. I have found having the lens on "varies with rotation speed" (see image below) to be extremely useful in the kind of photography I do, which is often with insects - a lot of insects move with sporadical behaviour. So to have the ability to go quickly from 1.4x to a lower magnification has been especially useful.
By Bryce McQuillan: @spidermanbryce