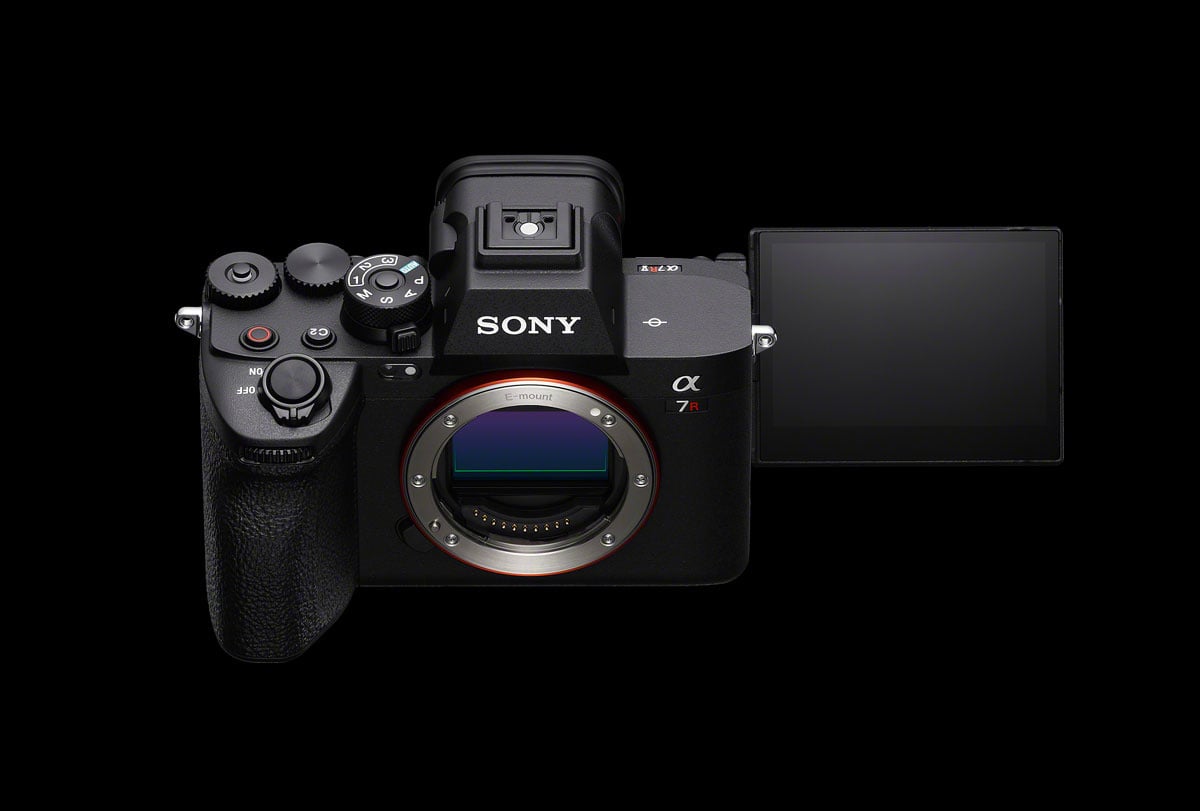 New Sony a7R V Camera: A Whole New Level of Camera Intelligence
First Deliveries December 6th | $3,899 | Preorder Now
A whole new level of camera intelligence
State-of-the-art AI processing uses detailed information about human forms and postures to dramatically improve the camera's subject recognition accuracy1 and make full use of its potential resolution. Also, subject recognition has been expanded to include a number of new subject types, including vehicles and insects.
AI processing unit for advanced subject recognition
The α7R V is equipped with an AI processing unit specifically dedicated to interpreting significant amounts of data to enable more accurate recognition of subjects and recognition of a wider range of subject types
Human pose estimation
The α7R V uses subject form data to recognize movement, providing a roughly 60% improvement in human eye recognition3. Human pose estimation uses learned human forms and postures to precisely recognize not just eyes, but body and head position, making it possible to lock onto and track a subject facing away from the camera or wearing a mask, for example.
Recognize a wider range of subjects
In addition to humans, animals and birds, the camera now recognises insects, cars, trains and airplanes4, providing even greater flexibility and reliability when shooting both stills and movies. Heads and bodies are now recognized in addition to eyes (Real-time Eye AF) for the Human, Animal, and Bird settings.
Improved accuracy of WB control
The α7R V's 7R V's AWB (auto white balance) function has evolved in tandem with the camera's AI capabilities. In addition to the Visible Light + IR sensor on the front of the body, the camera's AI processing unit helps to achieve more accurate white balance in difficult lighting, such as when the subject is in shadow.
A new high in α resolution5
The output from the 35mm full-frame back-illuminated Exmor R™ CMOS image sensor, with approximately 61.0 million effective pixels6, is processed in real time to the fullest extent by the advanced BIONZ XR™ processing engine to deliver breathtaking detail in both stills and movies.
35mm full-frame image sensor with 61.0 effective megapixels6
The sensor is packed with Sony's image sensor technologies, with effective noise reduction realized by its back-illuminated structure, plus gapless on-chip lenses, AR coating (anti-reflection seal glass), and the elimination of an optical low pass filter.
The latest BIONZ XR image processing engine
With up to eight times the processing power of its predecessor7, the new BIONZ XR processes huge volumes of image data while minimizing latency and markedly boosting the camera's movie and still-image processing power.
Consistently accurate exposure and color
The latest BIONZ XR engine achieves even better exposure control and color reproduction accuracy. A new AE (auto exposure) algorithm is capable of detecting the skin area in faces and controlling exposure accordingly when shooting stills and movies.
Selectable RAW image sizes and quality
The α7R V now supports the lossless RAW format, with three selectable pixel counts - L (60M), M (26M), and S (15M). Both M and S sizes offer the same resolution in full-frame and APS-C fields of view, for simpler post-production workflow.
Advanced 5-axis in-body optical stabilization
The α7R V has been upgraded to offer up to 8 steps of stabilization8 in the body alone, for the first time in the α series. This achieves effective stabilization for slow-shutter shots of interiors or night scenes where it is preferable to avoid the need for increased sensitivity.

[1] Yaw [2] Roll [3] Pitch
Precise compensation at the single-pixel level
A new stabilization algorithm provides precise detection and control right down to the single-pixel level, taking full advantage of the sensor's 61.0 megapixel9 resolution to bring out the finest subject details.
Creative Look supports varied expression
The Creative Look feature provides 10 presets that can be used unmodified or edited to create a variety of "looks" that can help creators fine-tune the mood of their stills or movies in-camera.
Pixel Shift Multi Shooting10 responds to changing conditions
Pixel Shift Multi Shooting takes advantage of precision in-body image stabilization system control. Up to 16 pixel-shifted images are captured and later composited using a computer to achieve overwhelming resolution in a single image. Even tiny movements down to single-pixel level can be detected and compensated for by the PC software performing the compositing.
Real-time Recognition AF
The α7R V's AF system delivers dramatically enhanced overall performance, drawing on major advances in subject recognition technology. Deep learning technology supports powerful Real-time Recognition AF (autofocus) as well as more reliable Real-time Tracking11 which is supported by higher Fast Hybrid AF performance over a wider area.
Faster, more precise wide-area AF
The immense processing power of the new BIONZ XR engine and updated algorithms achieve notably improved AF (autofocus) performance. Up to 693 phase-detection points12 in a high-density array cover approximately 79% of the image area.
Accurate AF in low EV -4.0 light
The latest AF algorithms enable high AF precision down to light levels as low as EV -4.0 in AF-S mode13. The α7R V also includes a Focus Priority mode that provides more reliable AF in low light or when using smaller apertures.
Continuously shoot up to 583 compressed RAW images at 10 fps14
Continuous shooting at up to 10 fps14 with full AF/AE tracking is possible with the mechanical or electronic shutter. The camera can shoot up to 583 compressed RAW images at this speed15.
Focus bracketing to capture the best shot
The camera will automatically shoot up to 299 images with sequentially shifted focus points, with custom intervals and sequence specified by the user. Pick the perfect shot, or post-process multiple shots to achieve creative composites with impossible focus depth.
Flicker suppression16
Flicker from artificial lighting can be effectively suppressed, with your choice of "Anti-flicker shoot" for still shots or "Var Shutter" to fine-tune shutter speeds to match flicker rates when shooting either stills or movies.
Full-time DMF (direct manual focus)17
When shooting stills with AF-C or AF-S autofocus, the lens's focus ring can be rotated to instantly switch to manual focus mode at any time. This makes it easy to switch focus to a different subject on the fly.
Movies with spectacular detail and presence
High quality 8K movie recording 18
The XAVC HS format enables in-camera recording of high-resolution, high-quality 8K (7680 x 4320) 24p (25p)18 movies with efficient HEVC/H.265 compression, bringing out the very best in Sony's lenses and taking full advantage of the resolution provided by the sensor and full-pixel readout. Even the finest subject details are faithfully captured.
Outstanding 4K movie recording up to 60p(50p)19
Full frame and Super 35mm formats can be selected for 4K movie recording. Full pixel readout in the Super 35mm mode without the need for pixel binning20 makes 2.6x oversampling possible for 4K movies21. The XAVC S-I (All-Intra) or the XAVC HS format is supported, with 10-bit 4:2:2 color sampling.
Expressive S-Cinetone™
Based on the technology of CineAlta™ cameras such as the acclaimed VENICE, S-Cinetone delivers natural mid-tones that are essential to healthy-looking skin tones, plus soft colors and gorgeous highlights.
S-Log3 gamma curve with 14+ stops22 of latitude
The S-Log3 gamma curve emphasizes gradation characteristics from shadows to mid-gray (18% gray), achieving up to 14+ stops22 of latitude for efficient editing.
Real-time Tracking for movies
Thanks to improvements in subject recognition, Real-time Tracking is now even better, automatically tracking specified subjects with precise focus, including focus on the subject's eyes23.
Active Mode24 provides strong image stabilization
Active Mode24 provides strong image stabilization for handheld movie shooting. In addition to in-body stabilization, compatible lenses with their own built-in image stabilization25 coordinate with the camera body for highly effective control, allowing even handheld telephoto shots.
Breathing compensation for consistent angle of view26
When shooting movies, breathing compensation uses Clear Image Zoom technology to maintain a consistent angle of view26, suppressing changes that may occur due to shifts in focus position. Breathing metadata can also be used in post production27.
Comprehensive movie tools
The α7R V provides various movie tools such as a clear recording tally frame on the display, Flexible Exposure mode, WB adjustment while recording, new Shot Mark, aspect markers, and a movie self-timer.
New 4-axis multi-angle LCD monitor
Sony's newly developed 4-axis multi-angle monitor combines the utility of a conventional tilting monitor with side-opening vari-angle flexibility. It allows greater shooting freedom by providing unrestricted angle adjustment in both horizontal and vertical orientations28.
3.2 type high-detail LCD panel
The α7R V's LCD monitor has a 3:2 aspect ratio, with 2.1 million dots, touch operation and a wide color gamut (DCI-P3 equivalent). An outdoor mode is provided for clear visibility in bright outdoor settings.
QXGA viewfinder with the highest resolution in its class29
The 9.44 million-dot OLED electronic viewfinder offers a 1.6x improvement in resolution, 0.90x viewfinder magnification30, a 41° diagonal FOV, and a selectable 120 fps setting for minimal motion blur.
Dual CFexpress Type A compatible media slots
The α7R V's two media slots support both CFexpress Type A memory cards and UHS-I and UHS-II SDXC/SDHC cards31. The fast writing capabilities of CFexpress Type A cards contribute to the ability to process large volumes of data without stress. There are separate modes for relay and simultaneous recording.
Dedicated Still/Movie/S&Q dial
The Still/Movie/S&Q dial allows fast, independent selection, putting the most useful shooting settings for each mode within quick reach.
Touch operation during shooting and playback
The Touch Focus, Touch Tracking and Touch Shutter functions can be sequentially activated by touching an icon on the shooting display. During playback images can be selected by touch.
Workflow and reliability geared to professionals
Fast Wi-Fi for PC tethering, FTP and smartphone transfers
Built-in Wi-Fi (IEEE 802.11a/b/g/n/ac) allows communication on the 2.4 GHz and 5 GHz32 bands, and provides 2x2 MIMO support for fast and stable data transfer and reliable communication.
UVC/UAC support for high-quality webcam applications
Easy streaming in 4K21 is possible with a UVC/UAC compatible smartphone or PC33 via USB connection34, so the α7R V can be used as a high-resolution webcam.
Effective heat dissipation for extended recording times
The camera has been redesigned from the ground up to ensure effective heat dissipation and prevent overheating. 8K 24p (25p) 10-bit 4:2:0 video can be recorded continuously for approximately 30 minutes35.
High reliability in challenging working environments
For more robust outdoor use, sealing is provided at all body seams, buttons and the battery compartment cover. A carefully designed lens lock button and cushioning around the mount also help resist dust and moisture36.
New anti-dust system increases dust removal efficiency
An ultrasonic actuator causes the filter in front of the image sensor to oscillate at more than 70,000 cycles per second, effectively removing dust and particles from the filter surface. There is also a Shutter When Power Off function that closes the shutter for lens changes.