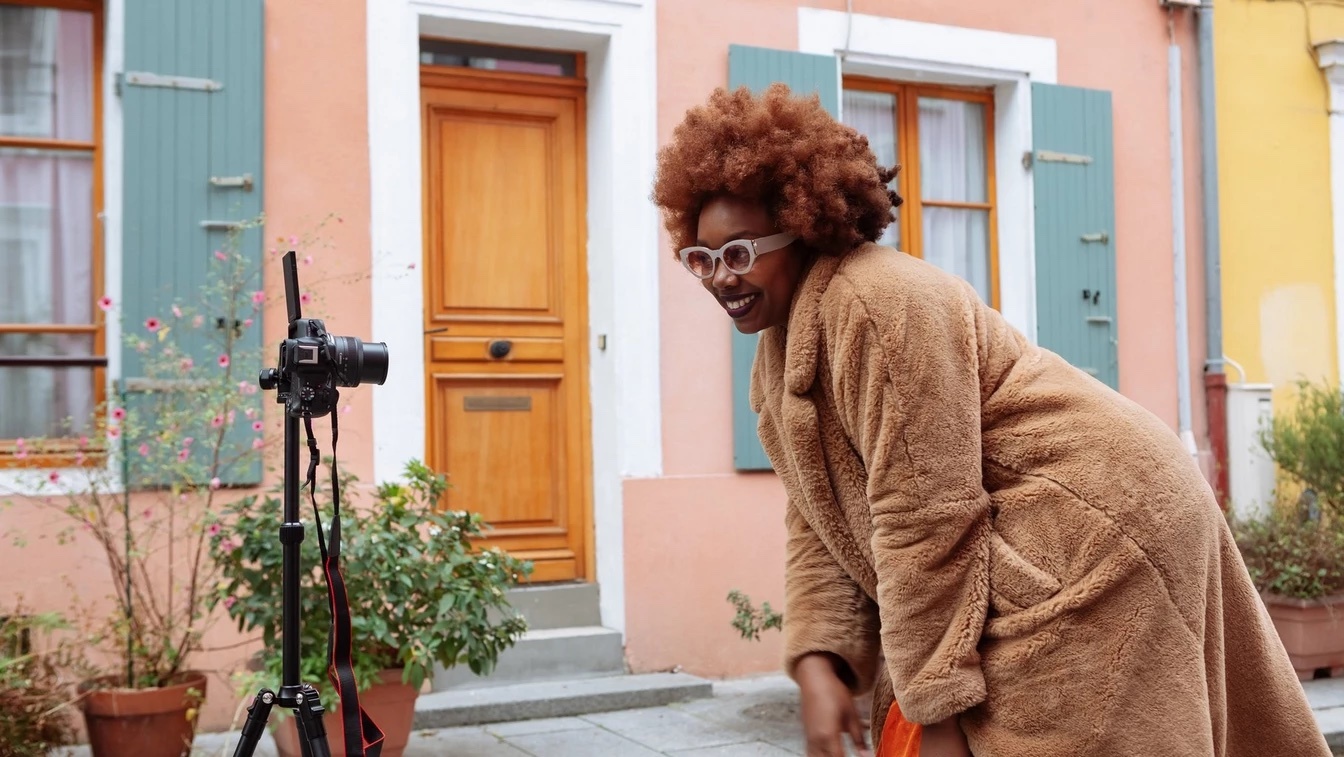 Next Level Content Creation with Canon EOS R50
Available March 16 | Starts at $679 | Buy Now >
From fashion and food to fitness and lifestyle, four high-profile influencers reveal how capturing and sharing stories with the Canon EOS R50 has enhanced their social media content.
Content creation is more competitive than ever, and whether you're producing fast-paced food vlogs or inspirational fitness films, there comes a time when it's worth considering whether you could improve your video with a camera that delivers better performance, features and image quality.
That's where the Canon EOS R50 comes in. An entry-level mirrorless camera in Canon's EOS R System, it has a high-resolution 24.2MP sensor, advanced automatic modes and an intuitive interface that makes it ideal for aspiring content creators and social media influencers.
There are so many ways that the EOS R50 simplifies content creation, from its compact and portable design to the crisp display of its vari-angle touchscreen, making it ideal for self-shooting and livestreaming.
Four dynamic content creators from the UK, France and Germany have been using the Canon EOS R50 to capture the passions that are closest to their hearts. They tell different stories but have all been able to elevate their content with this powerful APS-C camera.
Read on to discover how the EOS R50 makes shooting and sharing content easier, faster and better than ever before.
Fatou N'Diaye: a fashion shoot in Paris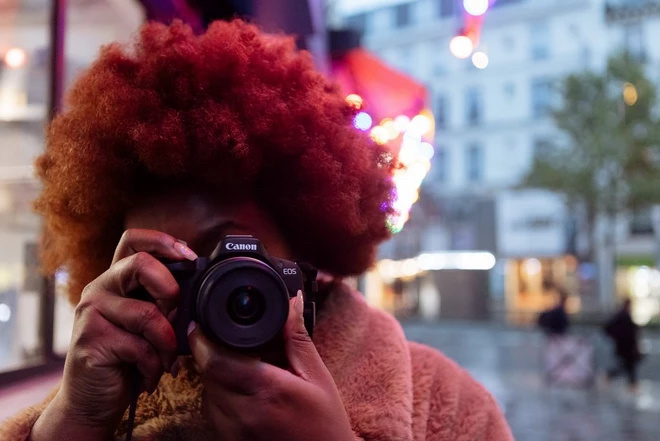 The Canon EOS R50 is an excellent performer in low light, with autofocus that works down to -4 EV to ensure that content creation at night or in a dim room is still sharp.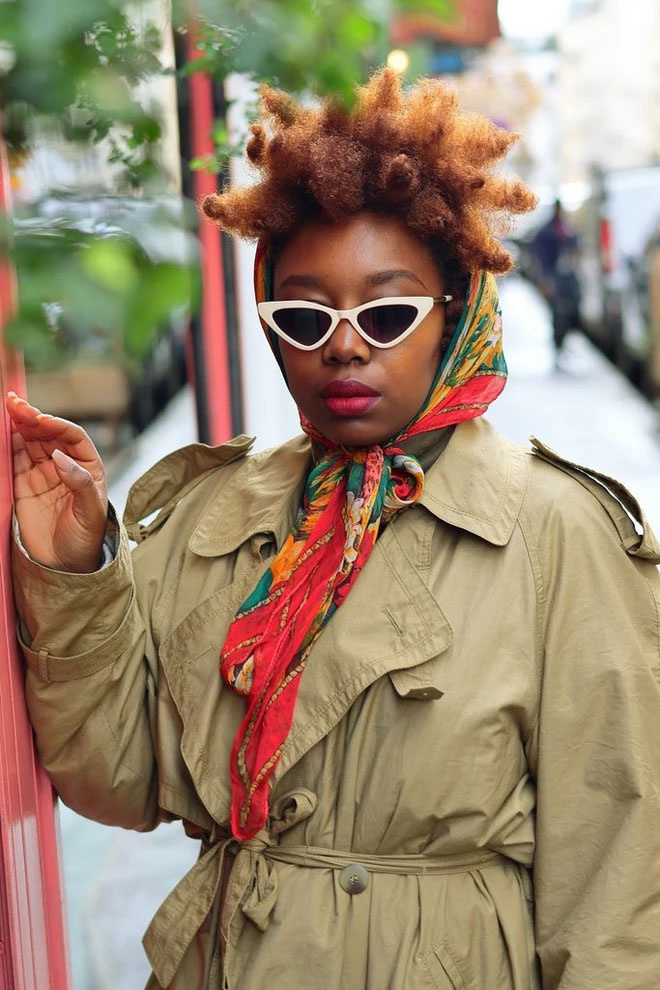 The Canon EOS R50's controls are ideal for beginners, including a quick switch between stills and video and guided menus on the touchscreen. Fatou has used advanced Canon DSLRs and hybrid cameras but was attracted to the simplicity of the EOS R50. "I fell in love from the first photo I took," she says. "Everything is there. It's a camera that will make you love photography." Taken on a Canon EOS R50 with a Canon RF 50mm F1.8 STM lens at 1/200 sec, f/2.8 and ISO200.
Paris-based beauty blogger Fatou developed a love of photography when she was young, after seeing her father taking his Canon film camera everywhere. In 2007, she started the blog Black Beauty Bag to talk about fashion, especially for black women, and now shares her photos with more than 150K followers at @blackbeautybag. "For me, fashion and photography go hand in hand," she says.
Fatou travelled around Paris using the Canon EOS R50 to capture herself cycling, shopping and filming outfits, and the camera's Movie Digital Image Stabilisation (IS) kept her handheld footage sharp, while the versatile 1.62M dot vari-angle screen made self-shooting easy. "You can adjust the autofocus by tapping the subject on the touchscreen," says Fatou. The camera will then track you or any selected subject automatically.
Fatou says she fell in love with the EOS R50's size. "I didn't expect such a small camera to have the capabilities of a large DSLR," she continues. "The EOS R50 allows you to choose different photo styles from its automatic creative bracketing mode."
As with smartphones, the EOS R50 features presets and filters, and the creative bracketing mode automatically applies four different creative effects to each image you take, so you can select your favourite look.
Although Fatou isn't new to photography, she found these tools sped up her workflow. "For someone who doesn't know much about photography, the EOS R50 is the right choice," she concludes.
Elena Bulkowski: a day in the life of a fitness influencer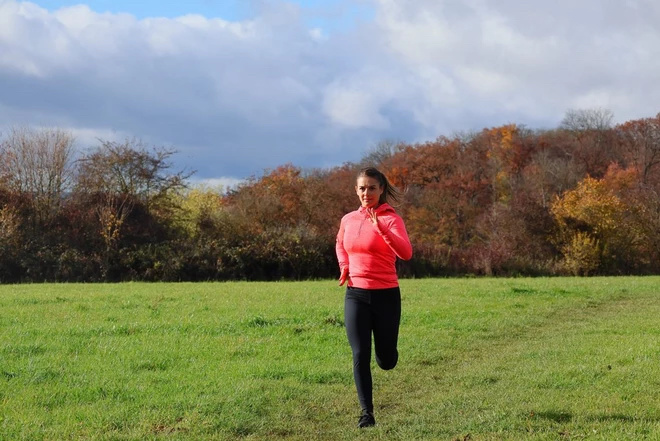 The EOS R50 features the same autofocus system as the Canon EOS R10, which enabled Elena to keep her footage sharp. "Whenever I go for a brisk jog or workout, I don't have to worry that I'm out of focus because the camera tracks me automatically," she says. Taken on a Canon EOS R50 with a Canon RF-S 55-210mm F5-7.1 IS STM lens at 77mm, 1/500 sec, f/7.1 and ISO100.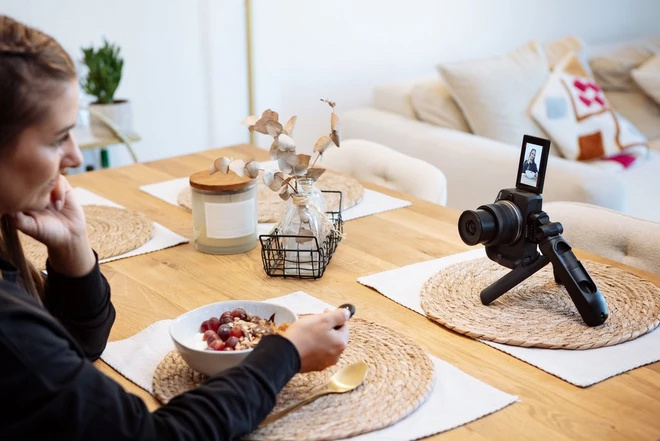 The EOS R50's compact size proved ideal for content creators who are always on the move. "I get up, make breakfast, post a recipe video, then just throw it in my backpack and go hiking," explains Elena. "It fits perfectly into my workflow because I can take it everywhere."
Fitness-focused Elena launched @trainhard_eatwell in 2014 after moving to Stuttgart, Germany, and discovering there weren't any sports clubs nearby. She shares her passion for movement online, motivating her followers with healthy recipes and workout videos – and needs a camera that can keep up.
The Canon EOS R50's 12fps continuous shooting speed and 120p slow-mo video are perfect for Elena's fast-paced content. The Dual Pixel CMOS AF II autofocus system tracked Elena during her workouts and kept her in sharp focus. "My running videos are so fluid," she says. "I make a lot of sports content and what's great is that the autofocus follows you when you're exercising."
Upgrading from a smartphone, Elena found the EOS R50 intuitive to use. "It's so easy to switch between video and photo mode," she continues.
The EOS R50 also features 14 scene modes for stills, automatically configuring settings for situations such as self-portraits and sports, alongside six movie modes.
Martyn Odell: recipes for a food revolution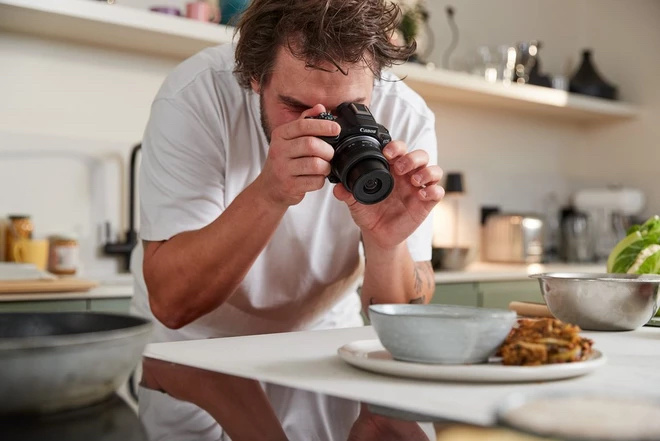 Food influencer Martyn has created versatile content with the Canon EOS R50, thanks to its wide range of compatible RF and RF-S lenses. "The interchangeable lenses allow me to play around with different focal lengths," he says. "It's incredible being able to use a wide-angle lens to capture everything when I'm filming, then being able to switch to a 50mm for food photography."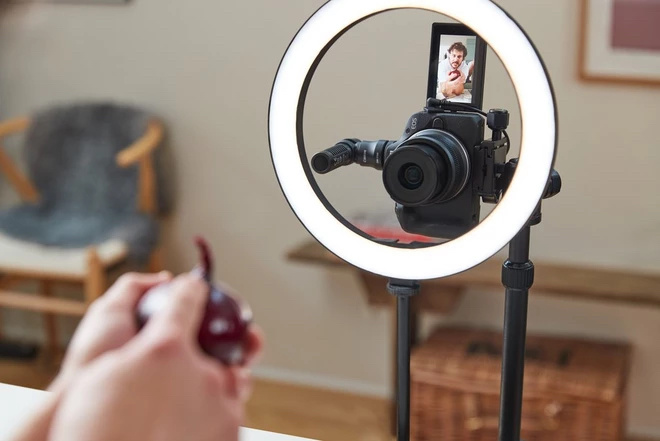 The EOS R50's new movie for close-up demos mode was perfect for presenting pieces to camera. "After holding up an ingredient, the focus snaps straight back to my face, which is exactly what I need," says Martyn.
Posting as @lagomchef, Martyn's TikTok videos teach people how to reduce their food waste and have fun in the kitchen. With a photography degree and DSLR experience, Martyn has been using a smartphone for spontaneous content creation but was blown away by the EOS R50's ability to shoot 4K 30p video, as well as 120p Full HD.
"Quality at the touch of a button is so important to me because my content is very unplanned," Martyn says. "But I know that I can pick up the camera, press record and capture beautiful 4K footage straight off. The ability to capture slow-motion footage has also added a new dynamic to my food content."
The Canon EOS R50's easy-to-use shooting modes also helped him with close-up food photos. "One of the great features is focus bracketing, which allows you to do macro photography really easily, picking just the right depth of field."
Thanks to the EOS R50's Bluetooth camera control and wireless connectivity, Martyn could instantly post content to his social channels. "It's really easy to send photos and videos from the EOS R50 to my phone via the Canon Camera Connect app, which enables you to put content online as soon as it has been captured," he says.
Zeena: style and presentation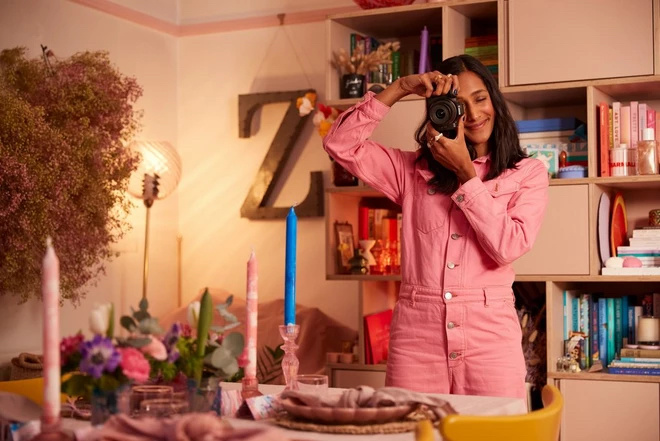 As someone who isn't particularly tech-savvy, the EOS R50 has been really straightforward and super intuitive to use," says Zeena. "Being able to take photos and have them automatically appear on my phone seconds later is incredible. It's going to be so time-saving."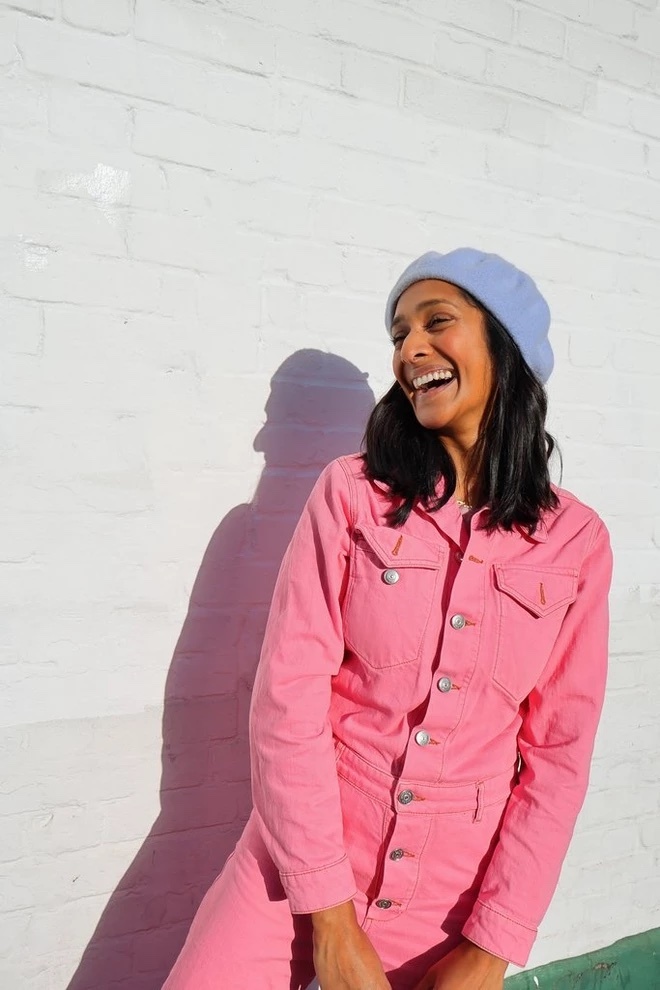 Style is very important to Zeena, so being able to fit the EOS R50 in her handbag and take it from home to the studio is a major advantage. "It comes with me everywhere and it really helps me make a step up in quality," she says. "It feels like I'm a proper photographer and taking really high-quality photos is a joy." Taken on a Canon EOS R50 with a Canon RF-S 18-150mm F3.5-6.3 IS STM lens at 18mm, 1/500 sec, f/9 and ISO160.
London-based Zeena (@heartzeena) is a designer, stylist, presenter and author who rediscovered the age-old art of marbling during lockdown. Having first captured her craft on a smartphone, she was looking for a step up in quality.
The EOS R50's accurate and sharp images satisfied Zeena's artistic eye for bright tones and details. "The colour is so beautiful," she says. "It's so true to life and it's so lovely to be able to share that high definition and beautiful saturation with my followers."
Creative bracketing gives you multiple edits for each image, which meant Zeena could send her content straight to social. "The ready-made filters mean you can post the images immediately," she explains.
Most of all, Zeena enjoyed using the EOS R50's slow-mo function to capture the mesmerising effect of the swirling inks in her marbling videos. "It's the one thing that was missing from my phone content," she continues. "The focus bracketing on the EOS R50 is also super cool. It blends images together to add a really beautiful depth of field that I just wouldn't be able to capture in any other way."
Whether you want face-tracking and automatic focusing features, intuitive shooting modes, a vari-angle touchscreen for checking your composition and settings, detailed and vibrant image quality, or access to the versatile range of lenses that an EOS R System camera can provide, the EOS R50 is the ideal companion for creating stunning content to share with friends and followers alike.