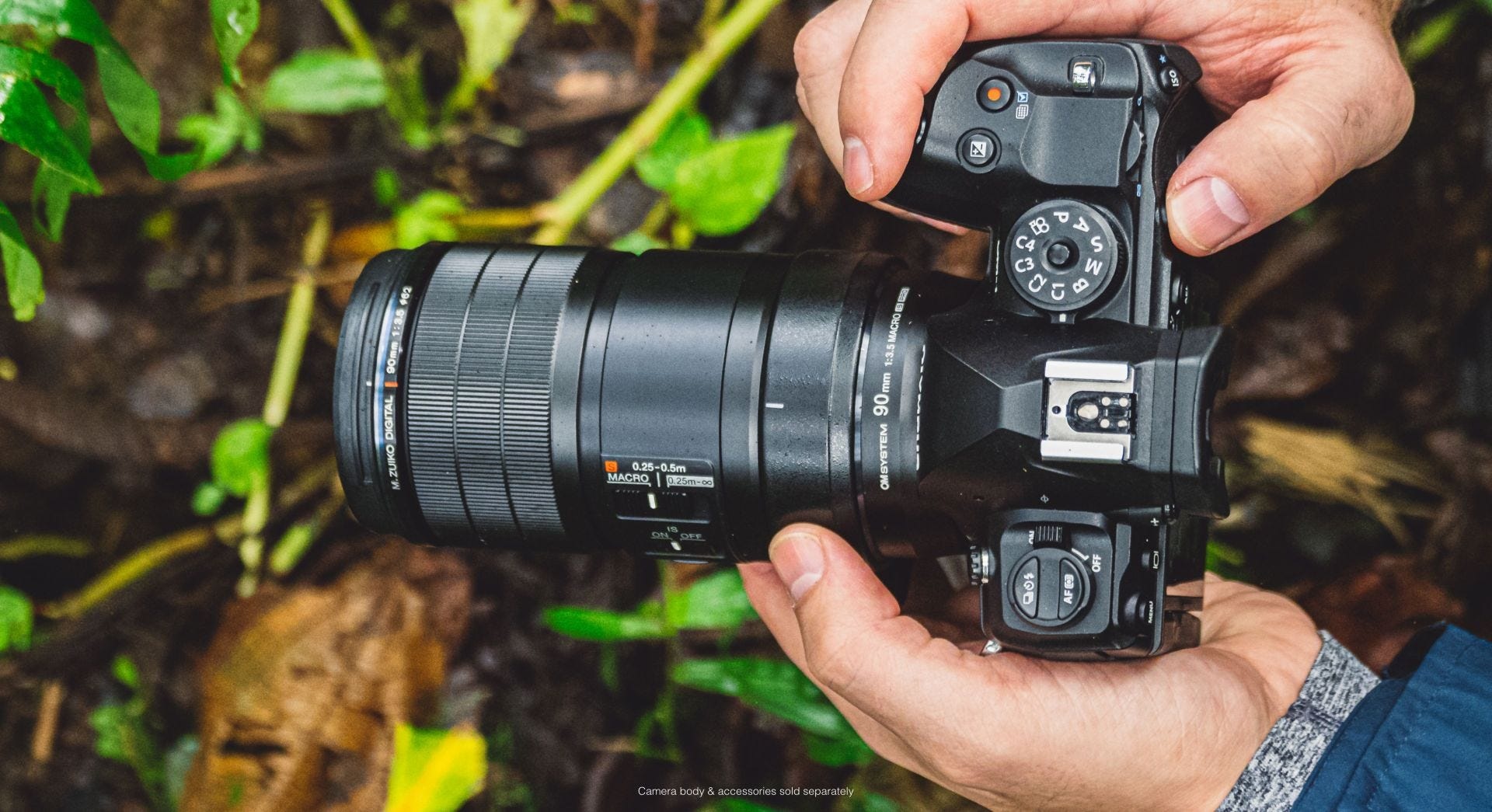 See the Unseen: M.Zuiko ED 90mm F3.5 Macro IS PRO
$1,499 | NOW SHIPPING | BUY NOW >

Every day we walk past adventures. Treasures hidden in plain sight, tucked away in nature, so close we don't even notice. But some see past the obvious and go even closer to find an unseen world full of majesty, mystery, and borderline magic.

There are no encounters too close or curiosity too courageous here. But enter at your own peril, for once you taste the never-ending world of outdoor macro, you might never see your surroundings in the same way again. Every leaf can be a home for wildlife, every bush a canvas for art, and every water droplet a mirror for the very soul of the forest.

This is our ode to those who see the unseen.
A WHOLE NEW WORLD
High Magnification
There's close, closer, and then there's this. A whopping 2x (4x 35mm equivalent) magnification ratio opens up whole new possibilities. Need more? Add a teleconverter for up to 4x (8x equivalent).
PURPOSE-BUILT
It doesn't matter if a blade is sharp if it's hard to handle. Everything from controls and handling on the lens is built to enable split-second macro shooting.
WEATHERSEALED
Mundane macro scene? Just add water. Get close without worrying about the weather and capture wondrous water worlds like never before.
Closer encounters of the good kind.
With the 90mm F3.5 Macro IS PRO, you can achieve a higher image magnification than on any lens we've ever made. A 2x magnification ratio coupled with our Micro Four Thirds standard delivers a 4x 35mm equivalent magnification ratio.
Add one of our teleconverters, like the MC-20, and you have up to a 4x (8x 35mm equivalent) macro lens capable of capturing an unseen world invisible to the naked eye.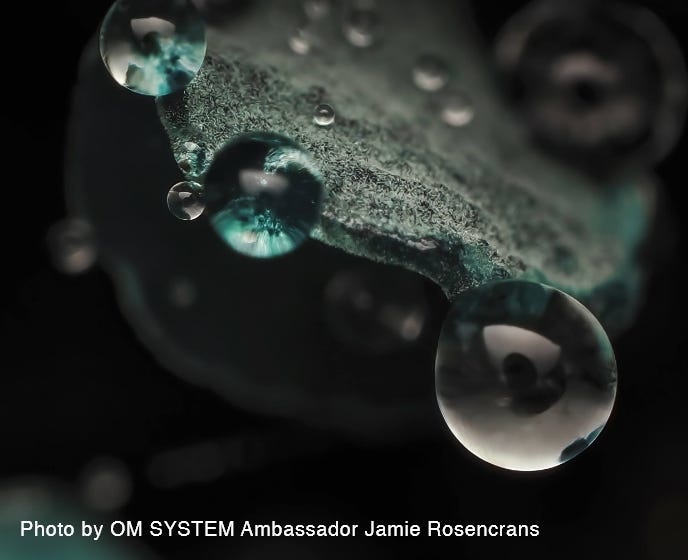 ED lenses for extra detail.
The 90mm F3.5 Macro IS PRO delivers. With a sophisticated array of elements that produce the superior resolution the detail-filled world of macro deserves. Let this work of art help create your work of art.
When life gives you a rainy day, play in the puddles.
Have you ever seen dragonflies dancing on daffodils in the rain?
Neither have we, but we hope our industry-leading IP53 weather-sealing will inspire a new breed of water-inspired macro photography in the outdoors.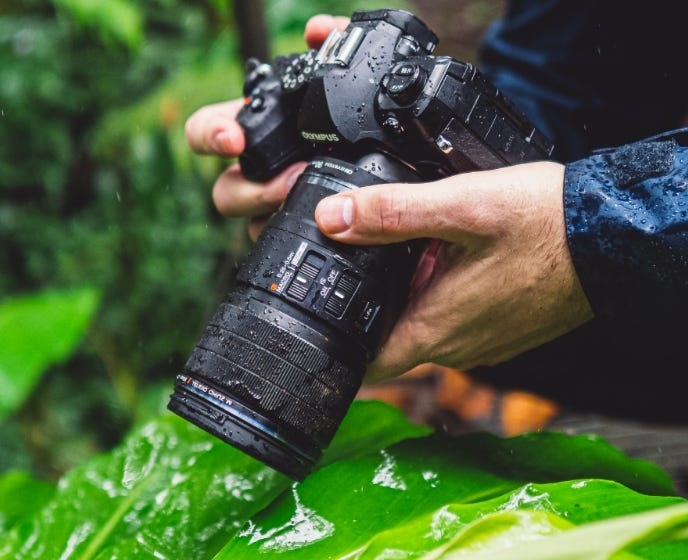 Flow like water.
Our fluorine coating on the front lens is equivalent to a magician waving a wand and making water disappear. Keep your lens wipes in your bag; shake or blow the water off and keep shooting.
Go big and leave the tripod at home.
Got details? We've got the pixels when paired with our OM SYSTEM cameras like the OM-1. The sync IS of the lens allows for even more precise Handheld High-Res photos resulting in stunning high-megapixel images without having to bring your tripod. Fewer things to lug around make for better adventures.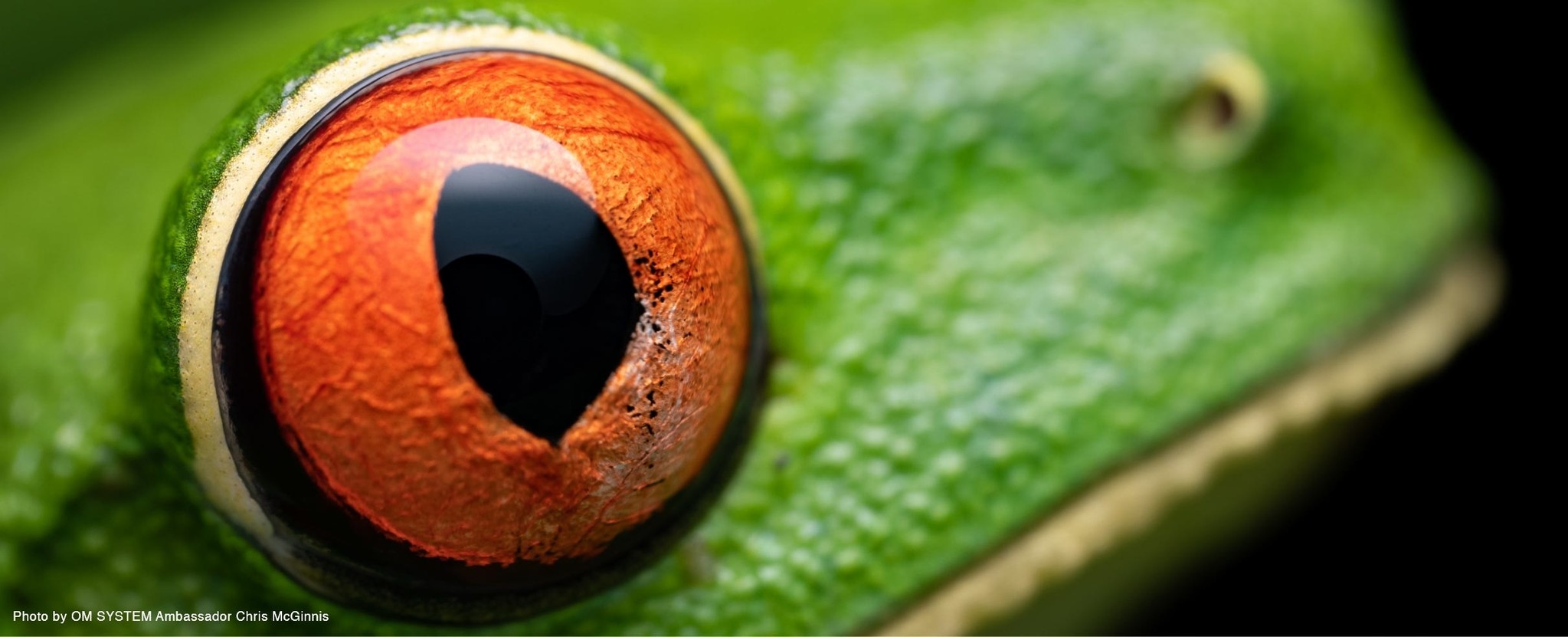 All the focus. Every time. Full speed.
Nature doesn't wait or take direction too well. Macro subjects can't be told to move into the focus area or to stay still in a pose. The 90mm F3.5 Macro IS PRO has class-leading high-speed and high-precision AF across the entire focusing range. You can capture each extraordinary moment as they happen while remaining in complete control through the intuitive control layout and camera integration.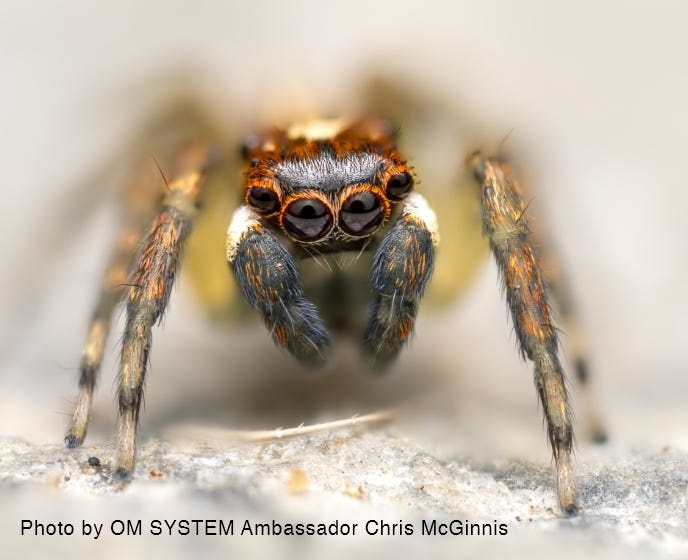 OM STANDS FOR OUTDOOR MACRO
The new 90mm F3.5 Macro IS PRO comes alive as a part of the OM SYSTEM. High magnification & high-resolution imaging, unparalleled weather sealing, blazing-fast autofocus, class-leading image stabilization, and computational photography. The system is much more than just a sum of its parts. See why we think this is the greatest field macro system ever made.
SYNC IS
Good things come in pairs. Pair this lens with a compatible OM body to instantly access our otherworldly Sync IS image stabilization.
FOCUS STACKING
Spend more time outdoors than in front of a computer by utilizing computational and controllable in-camera focus stacking.
MANUAL FOCUS CLUTCH
Manual override with smooth mechanics. You can trust the AF system, but if you want the hands-on experience, all you have to do is pull.
Fewer jitters = more nature and critters.
Shake off the excess weight of a tripod and the worry of picture blurring camera shake. Our macro-optimized 5-axis sync IS delivers up to seven shutter speed steps of shake compensation for worry-free handheld outdoor macro experiences even at full 4x (8x 35mm equivalent) magnification shooting.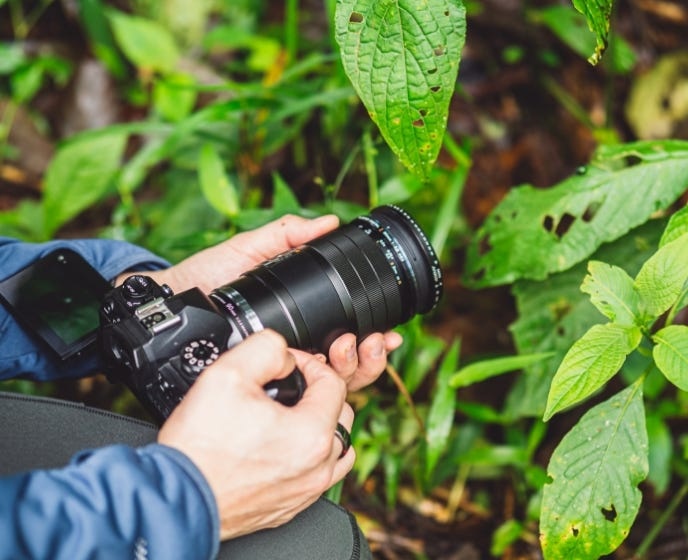 Let your camera do your desk job. 
Why exchange your hard-earned free time in the woods for sitting in front of the computer stitching photos together when your camera can do it for you? Macro and focus stacking go together like peanut butter & jelly, and the 90mm F3.5 Macro IS PRO makes it as easy as a few presses of a button.*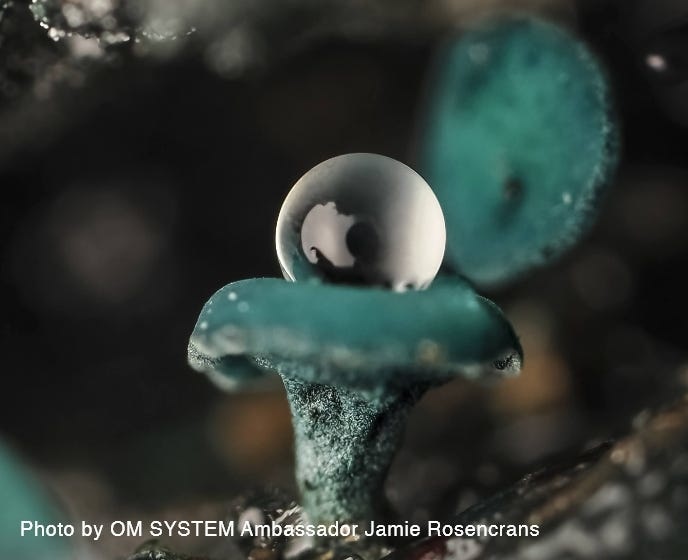 Snap, flick, click.
A lens with extraordinary powers is worthless if you can't control them. The lens comes with a snap-back focus clutch that instantly lets you fine-tune the focus manually and check your magnification ratio. It also features a three-position focus limiting switch; an IS switch, and an L-Fn button for smooth operation.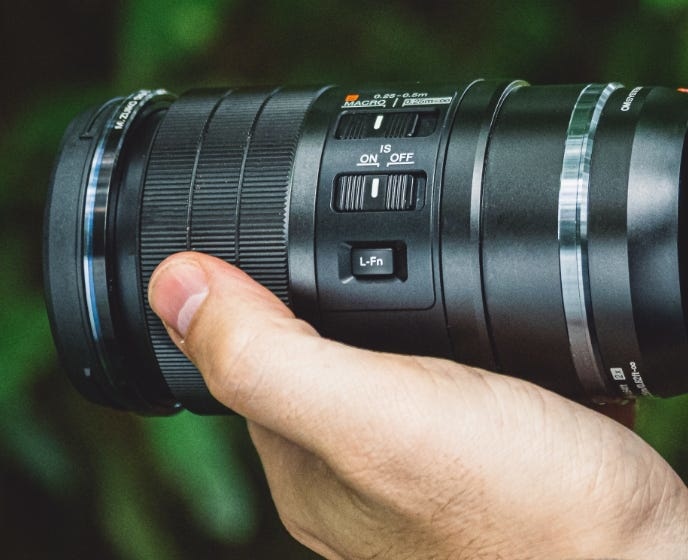 Near, far, wherever you are.
The 90mm F3.5 Macro IS PRO isn't just for macro. It's a gorgeous, high-resolution telephoto lens that can work double duty capturing anything from mountainscapes to portraits in the woods.
From the closest focusing distance of 0.224m to infinity, feel free to go beyond the expected with this lens.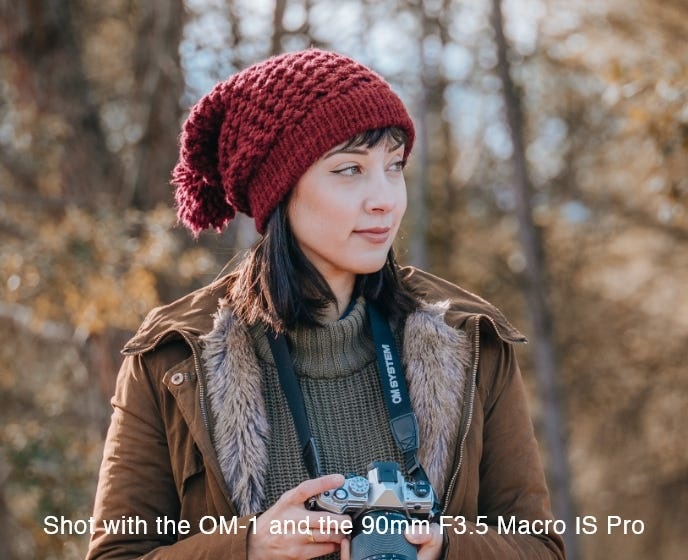 Want to get even closer? No problem.
Couple the 90mm F3.5 Macro IS PRO with our 1.4x or 2.0x teleconverters, and you'll be entering a new territory of close. With up to 4x (8x 35mm equivalent) magnification, you shouldn't be left wanting for more any time soon.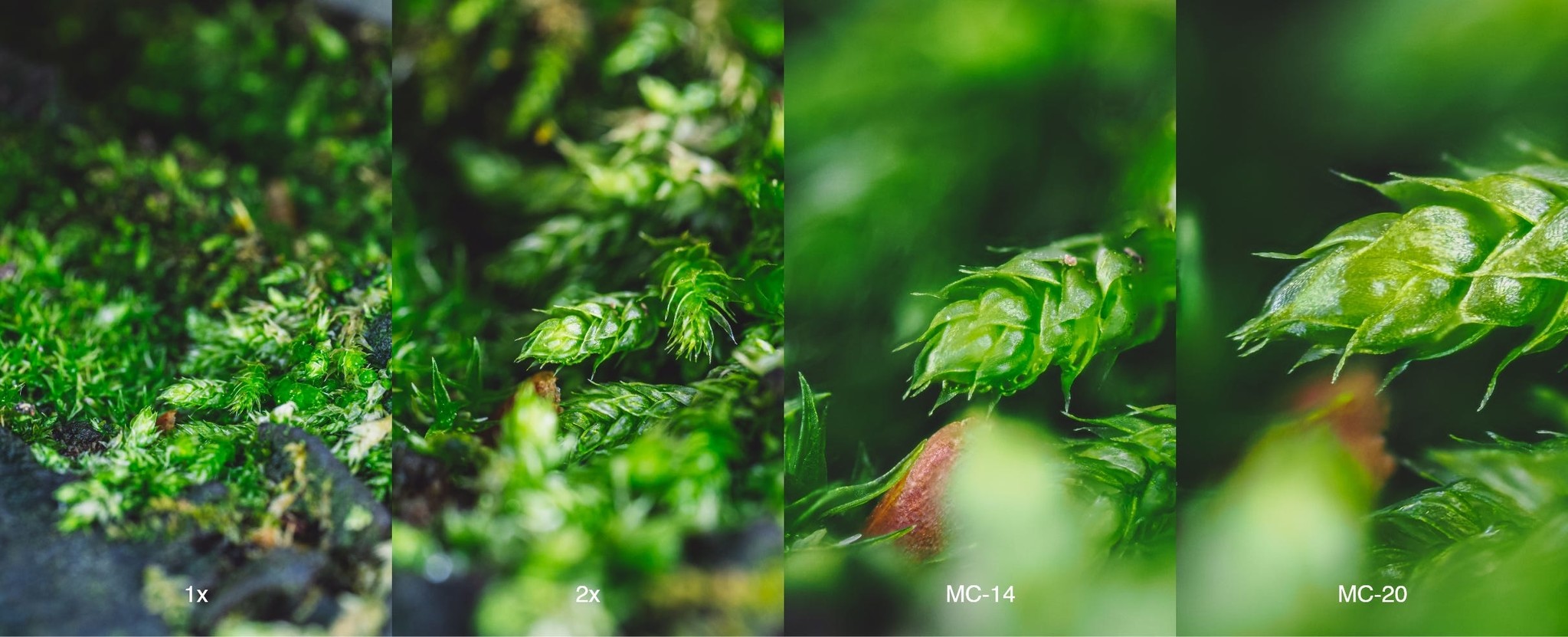 Work from a distance, but still get close.
The 90mm macro has a working distance of 93mm from the front element, with a close focus distance of 0.224m. With this combination, you'll be able to give your subject a little more breathing room without sacrificing magnification numbers.
$1,499 | EXPECTED EARLY MARCH | PREORDER NOW >