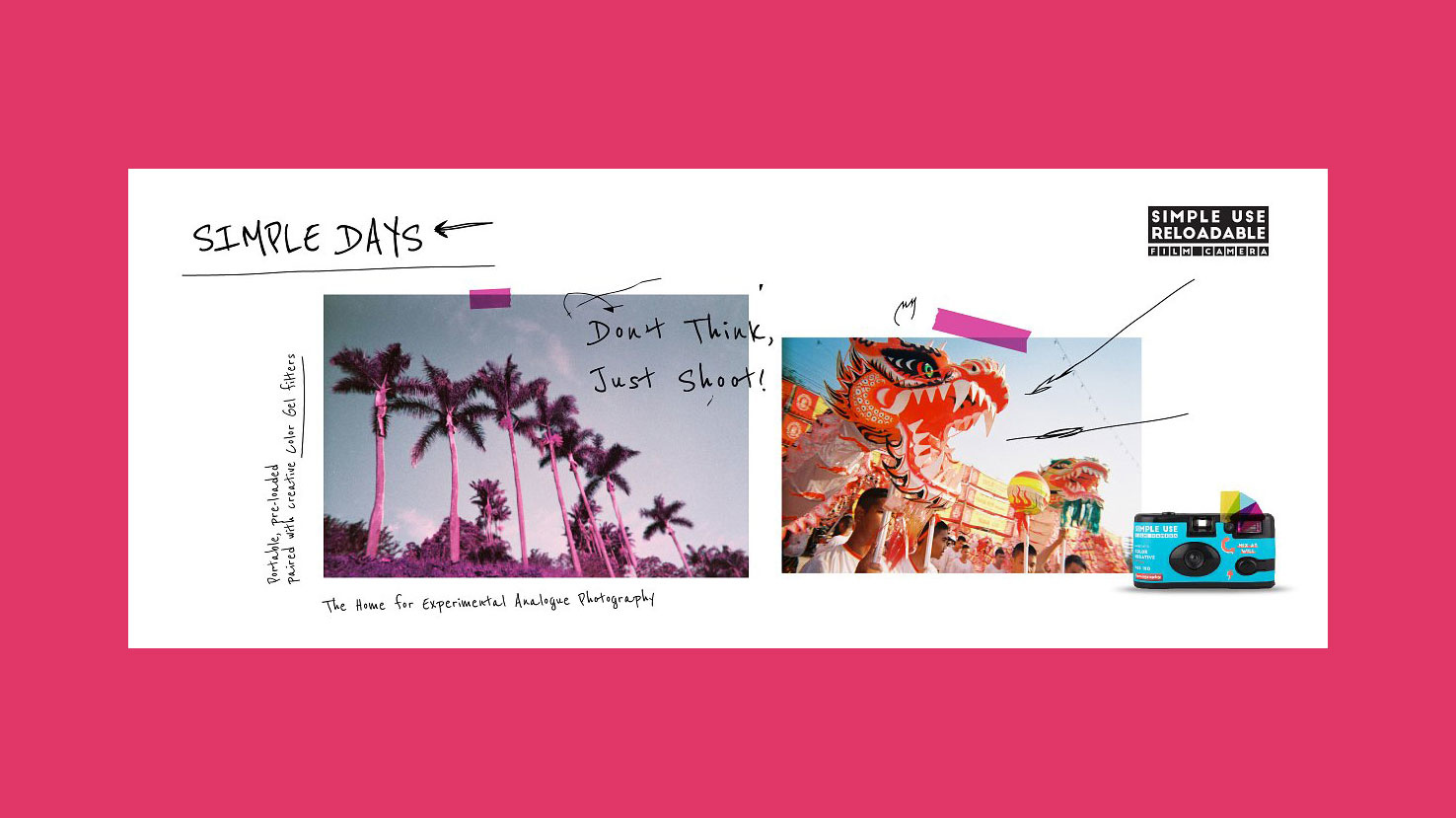 Why People Love the Lomo Simple Use Reloadable Film Camera
When Lomography launched the Simple Use Reloadable Film Camera in 2017, the future of film photography took a huge step forward. The camera, preloaded with a variant of a Lomography film, made film photography even more accessible and approachable to the world. It's only been a few years since, and yet it's already a longstanding favorite among film photographers, both newbies and seasoned ones alike. Here are some highlights of this camera, as described and experienced by these artists.
For Capturing the Quick and Candid Moments
The film photographers who are always on the go have found the Simple Use Reloadable Film Camera as a reliable and discreet companion when it comes to shooting random events and happenings. Photo sessions and opportunities where photographers are required to be more watchful and attentive to their ever-changing surroundings would benefit from the camera's compact size and flexible technical design of 31 mm focal length, 1/120 s shutter speed, and f/9 for aperture.
"I just wanted to unwind and the Simple Use Film Camera allowed me to document my surroundings without thinking too much... As the name of the camera itself, the Simple Use Film Camera is meant to capture candid moments – you don't have to overthink but instead experiment and have fun with it!" - Franz Navarrete, photographer

 
A Reliable Companion for Risky Adventures
The Simple Use Reloadable Film Camera is also lauded for being cheap, compact, and most especially, low-risk. Proactive adventurers will find a reliable friend with this humble, unassuming yet durable, hassle-free camera.
"It was very easy to use... My favorite aspect is how lightweight it is compared to my bulky digital camera's underwater housing." - Alexandra Bennett, photographer and medical assistant
The Analogue Aqua variant of the Simple Use Reloadable Film Camera further unlocks experimental and environmental opportunities, especially with how deep it can submerge underwater.
"I was curious to see how the Simple Use Film Camera would do capturing something as complex as the water, and I was amazed. It was really easy to use, and look through the viewfinder." - Hannah Bailey, award-winning photographer and documentarian
A Reusable and Resourceful Camera
Several photographers expressed their approval over Simple Use Reloadable Film Camera as a step-up from the usual disposable cameras thanks to its easier reusability.
"Sometimes you buy a disposable camera and then you trash it like a 'one-and-done' deal but this camera [Simple Use Reloadable Film Camera] is cool because you can recycle in a sense by reloading it with another roll of film." - Joan Michel, photographer and filmmaker
According to resource-conscious users, this also encourages them to recycle and imbue better gear management in their analogue routines.
"Most disposable cameras are thrown away which produces a lot of plastic wastes. But I liked the fact that the Simple Use Film Camera is reusable. It makes me contribute to the environment a little." - Hwang Hyunwoo, traveler and photographer
And for some, the camera also pushes the analogue culture forward to a better future.
"...the fact that is reloadable is wonderful. I think that now more than ever we need to be aware of the impact we have on the environment. At home, we are very aware of this and the fact that Lomography is committed to this type of device is a step forward." - Jennifer Novoa, art historian and film photographer
For Effortlessly Artistic Analogue Routine
Most of all, the Simple Use Reloadable Film Camera is straightforward and undemanding to work with while sustaining its creative possibilities.
"...the camera is easy to get out of the pocket and shoot without worrying about the technique. Fast, spontaneous, reliable, and ultra-compact." - Elodie Le Gall, a.k.a. elodinosaur, photographer and Community member
The fact that the camera is already preloaded with a Lomography film such as the reliable Color Negative, the classy Black-and-White, the surreal LomoChrome Purple and the moody LomoChrome Metropolis makes the process of shooting even more fun and anticipated.
"I liked how quick the flash reload time was, how small and unobtrusive it was... My favorite thing is that it's not a boring old Kodak Gold or Ultramax disposable but a LomoChrome Purple one... No post-work needed, the colors just came out so vivid and the tonality was ethereal off the bat." - John Moran, photographer
The Simple Use Reloadable Film Camera boosts the unique qualities of these films with the built-in flash and color gel filters. Color experimentation and tone calibration have never been this simple and easy.
"Use flash to get a good contrast between the frames and you'll have an awesome double exposure. If you wanna get a little bit funky, try a different colored swatch over the flash for each photo. Because this camera is so simply built, it's amazing when it comes to being able to control the outcome of your film!" - Lauren Lepore, photographer