Just tap the screen to turn everyday moments into cinematic imagery, all without post-production editing. With the Cinematic Vlog Setting3, the camera automatically shoots in a Cinemascope aspect ratio4 at 24 fps5 — the film industry standard. You can also change the color of your footage simply by selecting from five LOOKs and four MOODs for instant, professional results.
Built-in mic for clear voice recording
In [Auto] mode, the new built-in Intelligent 3-Capsule Mic switches6 the direction of the built-in mic from [All Directions] to [Front] when the camera recognizes a human face in the frame. Or you can switch manually from [Auto] to [Front] for selfies or [Rear] when shooting with narration. Attach a supplied windscreen to reduce wind noise and capture clearer audio outdoors.
Compact & easy to use
Effortlessly portable
Small and lightweight, the vlog camera ZV-1 II is designed to be taken out anywhere - just like your smartphone. Weighing just 292 10.3 oz. (292g)7, capture everyday life with ease and grab content on the go.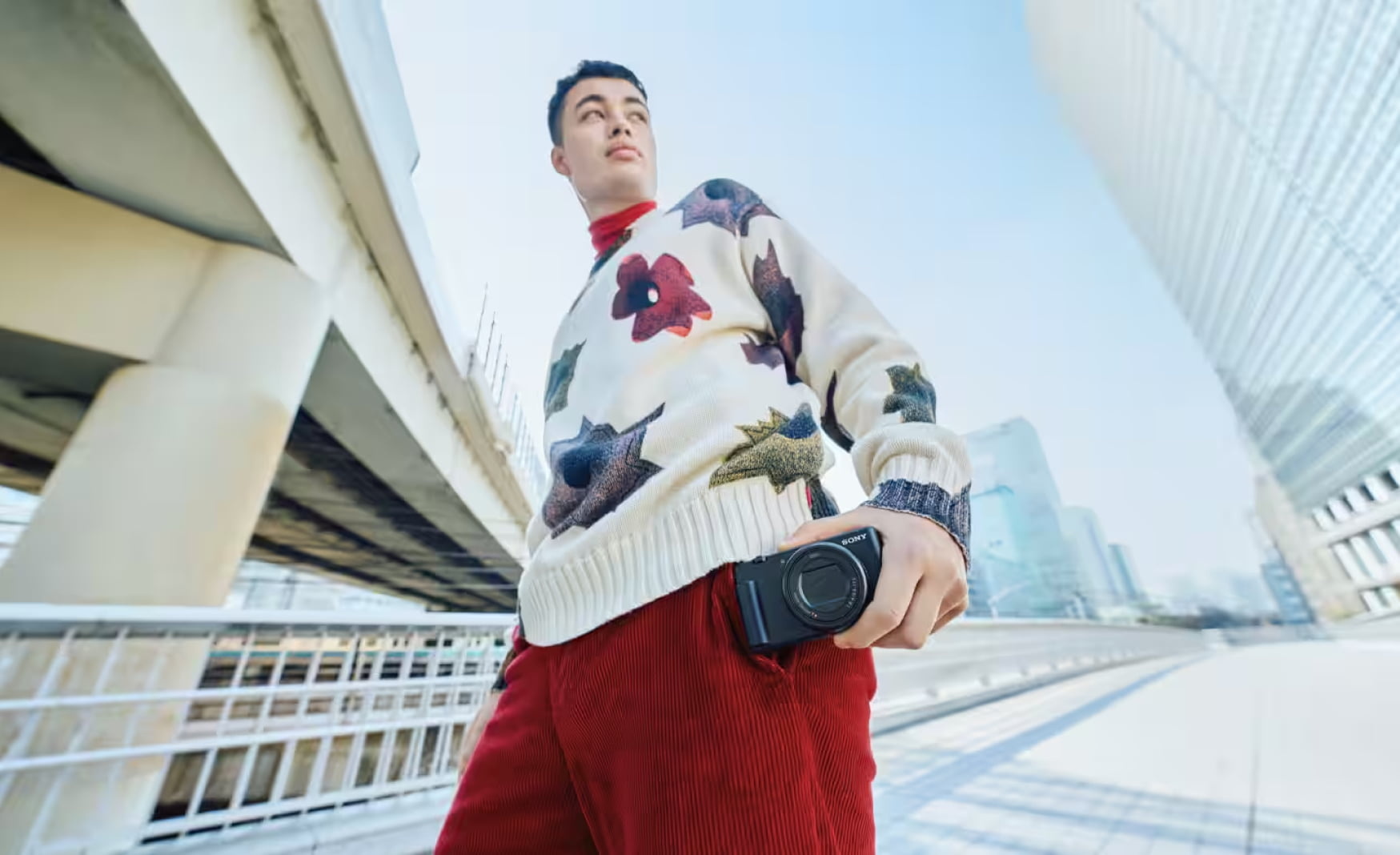 Simple, intuitive control
Even first-time vloggers can jump straight into shooting with the ZV-1 II, there's no need to study complex settings. Touch function icons like recording and self-timer are displayed on the screen for easy control. These are also great for shooting selfies or in other situations when you can't reach the physical buttons on the camera.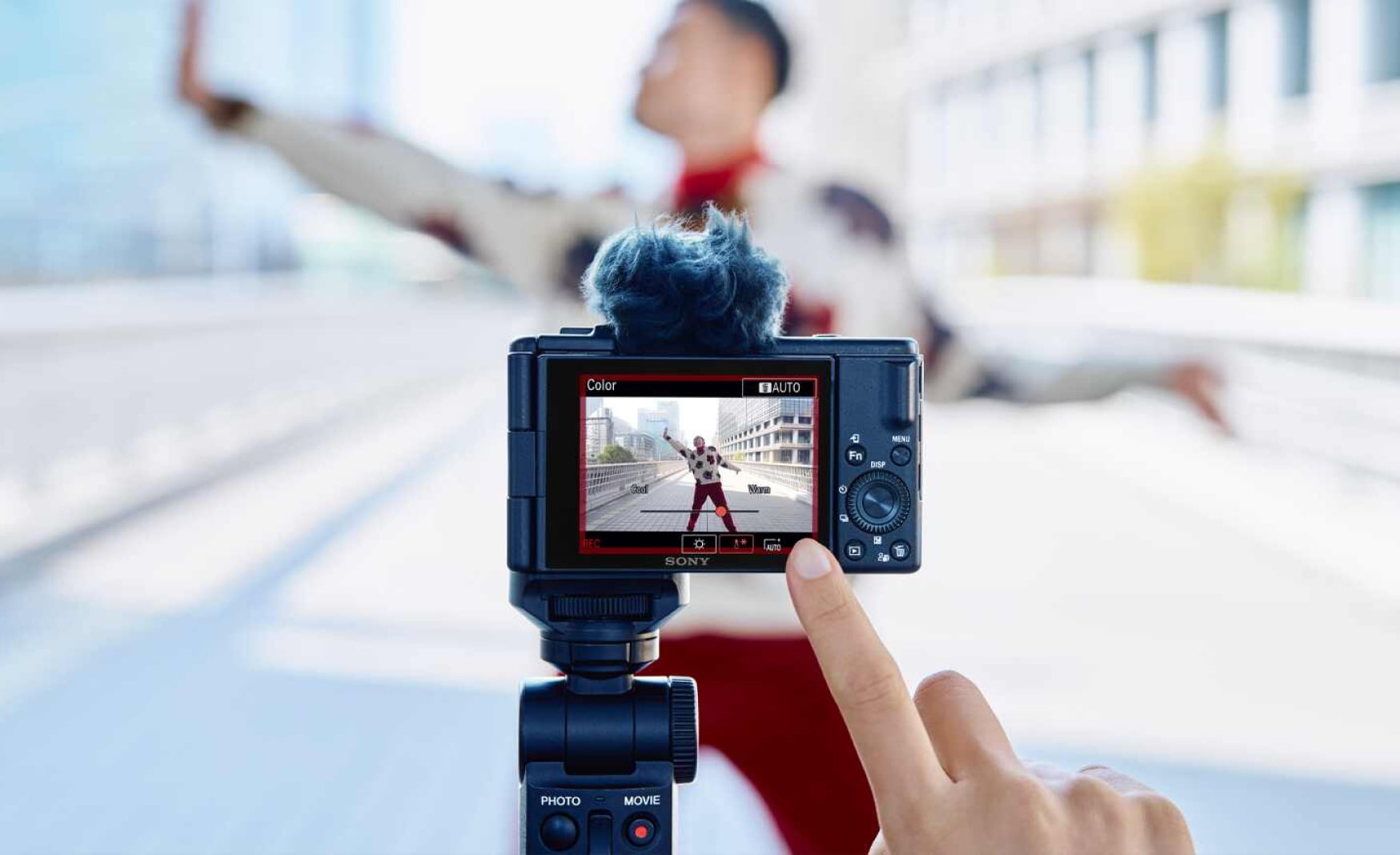 Focus on you
The ZV-1 II automatically makes sure you always stay in focus with Touch Tracking. It recognizes human faces and eyes, so it keeps track of the main subject without wandering off. Just tap the subject on the screen to activate the feature. Eye AF can even be set to track animal faces and eyes.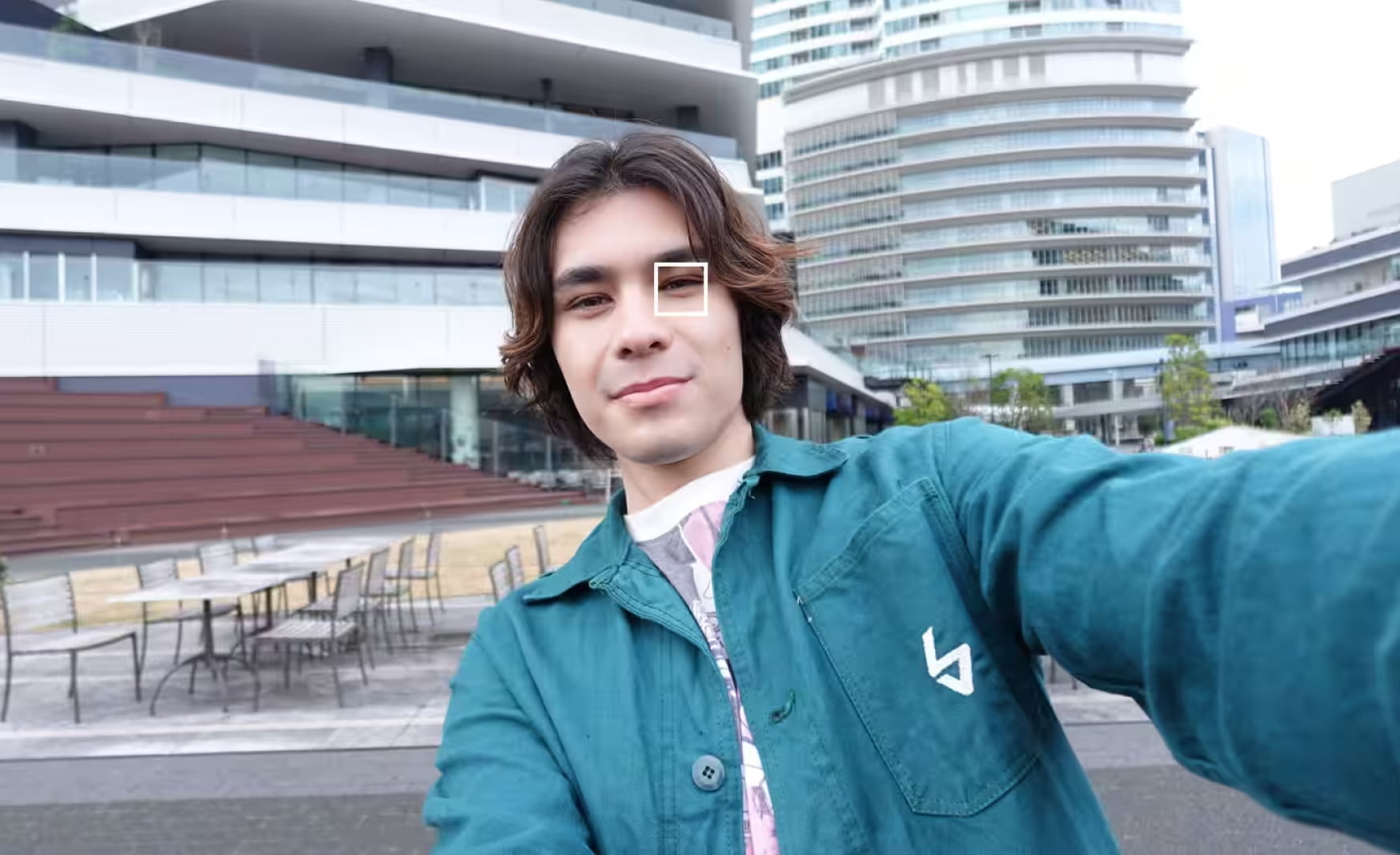 Powerful image stabilization8
Shaky footage can ruin the best of vlogs, but the ZV-1 II is built to let you capture great footage even while you're walking and shooting handheld. Active Mode8 helps to minimize camera blur, giving you steadier shots without the need for any post-shoot editing.
Stand out with just a tap
The ZV-1 II is designed for easier content creation. Activate the Product Showcase Setting and the camera will automatically focus on the product you're holding with no additional gestures needed. Or use Bokeh Switch to get a softly blurred background - simply select [Defocus] to make the subject stand out, or [Clear] to keep the entire image in focus.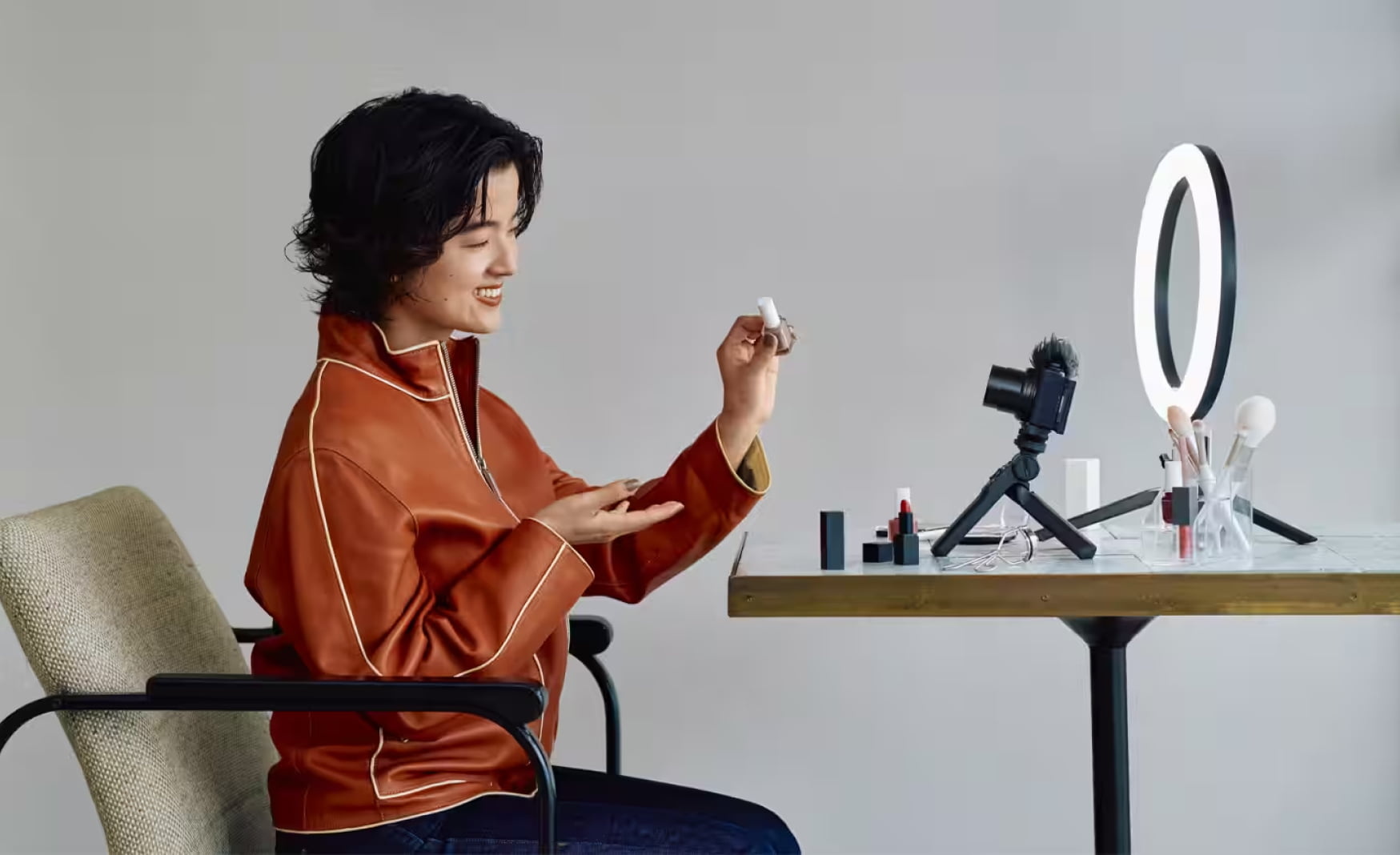 Optimized for selfies
Selfies made simple
Let the ZV-1 II work for you to capture great group moments. When taking selfies in iAUTO mode with two or three people, the camera automatically adjusts the setting to keep everyone's faces sharp and clear9.
Always look your best
Look your best any time you're shooting. Without any special settings, the ZV-1 II accurately captures your skin tone, ensuring a healthy and natural look. Face Priority AE automatically brightens your face so there's no need to worry about lighting either. There's also a Soft Skin Effect selectable to OFF/ Low/ Mid /High to adjust your skin smoothness.
Always know when you're recording
Say goodbye to accidentally missing the action. When you press the MOVIE button or tap the record icon on the LCD screen, the recording lamp glows red and a red frame appears on the screen, letting you know instantly that you're capturing what counts. The rotatable screen means you can also track recording while shooting from any angle.
Shooting grip10 for easy vlogging
Vlogging is simpler and more comfortable with the optional GP-VPT2BT wireless shooting grip10, which enables you to grab more stable shots and also doubles as a tripod. The zoom lever and recording button are on the grip side, so you don't have to stretch around the camera every time to reach key control buttons.
Share and Connect
Simple smartphone connection
Connecting your camera and smartphone has never been easier thanks to the Creators' App mobile application11. Data transfers continue in the background even if the smartphone display sleeps or a different app is launched12. You can also turn your smartphone or PC into a remote control to operate the camera from a distance.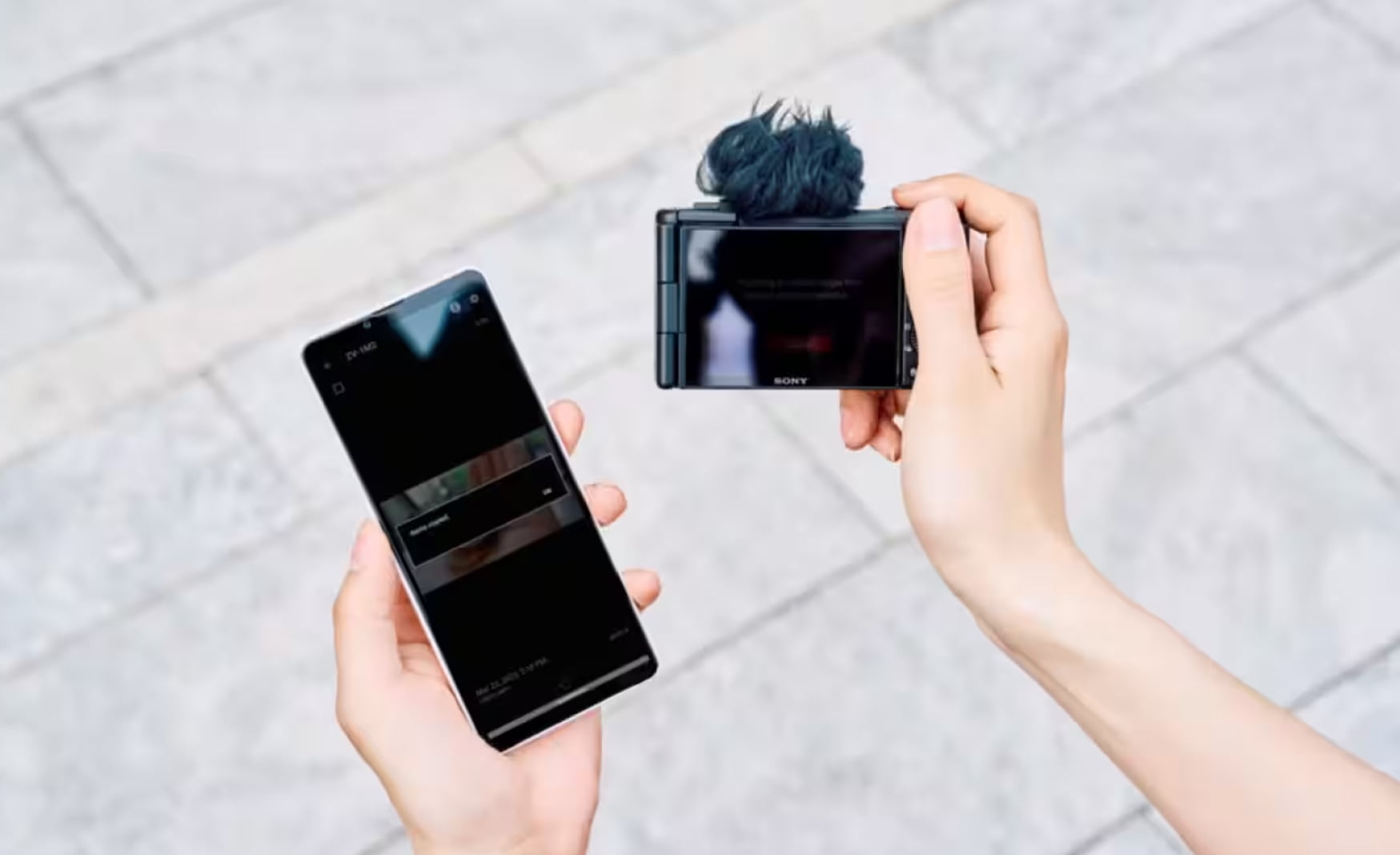 Simple streaming with a single cable
Transform the ZV-1 II into a high-quality web camera just by connecting a compatible device via USB13. The large 1.0-type image sensor and Creative Look presets ensure vibrant visuals.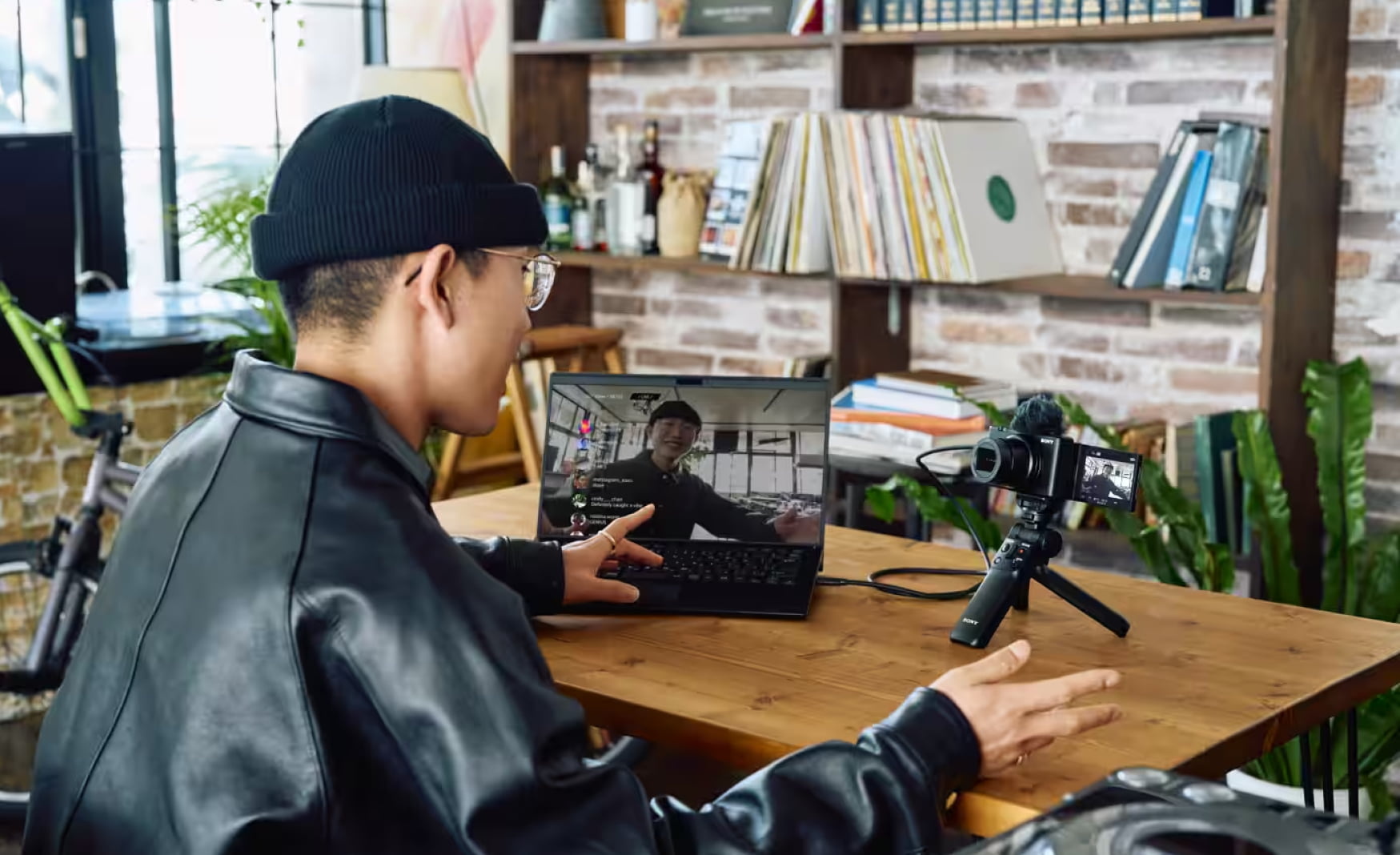 Advanced Features
High quality imagery
The ZV-1 II packs powerful specs in its compact body, offering impressive image quality. Its large 1.0-type image sensor means it can capture professional-level footage, shooting in XAVC S format up to 30p and in 4K, and up to 120p14 in Full HD for up to 5x slow motion. It also supports simultaneous proxy recording15 for efficient post-production workflow.
Grows with your creativity
With the ZV-1 II, it's easy to take the next steps towards boosting your videography skills. Just like professional Cinema Line or α series cameras, the ZV-1 II supports S-Log3 and S-Gamut3.Cine picture profiles, giving you even greater flexibility for post-production.
Built-in ND filter
The ZEISS® Vario-Sonnar T* 18-50mm1 F1.8-4 zoom lens has a built-in neutral density (ND) filter to control light exposure by three stops, giving images greater expressiveness in bright light. The lens maintains sharpness throughout the zoom range, allowing you to capture all the shots you need to bring your vlog to life.
Next level audio quality
Raise your vlog audio quality even further by connecting external microphones (sold separately). For example, the ECM-G110 clearly captures sound in front of the camera and can be attached without a cable. Or take your pick from Sony's extensive line-up, designed to suit a broad range of applications16.
35mm format equivalent when shooting still images. Slightly cropped in Active mode.
In the Intelligent Auto or Scene Selection mode.
Available in "Movie" mode and "S&Q" mode only. Proxy recording is deactivated.
The image (excluding the bars) is in CinemaScope aspect ratio (2.35:1), but the recorded image is 16:9.
The actual corresponding frame rate is 23.98 fps.
Direction may be fixed depending on the shooting settings.
Approximate
Image crop in Active Mode. Active Mode is not available when recording at frame rates of 120 (100) fps, including S&Q.
Does not work when the Bokeh Switch is ON or when subject recognition is OFF.
Sold separately
Check regional availability of services and applications via the URL below: Creators' App: https://www.sony.net/cca , Creators' Cloud: https://www.sony.net/cc/ Download app at Google Play and the App Store. Network services, content, and operating system and software subject to terms and conditions and may be changed, interrupted or discontinued at any time and may require fees, registration and credit card information.
Transfer may be interrupted when a different app is launched on some operating systems.
1280x720 resolution at 30 fps. Use a commercially available USB cable or terminal conversion adapter for connecting to a mobile device.
Sound recording is not possible. Frame rates are 1-120fps (NTSC) or 1-l00fps (PAL) in eight steps.
Proxy recording unavailable at recording frame rate of 120 p or when Slow & Quick Motion Frame Rate is120 fps
Please check the compatibility info for compatible microphones.
Not including materials used in coatings and adhesives.
Depending on the time of production, SORPLAS™ may not be used for some parts.
Sony survey of products and supplied accessories produced from April 2012 through March 2022
Used for the wind screen base fabric and raised area. Recycled PET (polyethylene terephthalate) bottles may not be available depending on the time of production.
Availability varies depending on region and language.