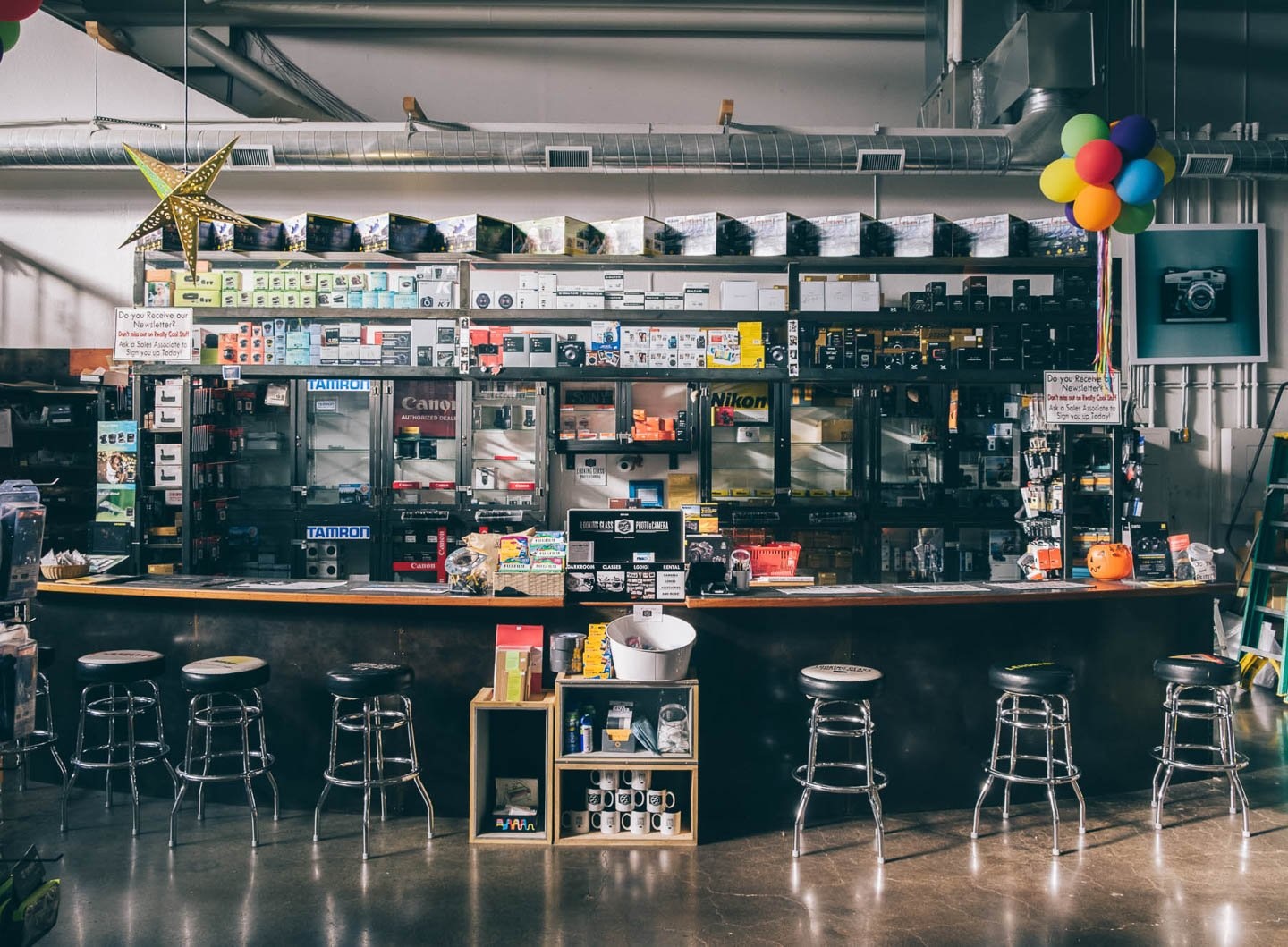 A small business profile by ONA: Looking Glass Photo
A profile written many moons ago by ONA
This Saturday is "Small Business Saturday" in the U.S., and we're proud that the majority of our local retail partners are small, local businesses. This year, we're profiling three unique small businesses that support and nurture their local photography community:
Looking Glass Photo in Berkeley, California opened originally in 1971, and through the years has become an integral part of the community as a camera store and local hangout spot. We spoke to current owner and longtime Looking Glass employee, Jennifer Waicukauski, about their history and how their community has contributed to the store's evolution. (Photography by ONA community member and Looking Glass customer Christopher Sturm, who shot the store with a Rolleiflex 3.5A and Kodak Portra 400 film and also a Fujifilm X-Pro2.)
Tell us about the store's roots.
The store was founded in 1971 by a tall, enigmatic photographer and teacher named Peter Pfersick. Can't say for certain why he opened a camera store, other than photography was his passion. Back then, the store was very different. No smartphones. No digital cameras. It was all film.
Peter himself was eccentric with a strong, intimidating presence. Customer service for him was making sure he didn't get taken advantage of. He was, however, quite protective of his staff. In fact, I would venture to guess that his motto was, "Looking Glass is always right."
In 2002, with his health in decline and a quickly changing photography industry, Peter sold the store to Jon Kaplan, who began the transformation of Looking Glass from what Peter had created into a more consumer friendly environment. It was from Jon that I purchased the store in 2008.
How many locations have you occupied?
We have one store that has existed in three different locations to date. Originally on Telegraph Avenue near the border of Oakland and Berkeley, amusingly referred to as 'balmy South Berkeley', by Peter. After a few years it moved down the street into a larger space closer to the UC Berkeley campus, but still on Telegraph Avenue, where it stayed until the fall of 2013, when we moved from Telegraph Avenue to our current location at 1045 Ashby Avenue in Berkeley.
What makes your store special compared to any other place someone can purchase the same product?
Moving to our current location was one of the best decisions we ever made. We more than tripled our retail floor space, built a large classroom, and did everything we could to maintain the personality and spirit of who we were on Telegraph. In short, we were able to create a retail experience for our customers that is unlike any other camera store. It is uniquely 'Berkeley' in its vibe, full of recycled and re-purposed displays, the opportunity to interact with all of the products on the retail floor, and attentive one-on-one assistance if you want it.
Something we're proud of is the fact that our customers were the primary focus when designing our new space. We included our customers in the process of creating the "new Looking Glass." And with their input (and their photographs which adorn our walls), we came up with a space that inspires—a space that many in our community genuinely took part in to make a reality.
The bottom line is: we're a very people-oriented store, and it shows. We want to get to know every person that walks through our doors so that we can help guide them to the right products for everything they want out of their photography.
Soon after we made the move, we realized we weren't the same old 'LG'. And thankfully, it was a positive. From outside, people have no idea what the inside of Looking Glass is really like. Walking in the front door, customers are welcomed by dramatic 35 foot ceilings and a big, open retail space filled with photography goodness. This has had an immediate effect on long-time and new customers alike. Looking Glass had become a place to visit not just for our staff's expertise and relationship, but also for the overall experience. I can't  even begin to count how many people have told us how welcoming an environment Looking Glass provides; that it "feels good" to be there.
In addition, representatives from many brands we carry visit us frequently, and they make themselves available to our customers. They'll show them the latest gear, demo their products, and even answer questions! It's pretty cool that many of our customers have been able to learn and explore their photography in a more expanded and useful way.
Describe your local photography community.
Amazing. Awesome. Fun. Passionate. And, super creative.
There's a popular hashtag on Instagram that immediately makes me think of our local photography community: #exploretocreate.
Whether it's exploring your backyard, traveling somewhere remote like Antarctica, or taking workshops at Looking Glass, our photography community is always exploring. And through their exploration, they create amazing images in their own voice. We strive to help people with their process. It's another thing that makes us different: we are partners with our customers on their photographic journey. We help them get the pictures they want with advice, good listening, and getting the right stuff in their hands that helps them achieve their photography goals.
How have your company and your customer changed over the years? (and how have they remained the same?)
When Looking Glass originated, the majority of our customers were students, professional photographers and photo enthusiasts. Peter was a teacher at one of the local community colleges and he always made sure to have everything a student or professional would need, including a darkroom so students would have affordable access to a darkroom anytime the school darkroom was unavailable or overcrowded. The focus was very much on film, chemicals, and various photography-related needs… but not cameras and lenses.
As digital photography arrived on the scene, no one really took it seriously at first because the quality was incomparable to film. Obviously that technology evolved quickly right alongside the birth of the internet and Looking Glass was fortunate to change hands at that point, because Peter had no interest in digital, and very little interest in customer service.
When Jon Kaplan took over, the attitude of the store quickly shifted to provide products and services that made sense for the new digital age, and a time when competition became fierce with retailers from around the world that you could suddenly buy from online. You no longer had to go into a store to get what you needed. We had to provide something that online couldn't, and that was customer service—real people to help you understand the tools of the trade.
Because of Jon, we brought in glass displays and showed off cameras to customers and actually started advertising for the first time. During Peter's era, there was never a focus on selling cameras, though we did have them under lock and key in the back of the store and customers would have to pay for the gear before they'd even get to see that we really had it, let alone touch it and try it to know what they were buying.
These days, our customers are much more diverse in their needs and creative pursuits. They range from the family with a new baby, to the retiree with time to focus on creative endeavors, to students exploring film for the first time, to anyone with a phone that wants to take what that camera is capable of to a new level, and professionals needing a reliable source for information, rentals and gear.
The community we serve has grown, no longer a small niche because photography is no longer a niche industry—it has become an essential way that almost everyone uses to communicate on a regular basis. Under Jon's ownership we had just begun to offer a few classes from time to time. Now we have a dedicated classroom and classes that run 2-4 days a week on a diverse range of photo-related subjects.
After I acquired the store in 2008, we took the next step in our customer service evolution: we now focused on an overall consumer experience. An experience that transcends a one-time purchase and it's done mentality. In fall of 2013 we moved to our current location and for the first time we were able to really make Looking Glass into a full-service retail experience, from the lighting, to the fixtures, to the air-flow, and even the flooring we created a space that invites the customer to engage with the products and the staff in an immersive way.
The space feels good. The products are all out to be touched and tried. The staff are readily available to engage with you, understand your needs and help you find the best tools for what you want to do with your photography. There are couches and chairs in the store that allow anyone to get comfortable and stay awhile (so even if you've been dragged along by a friend or loved one who is shopping for gear, you can relax and chill out if you don't care to explore the rest of what we have to offer… and typically we'll check in and offer you a drink while you're waiting.)
We treat our customers as friends and often family. We believe in our community and want to support it the best we can. It is our community that defines us and as long as they are willing to support us, we will do whatever we can to support them in their creative journey. The best days are the days when we get to help someone get everything they want out of their pictures and take their photography to the next level. I tell all potential new employees, "we have over 20,000 different product SKUs in our store and it's not the customer's job to know what those are. It's our job to listen to their needs and guide them toward the products that are right for them… not to sell them something just to sell them something."
Are there any customers and/or staff who have been with you since day one?
Yes! We have customers who were there as early as the "Peter Days" when the store first opened. We also have customers with amazing histories and stories to tell. We know a husband and wife that met in our darkroom. We have a customer who chased down a thief. We even have customers that bring us food when they come by. It really is a community, and in many ways, an extended family.
We have staff members that have been with us for years. But none that were there since the beginning. That was back in 1971, after all. Crazy to think that my store is older than me!
What's one challenge you've faced in recent years and how have you dealt with it?
In all honesty, the biggest challenge is keeping my sanity. This is a constantly evolving industry, not to mention an ever-changing and threatened retail landscape. Adapting to change, implementing new ideas, and staying relevant is always on my mind. Staying on top of that while also managing a staff of over 20 people can be taxing at times. So I get out with my dogs, who are my photography muses, to keep myself balanced.
What's your favorite part of the store?
This is a very hard question to answer. I love so many things about Looking Glass. If I have to narrow it down, I would say it's our camera bar. If you've ever seen the television show Cheers, that's kind of what we have for camera talk and exploration. Pull up a stool, and let's chat and have some fun. We even have our very own "Norm" (a character from Cheers) named Johnny. Many of our staff even call him Uncle Johnny, because he truly is a member of the Looking Glass family.
Conceptualizing and building our camera bar was a significant task, to say the least. And because we practice what we preach, we "shopped local" and worked with a Berkeley local artisan named Ross Craig. We worked together to design the camera bar, which he built off-site and delivered. And this fixture is the center of the Looking Glass Universe. We've had magical moments with our customers there. We've laughed with them, got excited with them, commiserated with them, and have even cried with them. For me, this is priceless and makes it all worth it.
What have you learned as a business owner over the years?
That it's hard. Really hard. But if you manage to do some good with your business, something that makes you feel proud, it is all worth it. And for me, it's about giving back to the community and being grateful for them. A few things we've done that embrace photography as way to "give back" include:
Camp Hope Nepal, Photography Show and Crowdfunding project. It's a long story, but in essence, we supported kids in Nepal whose families lost everything when the earthquakes ravaged their villages. We donated cameras to them, and they chronicled life in the refugee camp (known as Camp Hope) with such rawness and an incredible eye for storytelling. It was their own photographs that raised almost $14,000 to help rebuild their school. Talk about photography changing someone's world!
Photowalks for Good. Our photo walks have had our community exploring interesting locations as a group, capturing and sharing what we see from behind the lens. Yet, we're not like other photowalk groups — we "pay it forward." Specifically, everyone that participates is encouraged to take their fun and enjoyment from these photowalks and support a local non-profit. Specifically, Looking Glass identifies a non-profit to support. Whether or not a customer makes a donation is completely up to them. Our most recent Photowalk for Good delivered over $1,200 to a local center for the arts children's program (art supplies, and also entry to classes for those that cannot afford it).
And most recently, our "Celebrating Women Photographers" piece in the East Bay Express (a local weekly paper). At Looking Glass, we embrace a love for photography, self-expression and empowerment. Since the 19th century, women have contributed significantly to the photography industry. Yet, representation in the photography industry (and in the media that covers the industry) can be quite low. So for 14 weeks, we're doing our part and showcasing local women photographer superstars.
What are some goals/dreams you have for the store in the near future?
The biggest goal right now is to evolve our staff into a more autonomous team. Confidence, enthusiasm and knowledge are key components to this. This will improve customer experience, and increase my time to focus on bigger picture ideas that will allow Looking Glass to evolve as the times change and continue to flourish for many years to come. If I am able to remove myself from day-to-day operations, some big ideas I've been waiting to implement will come to fruition—ideas that you'll have to wait to see…
Another goal is to build up our video offering and expertise. Classes, products, and staff knowledge are geared for growth as video has taken on new meaning. Video can be bite-sized clips and time-wasters or as significant as putting together a film. Whatever level of video someone is looking to explore, it is our goal to be a great place to do it.
Dreams for the store include making Looking Glass even more of a local hangout and hub for the photographic community than it already is. We love seeing new faces become familiar faces. We love seeing people meet other people in the store, sharing their photographs and stories with one another. So, what I'm saying is, I want to implement ideas that will nurture these things, and offer a non-intimidating environment – a destination for anyone and everyone that loves taking pictures.