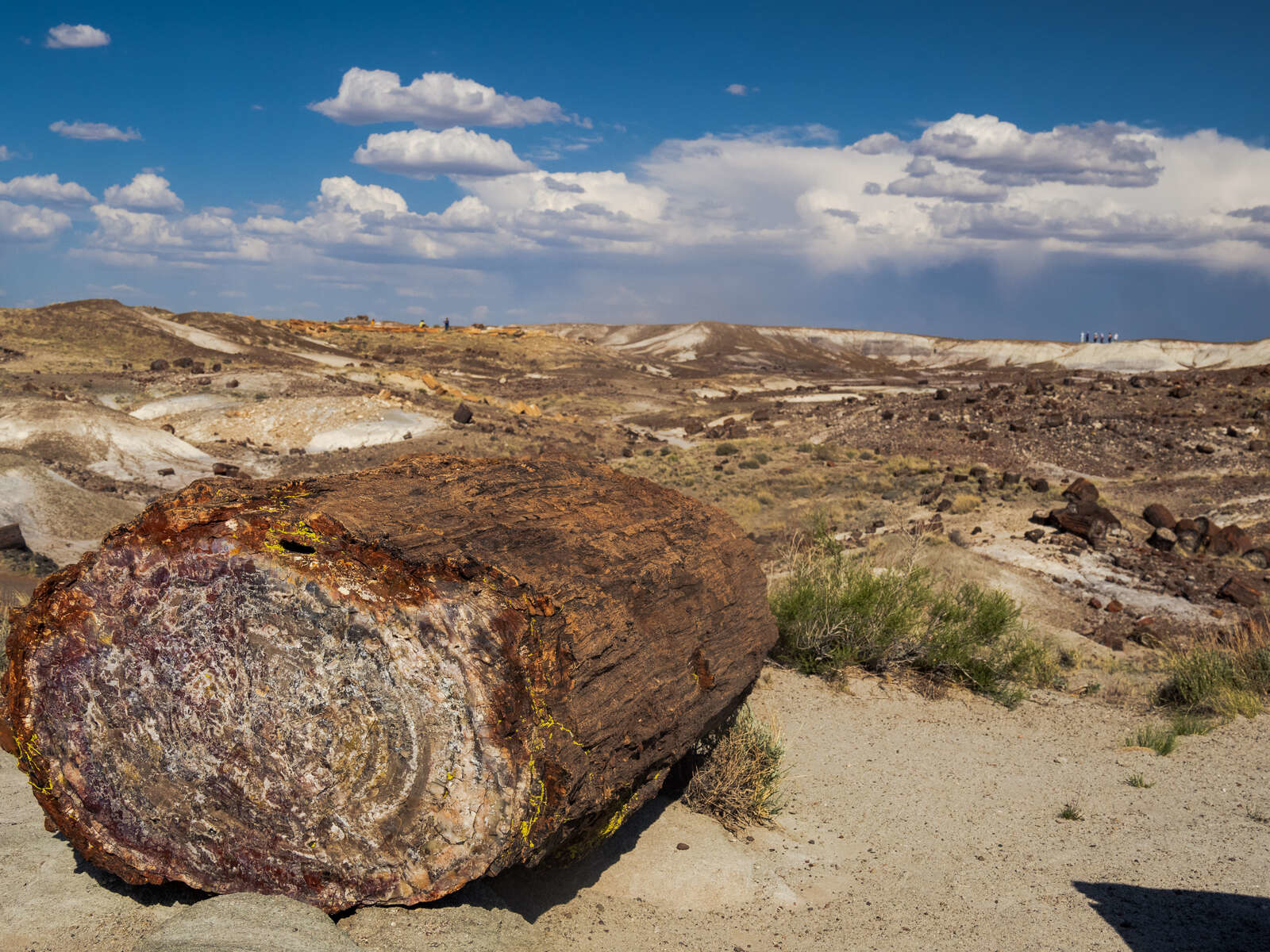 Planning a Photography Adventure in the Desert
The Southwest United States is full of non-stop adventure and dramatic scenes.
But adventuring in the high desert for the first time can be pretty intimidating, and it's unfortunately easy to make mistakes that can diminish a once-in-a-lifetime visit to one of the most stark and extreme environments in North America.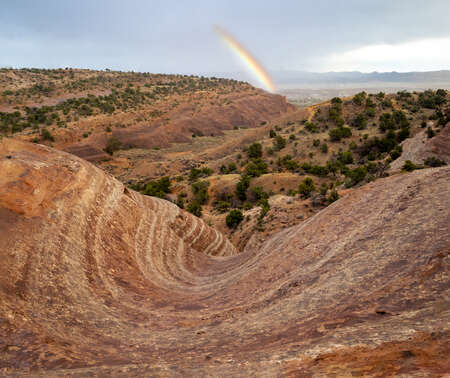 Tip #1: The Basics
Prepare for temperature extremes and harsh conditions. Any season in the high desert climates can experience dramatic temperature swings of 40 or more degrees. You may start a morning in a puffy down coat, be stripped down to a tank top and shorts by noon, and be huddled by a fire drinking hot chocolate after sundown. Breathable layers are key. When I'm preparing for a desert hike, I like to bring a long sleeve shirt along the lines of a rash guard, a compressible puffer if I'm going to be out before sunrise or after dark, and a pair of leggings. It may seem like a lot to carry for a simple day hike, but you won't be sorry if you end up needing it.
And remember your sunscreen. Desert sun, especially at higher elevations is no joke. You can end the day feeling like you literally baked, with blistered skin and a nasty headache. A long sleeve shirt and a broad-brimmed hat are reasonable substitutes.
Forgo your sandals and wear solid toed hiking boots or shoes. Your toes will thank you for not kicking a cactus.
You may also want to bring along a first aid kit that includes a set of tweezers. Cactus thorns are tricky little things, and if you photograph like I do, you run a real risk of getting spiked while crawling around on the ground looking for the ideal angle.
Tip #2: Always Tell Someone the Plan
Especially if you are going on your own, make sure you tell someone your plan. Be as specific as you can, locations, names of trails, when you expect to be back. Hiking solo can be a great experience, but be smart about it.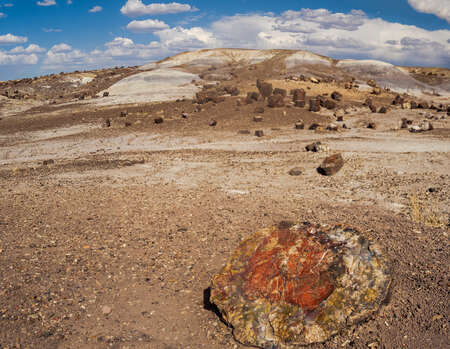 Tip #3: Carry It With You
Carry at least a gallon of water per person for an all day adventure. Seems like a lot? Remember, you won't be finding any water on your hike, and desert air is dry. I've felt the sensation of the moisture evaporating from my mouth while just opening for a single deep breath, and suddenly felt very grateful for that extra weight.
Snacks are also important to have along. You may want to bring juicy fruits or veggies as opposed to dry granola or jerky. No matter what your favorite snack is though, make sure you pack out all your peels and wrappers. The desert soils will not break down an orange peel or a banana peel nearly as well as you might think. In a dry environment an orange peel may take 6 months or more and a banana peel can actually take up to 2 years to decompose. There's a reason why we still have mummies around thousands of years later…
And while we're discussing packing things out, I want to briefly mention WAG (Waste Alleviation and Gelling) bags. You'll probably only need this if you are doing an overnight trip in the desert. It isn't pleasant, but to diminish the impact of human visits on a delicate environment the best practice is to eliminate in one of these bags and pack it out with you. Each bag contains crystals that absorb liquid and odor, and solidify waste. It's actually far less unpleasant than digging a hole, and far less impactful on the environment.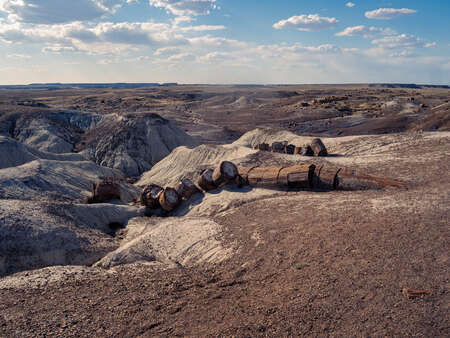 Tip #4: Any Time is a Good Time
You don't have to wait for golden hour or blue hour to get good results. Yes, those are the classic times for beautiful lighting to accentuate the desert landscapes. Yes, a desert sunrise or sunset can be one of the most stunning sights you'll ever see. I'm not saying you should avoid those times. But there are some positive qualities of photography in the midday sun. Shadows are minimal, and this makes the focus more on the dramatic rocks and plants themselves. You have control of the warmth or relative coolness of the scene by shifting your white balance in camera either to a higher Kelvin (making the scene appear warmer) or lower Kelvin (making the scene appear cooler). Currently some parks (like the Petrified Forest National Park) are only open for visitors in the midday hours, and you just have to make do with what's available.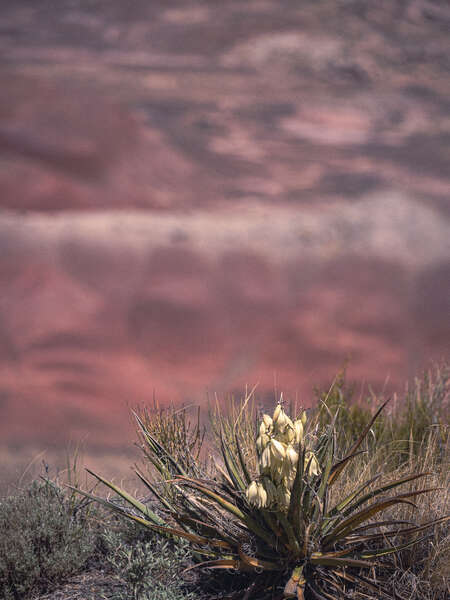 Tip #5: Leave It In or Leave It Out?
It's ok to eliminate the sky. What you leave out of your photos is just as important as what you include. Is it one of those flawlessly clear, blue sky days? If there isn't any point of interest in the sky, keep the focus on the layered rocks and the plants.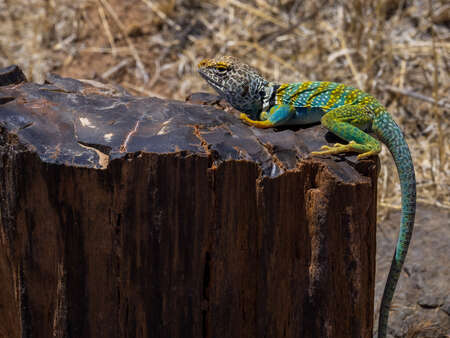 Tip #6: Desert Wildlife
Walk softly, keep your eyes peeled. Desert wildlife are a wary bunch, but you may have some truly enchanting encounters if you are prepared.
And here's where I may hurt some feelings, but I'm going to advocate that you leave your dog behind. Believe me, I love my dogs (more than some people I've met) but an off-leash dog can do all sorts of mischief in the desert. The wildlife here lives on a razor-edge of survival, to the point that one little moment of being chased or scared by your dog could mean death for it. Even on a leash, dogs can trample cryptobiotic soils, get cactus thorns in their pads, burn their feet on the hot rocks and sand, and easily get heat-exhaustion. Also, it's a whole different difficulty to try to hold a steady hand for your camera while your dog is excitedly trying to tug you down the trail.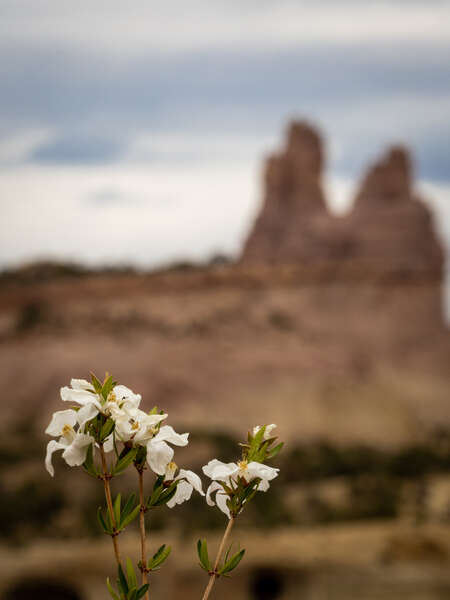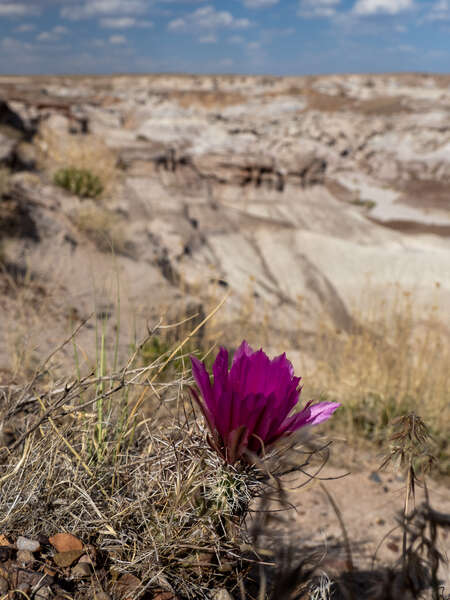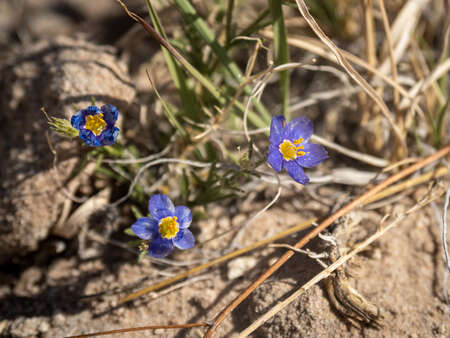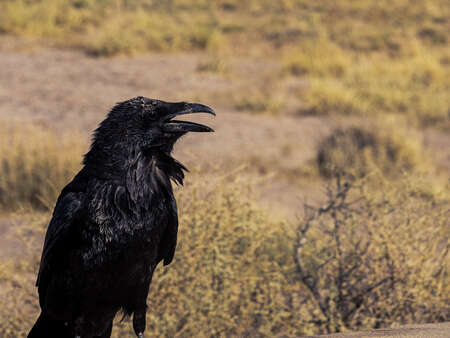 Tip #7: Stop to Smell the Flowers, and the Trees (Even the Cacti!)
While the fauna may be too quick for you, the flora will also enchant, and are easy subjects to catch. Spring is obviously the best time to catch the rare desert blooms, but any time of year will do for the extraordinary trees and cacti.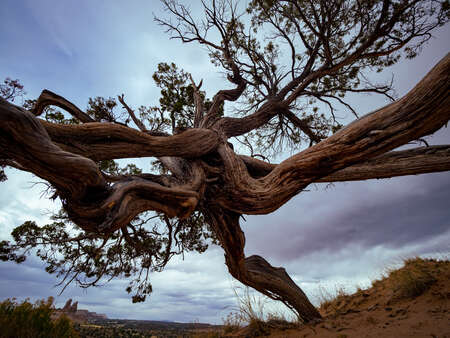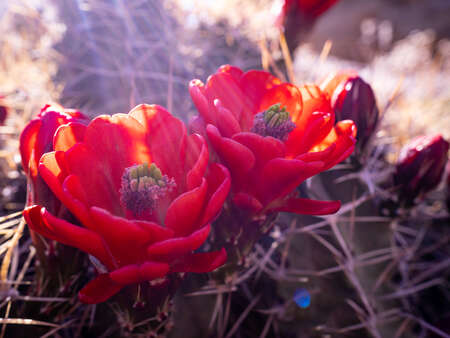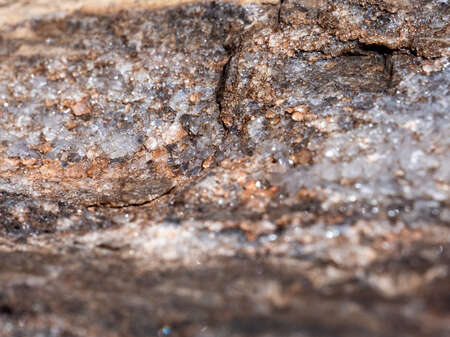 Tip #8: In the Details
Remember when I said " keep your eyes peeled"? So much of the beauty of the desert is in the tiny details. From sparkling quartz deposits and see-through sheets of quartz, to microphytic (aka cryptobiotic) soils that look like tiny mountain ranges, the wonder is in the details. Just make sure you follow the "leave no trace" principles and leave things as you found them for others to enjoy!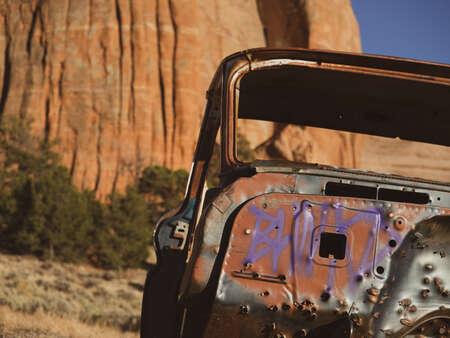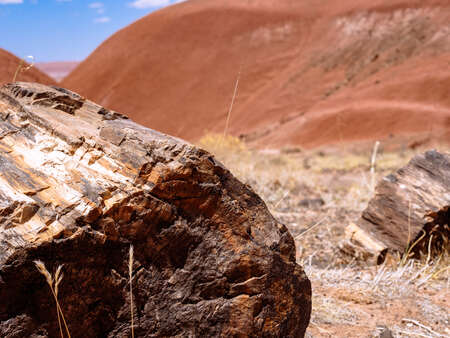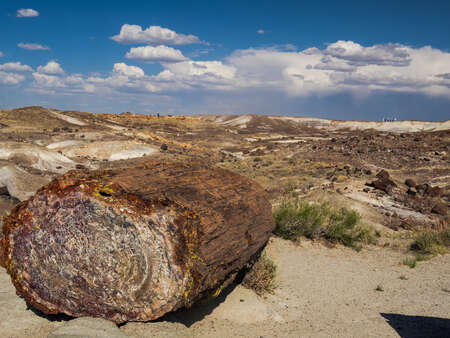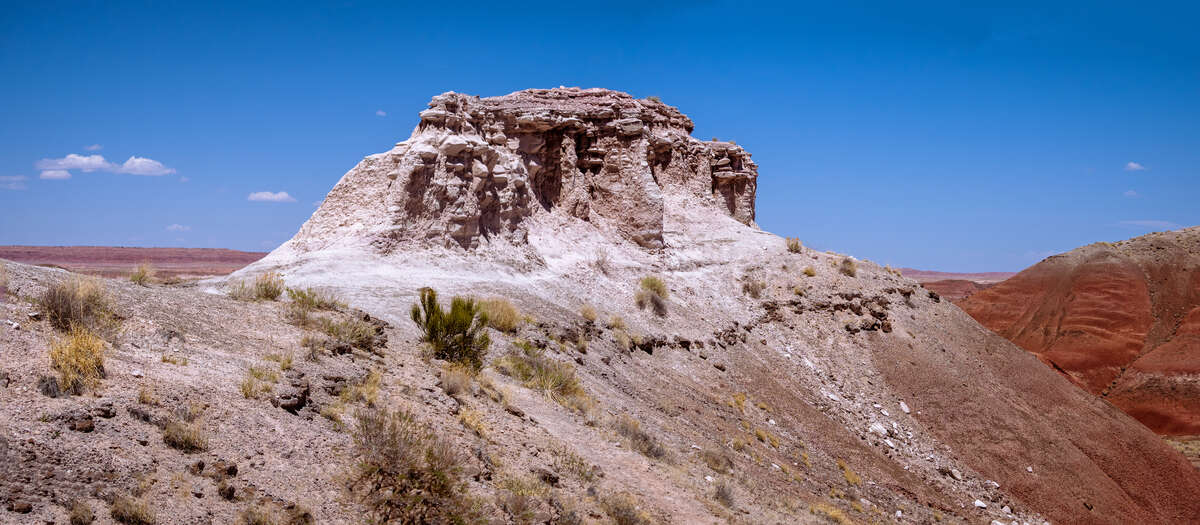 Tip #9: Stay For the Finale
Don't neglect the hours between sunset and sunrise. Being out in the southwestern US has the distinct advantage of distance from the city lights at night. It is usually not a great distance to find a place where you can do some star-gazing in a designated dark sky area. Do a web search for "dark sky map" or "light pollution map" and you will find many choices for planning out a great after-dark experience.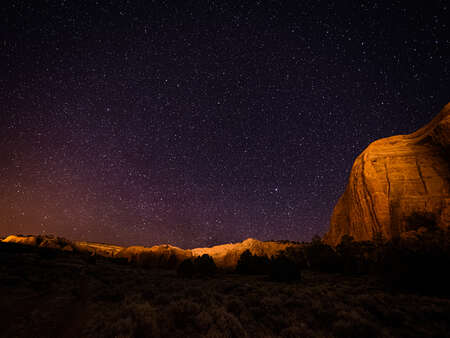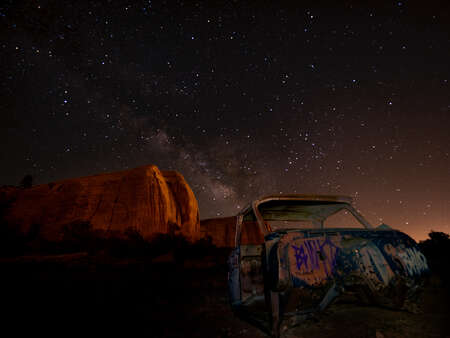 What's in My Bag?
Water (1 gallon)
Long sleeve shirt, hat
Sunscreen
Small first aid kit
Snacks
Leggings, puffy coat (for astro)
Flashlight or headlamp (for astro)
Gloves (for astro)
Camera Gear
OM-D E-M1 Mark III
M.Zuiko 7-14mm F2.8 PRO
M.Zuiko 40-150mm F2.8 PRO
M.Zuiko 17mm F1.8
Polarizer and/or UV filters to fit lenses
Spare batteries and memory cards
Tripod (for astro)

Instagram: @ngwildernessphotography
Natalie is a Colorado-based environmental photographer, with interests in landscape and adventure photography and particularly in promoting diversity and representation in the outdoors. When she's not outside having adventures and taking photographs, she's a full time registered nurse and the mom of four boys. (No, she doesn't wear a cape.)