Winter Photography Tips from a Landscape Photographer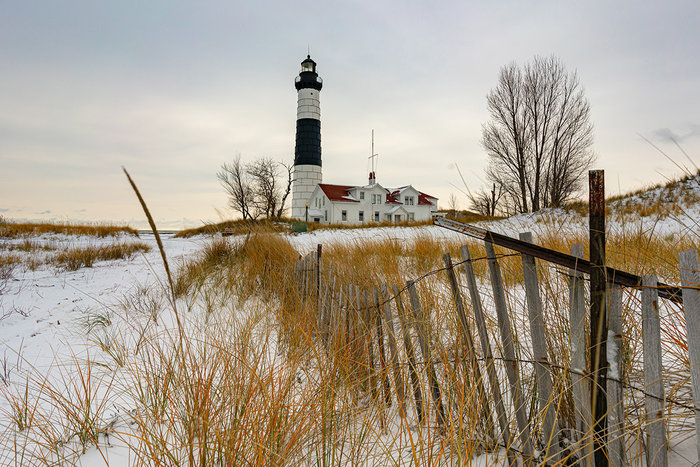 It's definitely feeling like Winter across the entire country with snow and rainstorms brining record precipitation. We hope you're all safe and keeping warm. If you're currently in a snowy area (or plan to be), this post is for you. Fine Art & Landscape Photographer Nick Irwin shares some tips for dealing with the cold and capturing the magic of wintery landscapes.
Tip #1
Carry extra batteries in your pocket. Your body heat will prevent your extras from losing juice while you aren't using them. The trek to this lighthouse is 1.8 miles each way and it can be downright cold. It's best to be prepared with spares so you can play with leading lines and contrasting colors, like the dune grass and white snow. You'll want power for the walk back as well. You never know what kind of wildlife you'll encounter playing in the drifts.



Tamron 17-28 shot at 17mm, ISO 320 F10, 1/100th


Tip #2
Fingertip gloves are helpful, but sometimes you still need to use your bare hands to wipe or change your lens. This is when hand warmers will become your best friend.



Tamron 28-200 shot at 41mm, ISO 100, F10, 1/200th sec


Tip #3
Often in winter we experience uneventful, cloudy weather. When this is the case consider using a 6 or 10 stop neutral density filter during the day to create a long exposure. This will smooth out the water, draw out more color, and in this case highlight the intricacies of the icicles and snow.



Tamron 17-28 shot at 17mm, ISO 250, F16, 6 sec with 10 stop ND filter


Tip #4
Strap on your crampons and find some ice. Michigan has a lot of piers and boardwalks that would otherwise be unnavigable without them. The channels often have water spraying onto the boardwalks that make for stunning ice patterns which would be difficult to get to without them. However, if the piers are too dangerous stay off!



Tamron 28-75 shot at 28mm, ISO 320, F4, 25 sec with 10 stop ND filter


Tip #5
White balance can frustrate many photographers in snowy conditions because the camera often turns the snow blue. If this is the case turn your white balance setting to shade or cloudy depending on the make. Most importantly, don't let a few off colored photos in the field frustrate you too much and spoil your adventure. These images can usually be fixed easily during post processing. In this photo the white snow helps pull out the detail and contrast In the trees.



Tamron 28-75 shot at 28mm, ISO 100, F3.2, 1/200th sec


Tip #6
When snow is falling and blowing, lens wipes are essential. Nothing is worse than getting home after a long day in the cold and having spots on some of the shots you thought were the best. So, wipe often!



Tamron 28-75 shot at 30mm, ISO 1600, F3.5. 1/160th sec


Tip #7
During bright conditions a tripod won't be necessary and changing lenses in cold conditions is not ideal. Pick out your favorite Tamron lens and stick to it. This will allow you to travel light without a backpack. Rather than fret about what gear to use focus on your focus and challenge yourself to find unique shots.



Tamron 28-75 G2 shot at 51mm, ISO 100, F2.8, 1/250th sec


Tip #8
Fresh snow is the best snow! Capture the moment as quickly as you can because a slight temperature change can cause it to melt, or the wind can come and blow it off the trees. Just make sure that even though you are acting quickly to take advantage of the moment, don't forget to take IN the moment.



Tamron 28-200 shot at 32mm, ISO 100, F5, 1/1000th sec

To see more of Nick Irwin's work, visit his instagram: @irwin.nick
Be the first to comment...